China Market Crisis: Brokerage Firms To Invest 100B Yuan To Stabilize Slowing Market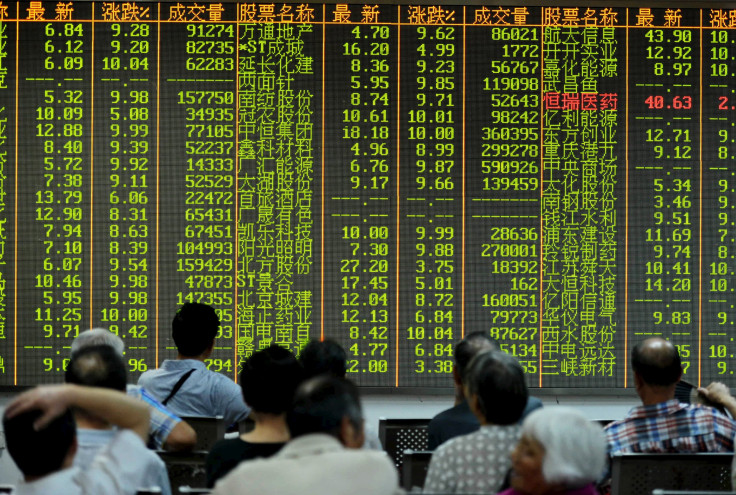 Thirteen Chinese brokerage firms -- as of 11 p.m. Tuesday, Hong Kong time -- have indicated that they will pump money into the government-backed margin finance agency to stabilize China's markets. A total of 50 brokerage houses may contribute to the effort, which is expected to reach 100 billion yuan, or about $15.7 billion.
The planned investment comes as Chinese markets have slowed down and threatened global markets, ultimately making August the worst month in three years for the American stock markets, according to the Guardian. China's manufacturing sector seems to be slumping, pulling down the markets overseas through a selloff of shares.
The market slowdown that seemed to start last week and saw stock shares plummet came after China intentionally devalued its currency earlier in the month. At 2.8 percent, it was the largest yuan depreciation in 20 years, and its impact has been felt throughout the world. The depreciation at the time was largely seen as a distress signal from policymakers in Beijing. It could mean that the growth that had been seen in the Chinese market was not as strong as previously thought.
Investors across the globe fear the impact of weaker economic growth in China, reflected in indicators like the price of oil and the long-term prospects for auto production. In response to the concern, Premier Li Keqiang has insisted that the Chinese economy is growing at a "reasonable" pace and that another currency depreciation is not necessary at this time. On Tuesday, new data indicated that factory production had actually shrunk at its fastest rate in six years in August.
The Dow Jones Industrial Average lost more than 300 points Tuesday morning.
© Copyright IBTimes 2023. All rights reserved.