Chloe Lukasiak vs. Maddie Ziegler vs. Kalani Hilliker: 'Dance Moms' Stars Battling For Same 2016 Teen Choice Award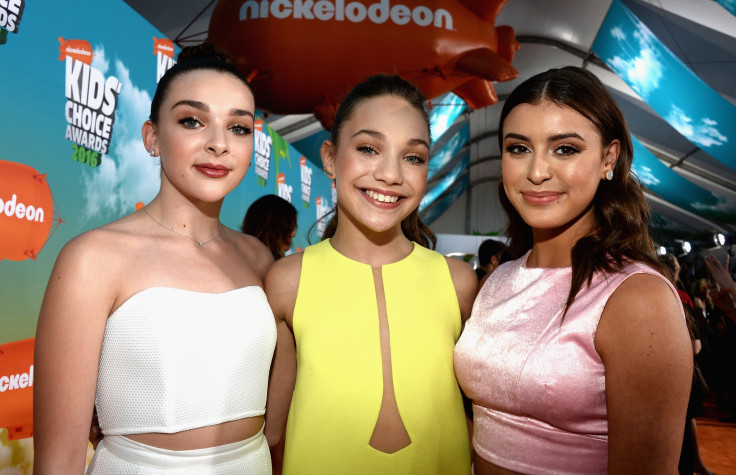 Three of Lifetime's "Dance Moms" stars will be competing for the same honor come July 31. FOX has announced the nominees for the coveted Choice Dance award ahead of the 2016 Teen Choice Awards and three of Abby Lee Miller's students, both current and former, have been recognized.
FOX has revealed that for the second year in row Maddie Ziegler and Chloe Lukasiak, both alums of the dance docuseries, have been nominated for Choice Dancer. Kalani Hilliker, the only current star of "Dance Moms," is is also among the nominees. Other notable stars on the list include former "Dancing With the Stars" judge Julianne Hough, "DWTS" professional Derek Hough and ballerina Misty Copeland.
Kalani made it known on social media she was emotional over the nomination. The 15-year-old said she was "crying" after hearing the news and asked her fans for their continued support through the voting process.
Maddie, the most recent star to quit the series, provided a link for her fans to vote. The 13-year-old called her support system "the best" after learning of her latest honor.
Last year's winner, Chloe, 15, also made sure to thank her fans for helping her earn the nomination.
While "Dance Moms" viewers will have to decide on their favorite in the Choice Dancer category they can rest easy knowing their Choice Muser pick will be a little easier. Mackenzie Zieger, Maddie's 12-year-old sister, has earned her first nomination in the division. She's competing against nominees Baby Ariel, Loren Beech, Kristen Hancher, Ariana Renee and Jacob Sartorius.
Congratulations to @MackZMusicInc for her nomination for #ChoiceMuser for @TeenChoiceFOX! Link in my bio to vote! pic.twitter.com/vkxB1NrcR8

— Melissa Gisoni (@dancemom1313) July 8, 2016
Chloe and Maddie were both nominated for Choice Dancer in 2015, the first year the category was introduced. Chloe walked away with the honor, making sure to thank all of her dance teachers for her success and encouraging her fans to follow their dreams. "To anyone who has ever been told that they can't do it, they shouldn't do it, or they aren't good enough — ignore it," she said onstage while accepting her award. "Do it anyways and prove them wrong."
"Dance Moms" fans have until July 31 to decide who they want to vote for. There are three ways to vote. Fans can submit their pick via the Teen Choice website by logging in through Facebook, via the FOX NOW app, or on Twitter. To tweet your pick you must use a public account and include #ChoiceDancer and your pick's Twitter handle in your post. You may also vote once per account per day. Click here for a full list of rules.
The 2016 Teen Choice Awards air Sunday, July 31, on 8 p.m. EDT on FOX.
© Copyright IBTimes 2023. All rights reserved.