Chris Christie Gives Taxpayer Subsidy To Donor Whose Lawsuit Helped Him Prosecute Democratic Financier
While New Jersey Gov. Chris Christie was off campaigning for president in New Hampshire last week, his administration made history: The Republican's aides officially pushed New Jersey's subsidies to corporations over the $6 billion mark -- a record. One of the tranches of public money was a $40 million package of tax incentives to a firm founded by real estate mogul Murray Kushner, who has delivered more than $125,000 to Christie's campaigns and to state Republicans since 2009.
As Christie mounts his White House bid, he faces pressure from voters and legislators to resign his office in a state they say requires full-time leadership. But the subsidy packages doled out by Christie -- even as he campaigns out of state -- underscore a major incentive for him to remain governor: He can attempt to turn past gubernatorial donors into future presidential donors by wooing them with the prospect of lucrative taxpayer largesse from New Jersey's treasury.
Such tactics would hardly be alien to Christie: His administration has repeatedly made choices that enriched politically connected players who were big sources of campaign cash.
At the state pension system, Christie's administration has given management deals to financial firms whose executives have donated to the Republican Governors Association, which backed Christie's campaigns and which Christie led for a time. Other state agencies have awarded road construction contracts, hurricane reconstruction projects, and bond counsel work to firms that made RGA donations.
Chris Christie Presidential Candidate Profile | InsideGov
Meanwhile, at the Christie-controlled New Jersey Economic Development Agency (NJEDA), the Guardian found that 70 percent of the state's largest tax breaks under Christie went to firms whose executives had donated to national Republican Party committees or to his campaigns. That includes Wall Street behemoths like JPMorgan Chase & Co., which received another $180 million in tax subsidies last week on top of the $225 million it had already received from Christie's administration.
Christie spokesman Kevin Roberts defended the economic development subsidies, telling International Business Times that "they are done using an objective criteria based on statutory requirements passed by the Democrat-controlled legislature." A representative of Christie's NJEDA told IBTimes that the money is not given to recipients until their projects are completed and asserted that "these are performance-based programs, with approved projects subject to strict and objective criteria."
'Reward Friends And Punish Enemies'
But ethics experts question the subsidy deal for Kushner's firm. Craig Holman, an ethics expert at the watchdog group Public Citizen, said the tax credit for KRE Group is emblematic of Christie's "history of using his office to reward friends and punish enemies."
Christie's relationship with Kushner dates to the governor's time as New Jersey's U.S. attorney under President George W. Bush. Back then, Christie prosecuted Murray Kushner's brother Charles, using documents pried from the Kushner siblings' bitter, sealed legal feud for control of their family's real estate company. That firm, the Kushner Companies, held properties worth billions of dollars; Christie's prosecution generated a wave of headlines and even inspired an episode of NBC's "Law & Order."
Nabbing Charles Kushner -- a major Democratic donor and political patron -- helped Christie brandish his image as a tough-on-corruption prosecutor in the lead-up to his 2009 run for governor.
"No matter how rich and powerful you are or poor and unpowerful, if you have violated the federal law in the district of New Jersey or if you are corrupting our political system, this office will bring you to justice," Christie said after securing a guilty plea in 2004. "Today, Charles Kushner was brought to justice."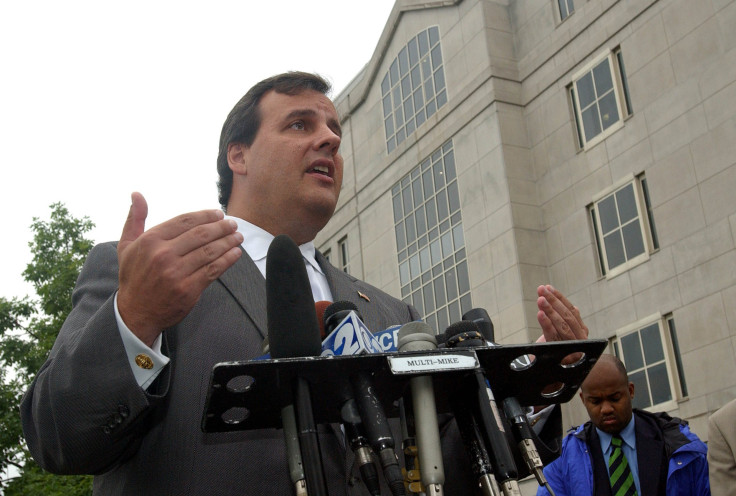 The Star-Ledger in Newark, New Jersey, would later report that Christie's prosecution of Charles Kushner "was precipitated by a lawsuit and complaints made to federal election regulators by Kushner's brother, Murray." Murray Kushner's attorney later received a lucrative government contract from Christie while he was leading the U.S. attorney's office.
Christie's Democratic opponents lost a huge source of campaign cash with Charles Kushner's conviction -- he had been the single largest contributor to New Jersey Gov. Jim McGreevey's campaigns.
Accusations Of Improprieties
Meanwhile, after his brother went to prison, Murray Kushner would begin pumping money into the New Jersey Republican Party as Christie ran for governor.
Murray Kushner does not appear to have received the same legal scrutiny as Charles did while Christie was New Jersey's chief federal prosecutor, even though accusations of improprieties were lobbed in both directions in the family case, according to an IBTimes review of court records.
Roberts, the spokesman for Christie, did not answer questions about Christie's handling of the case, instead directing IBTimes to ask the current U.S. attorney's office for information "concerning its practices." A representative of U.S. Attorney Paul Fishman's office did not respond to questions about Christie's prosecution of Charles Kushner.
Murray Kushner's firm, KRE Group, did not respond to questions or return multiple phone calls from IBTimes.
The Kushners settled their dispute over management of the family company in 2003, with Charles Kushner reportedly buying out his brother's stake. Records from the case remain sealed. But in a 2006 court filing, the lawyer for a former employee of Charles Kushner told a federal judge that "at the same time that the government was receiving information regarding Charles Kushner and the defendants in this case, the government also was receiving information regarding potential criminal conduct of Murray Kushner."
"However, it was Charles Kushner and the defendants, and not Murray Kushner, who were investigated and ultimately prosecuted," wrote attorney Robert Fink, whose client was prosecuted by Christie and sentenced to more than three years in federal prison for creating bogus company tax returns.
Fink included a report from a forensic accountant who had reviewed Kushner's books and records. The report allegedly found "clear and convincing evidence of a scheme to reimburse Murray Kushner's employees for significant political contributions they were directed to make, which included the creation of at least one false legal bill."
According to memorandum included in the accountant's report, Murray Kushner promised to have his company reimburse employees who donated to George W. Bush -- at the same time Christie was serving as a fundraiser for Bush's presidential campaign. Federal campaign finance laws prohibit employers from reimbursing employees for political contributions.
In the years since Charles Kushner was prosecuted by Christie, Murray Kushner has become a generous supporter of Christie and the Republican Party in New Jersey, and Christie's administration has subsequently delivered big public subsidies back to Kushner. Last week's new lucrative tax break for a KRE development in Jersey City, New Jersey, is the third handed out by the Christie administration for a project involving Kushner's firm.
In 2013, the New Jersey Economic Development Authority awarded a $33 million tax credit to support another KRE residential project in Jersey City. Two years earlier, the agency gave out a $42 million tax break for a different mixed-use project being developed in part by KRE Group. KRE is also involved in the billion-dollar Hudson Lights development project in Fort Lee, New Jersey. The Christie administration has invested $50 million in state pension money in a fund helping finance that development.
© Copyright IBTimes 2023. All rights reserved.