Christmas Gift Guide For Stoners: Top Presents To Give Marijuana Enthusiasts During The Holidays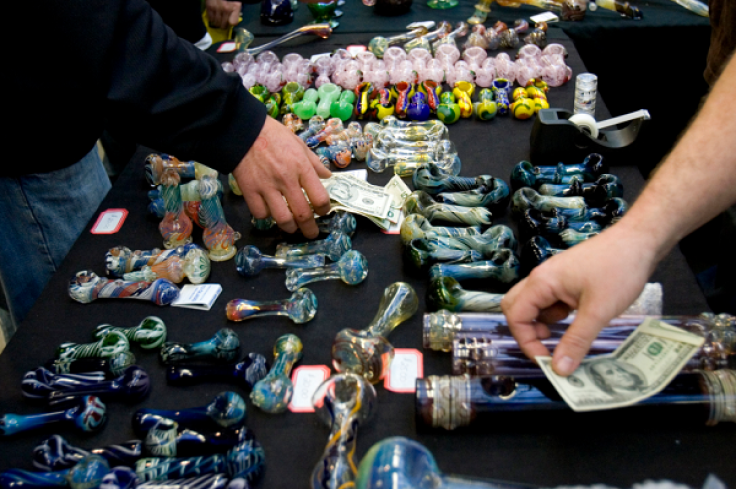 With marijuana legal in 28 states and the District of Columbia, it isn't too surprising to find marijuana-based gifts on some folks' Christmas wish list. Whether a cannabis consumer is using marijuana for medical or recreational purposes, there are several retailers offering products and services that are perfect for bringing holiday cheer to any type of pot user.
Jason Lazar, creative director and founder of TheHemponAir, an online destination dedicated to cannabis culture and style that promotes and sells a variety of interesting and useful marijuana products, gave IBT a few tips on how to shop for marijuana consumers and recommended a few hot items that just about any kind of pot user will be happy to find under the tree on Christmas Day.
Check out the Q & A with Lazar below:
What should holiday shoppers keep in mind when purchasing gifts for marijuana consumers?
I think it all depends on the type of consumer you're buying for. If it's a serious everyday user, opt for something a little more premium with a unique benefit or utility. The more casual user might appreciate a new smoking device or something more gimmicky, and believe me, there are a lot of them. If it's an old-school smoker parent or uncle, blow them away with one of the innovative oil vaporizers or pens, or even something like a portable electric grinder from Chewy.
One thing you definitely want to be mindful of are the laws in your state. While the country has certainly come a long way, there are still plenty of gray areas and it's important to know the specific laws in your state before purchasing anything with actual cannabis.
That being said, there are so many great accessories and ancillary products that have sprung up around the plant that are perfectly legal, so even if you live in a nonlegalized state or one that isn't legalized recreationally just yet, some quick googling will find a ton of great options. Or you can just visit The Shop on TheHemponair.com as well.
What is the best type of gift to give a marijuana user during the holidays?
This is a tough one, especially since there are so many different types of cannabis users nowadays, not to mention an influx of extremely creative and innovative cannabis-related products and accessories that have hit the market these past few years. I think it all depends on what kind of marijuana consumer the person you're getting the gift for is.
Genius Pipe makes a gorgeous looking brushed aluminum pipe built with a patented design that uses more than 2,000 anodized aluminum dimples to clean, filter and cool your smoke like a traditional water pipe would, albeit without the hassle and mess of one. Or maybe get them a pack of gold edible rolling papers from Shine Gold Papers that they can use for a special occasion. Of course, oil and wax concentrate pens are big these days as well. We like Brooklyn-based Puffco.
Also, packaged edibles are really big now. You can now find just about any food or drink made with some form of cannabis from the standard candy-like items and chocolates to wine, beer and even protein bars!
Apothecanna is one of the better-known companies creating some really great topicals and creams for dry skin, muscle soreness, pain relief and a ton of other ailments in the space. There's even a cannabis-infused sexual oil called Foria that promises to increase and enhance stimulation when sprayed on a female's genitalia. How's that for innovation?
And if your giftee is more of a traveler, you can always book them a cannabis-themed tour or vacation through The Travel Joint.
As the marijuana industry advances, how do you see brands and retailers approaching the holidays in the future?
We've already seen a ton of Cyber Monday deals in the accessories area as well as actual dispensaries and online delivery services, so it's pretty mainstream already.
I think you'll soon be seeing mainstream shopping outlets begin to carry cannabis and cannabis-related items in the years to come. It'll be treated like any other adult pleasure, be it alcohol or cigarettes, but it'll definitely start soon. The market and demand are just too big, states too deep and vested, and too much money to be had to just brush it all aside.
© Copyright IBTimes 2023. All rights reserved.