Clint Eastwood Halftime Commercial: Super Bowl Ad Warms America, Goes Viral [VIDEO]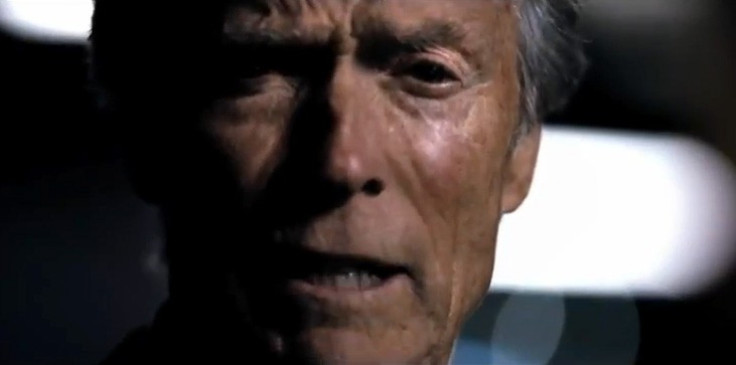 The Clint Eastwood halftime commercial has taken the Super Bowl world by storm.
Eastwood, 81, warmed hearts during Sunday's halftime with a 2-minute Chrysler commercial celebrating all things America, Detroit and the art of making a comeback.
It's halftime, the legendary actor and director begins, as he walks through a dark tunnel.
Both teams are in their locker room discussing what they can do to win this game in the second half. It's halftime in America too. People are out of work and they're hurting. And they're all wondering what they're gonna do to make a comeback. And we're all scared because this isn't a game, Eastwood continues.
The commercial then focuses on Motor City (a theme that was also the star of last year's Chrysler Super Bowl commercial with Eminem).
The people of Detroit know a little something about this. They almost lost everything. But we all pulled together, now Motor City is fighting again, Eastwood says.
As of Monday morning, Twitter feeds have been bombarded with trending topics including Halftime in America, Clint Eastwood and Chrysler, all in celebration of the commercial.
That Clint Eastwood ad inspired me to do push-ups for the 1st time in years. I didn't, but I was inspired to, wrote one viewer.
Celebrities like Marlee Matlin, Elizabeth Banks and Billy Ray Cyrus also praised Eastwood's spot.
And the winner is . . . Clint Eastwood! Maybe the best commercial in history, Cyrus wrote.
Perhaps the most poignant moment comes near the end of the commercial, when Eastwood finally comes into view.
This country can't be knocked out with one punch. We get right back up again and when we do the world's gonna hear the roar of our engines. Yeah. It's halftime, America. And our second half's about to begin, he says.
Scroll down to watch Clint Eastwood in It's Halftime in America, one of the most talked about commercials from Super Bowl XLVI.
© Copyright IBTimes 2023. All rights reserved.