Clint Eastwood On The Truth About Filmmaking, Michael Moore Death Threat Rumors, 'American Sniper' And More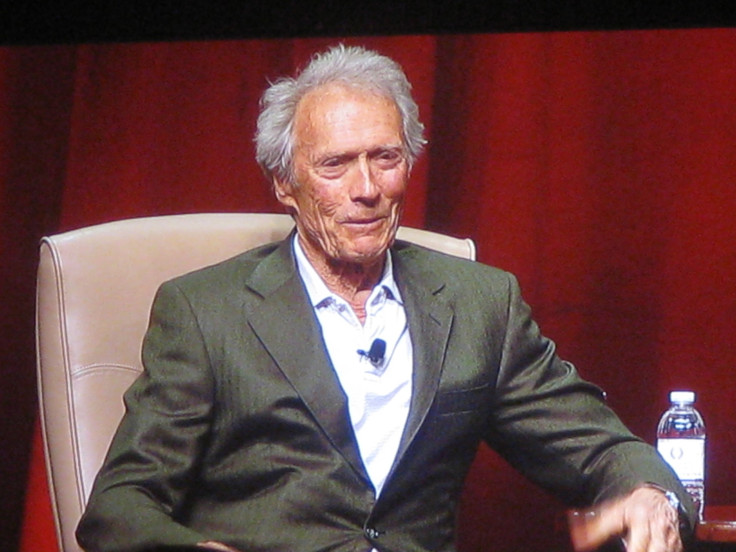 Following the box office success of last year's "American Sniper," filmmaker and actor Clint Eastwood took the stage at CinemaCon and Warner Bros. Pictures' Legend of Cinema luncheon in Las Vegas Wednesday. Before being awarded Fandango's Fan Choice Favorite Film Award for the war drama, Eastwood engaged in a Q&A with the Hollywood Reporter's Stephen Galloway onstage at Caesars Palace, discussing his film career, the dope about making movies, the Michael Moore controversy, his son Scott Eastwood and more.
Here are 10 of the biggest takeaways from Eastwood's 2015 CinemaCon appearance:
1. He didn't plan on acting. Though Eastwood has made entertainment his lifelong career, it wasn't one he originally had in mind. "I had no idea what I wanted to do," Eastwood shared. After serving in the Army -- he was drafted in 1951 -- and working several odds jobs, he went to college to take acting classes and later earned a contract with Universal. "I liked [acting] very much. I enjoyed the whole process," he said.
2. Directing is his forte. Eastwood said there are many reasons why he got into directing. Like many actors before him, he said after years of working in front of the cameras, he wanted to see what it was like behind them. Another reason he decided to delve into behind-the-scenes work: He had no desire to see himself on-screen in his later years. "Someday you're going to look up on the screen," he said, "and you're going to see a guy that you don't want to see."
Directing allows him to be able to tell a story from "beginning to end," but it also allows him to be the boss. "It's absolute control," he said.
3. He believes in method acting. "Everybody is method acting," Eastwood said when asked if the term describes his process for playing a character. "Method acting is merely immersing yourself into a role as deep as possible, and there are many ways of doing that." He revealed that observing people is his favorite way to get into a role, something now hard to do because of his celebrity. "If you become recognized, then people start looking at you, so you never get a chance to watch them," he said.
4. He goes to the movies. He may be a Hollywood legend, but Clint Eastwood still pays for a movie ticket now and then. While he said a large amount of the films he sees are at screenings, free of charge, he does enjoy patronizing public theaters. He said the last film he paid to see was Wes Anderson's "The Grand Budapest Hotel," which he said he enjoyed.
5. He is supportive of his son's acting career. While Eastwood admitted he has yet to see his son's big screen debut in "The Longest Ride," the latest film from author Nicholas Sparks, he did reveal he has plans to see the flick. When it comes to critiques, however, Eastwood said he'll keep his mouth shut. "I'll see if he's a chip off the old block," he joked.
6. Postpartum in filmmaking. Being a director does have its drawbacks -- Eastwood said he tires of answering "400 questions" a day on set. And he confessed to a feeling of sadness after a film is completed. "You're thinking about it when you're brushing your teeth. When you're out playing golf, you're thinking about the film," he said. "Then, after you have completed it, it's a huge letdown, a postpartum kind of thing."
7. Thank you, Steven Spielberg. "American Sniper" fans have Steven Spielberg to thank for Eastwood's work on the film. When Eastwood was offered the project, he said he reached out to Spielberg, who originally signed on to direct, to ask for his permission. "I said, I'm taking your leftovers again," Eastwood said of his conversation with the director. "He was very supportive of me doing it."
8. Michael Moore drama. When discussing the success of "American Sniper," both domestically and overseas, Eastwood said its record at the box office was a tribute to the studio's marketing campaign and it helped that "the right people complained about it."
Without prompting, Eastwood addressed documentarian Michael Moore's negative critique of the film. "That's his opinion. Everybody keeps saying I threatened to kill Michael Moore. That's not true," he said, "but it's not a bad idea."
9. No superheroes for him. When asked if he would be interested in doing a franchise film, specifically a superhero story, Eastwood said he has no interest. "I read comic books when I was a kid. I don't read them now," he shared.
10. He's on a break. Despite rumors Eastwood has another project in the works, he confirmed he is currently on a break from the film business. "I made two [films] back-to-back last year," he said. "This fall I spent some time at home and some business things there and with loved ones."
© Copyright IBTimes 2023. All rights reserved.