Clinton WikiLeaks Update: Hillary's Campaign Asked Bill To Cancel Wall Street Speech, Hacked Emails Show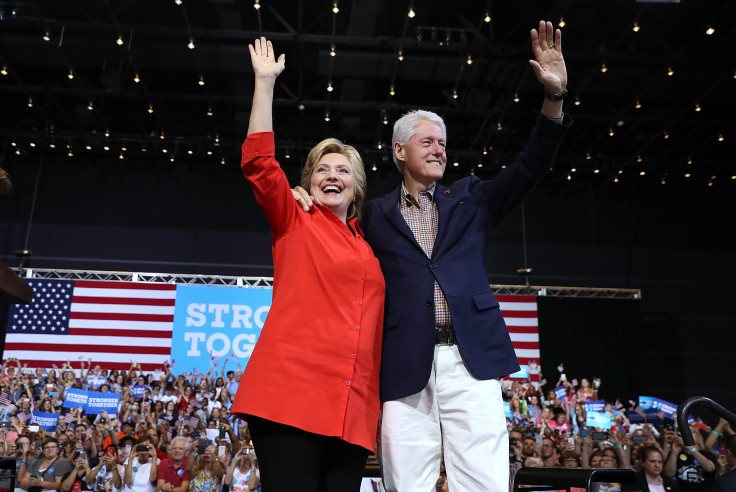 Democratic U.S. presidential candidate Hillary Clinton's campaign asked former president Bill Clinton to cancel a speech he was to deliver at a Wall Street investment firm just as she was about to announce her bid for presidency, hacked emails published by WikiLeaks revealed Friday.
The campaign reportedly expressed concerns that the speech may make the Clintons appear too friendly with Wall Street. The leaked emails showed that the former secretary of state wasn't too keen on cancelling her husband's speech but was later convinced after a "cool down period."
The Clintons' paid speeches have been the center of heated contention. Hillary Clinton, before announcing her White House bid, earned about $1.5 million in addresses to Wall Street firms while Bill Clinton earned over $5 million from speaking to banking, tech and other corporate interests.
Clinton's campaign manager Robby Mook said in the emails the cancelation of the speech would disappoint the Clintons but "it's a very consequential unforced error and could plague us in stories for months." Clinton campaign Chairman John Podesta also expressed his concern over the speech.
The former president was to speak to Morgan Stanley executives in April 2015, a couple of days after Hillary Clinton was to announce her White House bid. Mook, in a March email, said: "That's begging for a bad rollout."
He added in a later email that he believed "very strongly that doing the speech is a mistake" that could harm Clinton's campaign. Clinton was scheduled to begin campaigning in Iowa "where caucus goers have a sharply more negative view of Wall Street than the rest of the electorate," Mook wrote.
"Wall Street ranks first for Iowans among a list of institutions that 'take advantage of every day Americans,' scoring twice as high as the general election electorate. ... This is a very big deal in my view," he added.
Clinton's aide Huma Abedin reportedly said at first that Hillary Clinton "very strongly did not want him to cancel that particular speech" but later told Podesta and Mook that she was willing to cancel the address if her husband was also in favor of the move.
The emails released Friday were part of those hacked from Podesta's accounts. U.S. authorities believe the hacks are the handiwork of Russian hackers looking to influence the presidential election. Russia, however, had dismissed the allegations.
The leaks also revealed that Hillary Clinton once accused Qatar and Saudi Arabia of helping fund the Islamic State group.
"We need to use our diplomatic and more traditional intelligence assets to bring pressure on the governments of Qatar and Saudi Arabia, which are providing clandestine financial and logistic support to ISIL and other radical Sunni groups in the region," she told Podesta in August 2014, six months after she ended her term as secretary of state. "The Qataris and Saudis will be put in a position of balancing policy between their ongoing competition to dominate the Sunni world and the consequences of serious U.S. pressure."
WikiLeaks has dumped several batches of emails in recent days and promised to dump more information well beyond the elections. The Clinton campaign has not confirmed the authenticity of the leaked emails.
© Copyright IBTimes 2023. All rights reserved.