CNN Flint Democratic Presidential Debate 2016 Live Updates: Best Twitter Reactions, Memes And Analysis Of Clinton, Sanders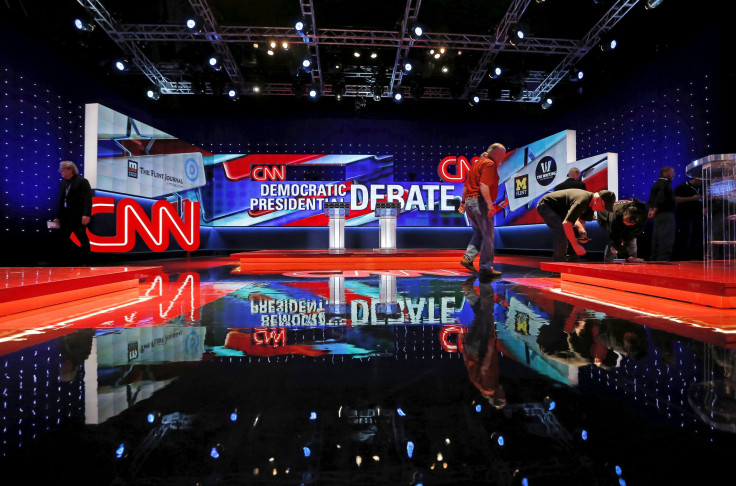 UPDATE: 9:55 p.m. EST -- During Sunday's Democratic presidential debate, former Secretary of State Hillary Clinton and U.S. Sen. Bernie Sanders of Vermont were asked about the role that God and religion plays in their lives. Sanders, who is reportedly agnostic, said he believe in the principal of "doing unto others as you would have done unto you."
He added: "I believe morally and ethically, we do not have a right to turn our backs on children in Flint or veterans who are sleep on the street ... We are in this together."
Sanders was also asked about his reluctance to publicly claim his Jewish heritage. He responded by saying he was "very proud" to be Jewish.
UPDATE: 9:37 p.m. EST -- The debate turned to the country's school systems, but in particular Detroit public schools, which one questioner from the audience said she is suing not for money, but for some real change to address issues like crumbling school buildings and teachers who lack certification. Former Secretary of State tackled the question by defending teachers.
"Teachers do so much good, they are often working under the most difficult circumstances, so anything theta could be changed, I want them to look at it," Clinton said.
Sanders somewhat deflected the question and instead took the opportunity to talk about his proposal for free college tuition. "How is it starting at college that hundreds of thousands of bright young people are unable to go to college because they can't afford it?" he asked.
UPDATE: 9:31 p.m. EST -- At the halfway point of the debate, Vermont Sen. Bernie Sanders had dominated the conversation on Twitter, according to the social network. Sanders collected 56 percent of Tweets about the Flint, Michigan, debate, while Clinton had 44 percent.
UPDATE: 9:13 p.m. EST -- The debate turned to race relations, and CNN's Don Lemon asked each candidate what they would identify as their "racial blind spots." Clinton answered first and admitted that she knows she's never had the experiences that the people in the audience may have gone through. But she scored apparent some political points when she invoked the name of Sandra Bland as an example of the "trouble for no good reason" that "your children could get into.
Flint is a city that has a population that is nearly 60 percent African-American.
Every woman watching the #DemDebate cringed when Bernie shushed Hillary this way: https://t.co/56KbfRl2Nj pic.twitter.com/sdse9H3ePC

— Mic (@micnews) March 7, 2016
UPDATE: 8:50 p.m. EST -- On gun control, the Democratic candidates participating in Sunday's presidential debate in Flint, Michigan, said Congress had not gone far enough to protect Americans from senseless gun violence. Former Secretary of State Hillary Clinton said there were problems with the law that give gun makers some immunity from liability in gun violence cases. U.S. Sen. Bernie Sanders said more should be done on the issue of background checks.
UPDATE: 8:30 p.m. EST -- After Flint's water crisis was discussed at length in Sunday's Democratic presidential debate, moderators move on to the auto industry bailout and the position former Secretary of State Hillary Clinton and U.S. Sen. Bernie Sanders of Vermont took on financial intervention by the federal government.
Clinton said she supported the bailout, which had major impact on job market for Michiganites. Sanders voted against it, but reasoned that it was because he was dissatisfied about how it would help affected workers.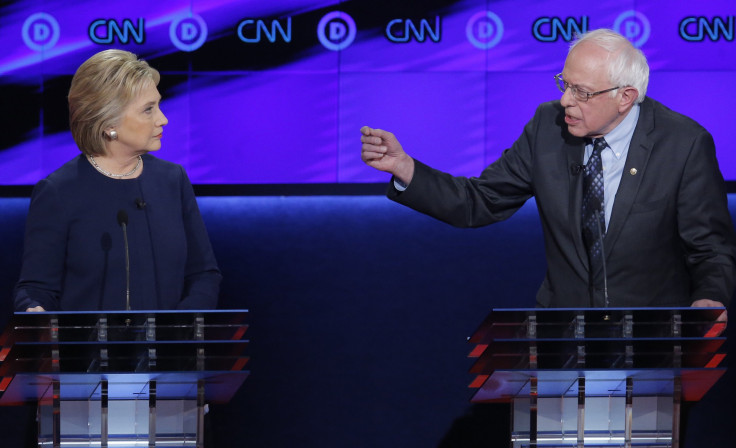 UPDATE: 8:15 p.m. EST -- Following their opening statements in Sunday's Democratic presidential debate, former Secretary of State Hillary Clinton and U.S. Sen. Bernie Sanders of Vermont dove deep into the water crisis in Flint, Michigan. Most of the first questions focused on the government's responsibility in the contamination of Flint's water supply nearly two years ago.
Clinton said she wanted to focus on how similar environmental issues in black and working- class communities were happening all around the country. "This is not the only place where this kind of action is needed," she said referring to steps she would take to address the nation's public infrastructure. "We have a higher rate of tested lead in people in Cleveland than in Flint. So I'm not satisfied … I want to tackle this problem across the board," Clinton added.
Both candidates were asked if they would fire anyone who had a role in the poisoning of Flint's water supply. Sanders said unequivocally yes.
"President Sanders would fire anybody who knew what was happening and didn't do anything," he said. "How does it happen in the wealthiest country in the world?"
UPDATE: 8 p.m. EST -- At the start of Sunday's Democratic presidential debate, CNN anchor Anderson Cooper held a brief moment of silence for former first lady Nancy Reagan, whose death at age 94 was announced Sunday.
Following the tribute and the singing of the national anthem, U.S. Sen. Bernie Sanders of Vermont and former Secretary of State Hillary Clinton began on the subject of Flint's water crisis. Both candidates called on Michigan's Republican Gov. Rick Snyder to resign over his role in the multiyear scandal.
UPDATE: 7:50 p.m. EST -- Ahead of Sunday's Democratic debate, protesters in Flint were attempting to block entrance to the venue. Video footage from outside of the Whiting Auditorium, where the debate was being held, showed a large group chanting for higher wages and clean water.
Original story:
The Democratic presidential candidates were set to meet Sunday in Flint, Michigan, for their seventh debate, with the eastern Michigan community's water-contamination crisis looming large over the event. With more than 1,300 attendees expected to pack Flint's Whiting Auditorium, former Secretary of State Hillary Clinton and Vermont Sen. Bernie Sanders are expected to try to establish their credentials with voters reeling from government mismanagement.
As early as two hours before the 8 p.m. EST debate start time, audience members began filing into the auditorium. Political journalists, pundits and presidential campaign surrogates offered commentary ahead of the event on CNN, which is hosting the debate.
Cable network anchor Anderson Cooper was to moderate the debate. Dana Bash, CNN's chief political correspondent, and Don Lemon, host of "CNN Tonight," are also slated to serve as questioners.
This was not the first visit to the largely poor, working-class and black city for either candidate. Both Clinton and Sanders have held campaign events in Flint and addressed the city's problems in various stump speeches to African-American voters throughout the country.
Flint, a city of nearly 100,000 residents located just an hour north of Detroit, once depended heavily on the American auto industry for jobs. But like Detroit, when the auto industry fell on hard times financially, so did Flint.
Michigan's worst-hit communities saw jobs leave, schools closed or crumble from a lack of resources and homes abandoned in a foreclosure crisis. Many of those cities were assigned emergency managers, state-appointed bureaucrats who stripped financial control from locally elected officials.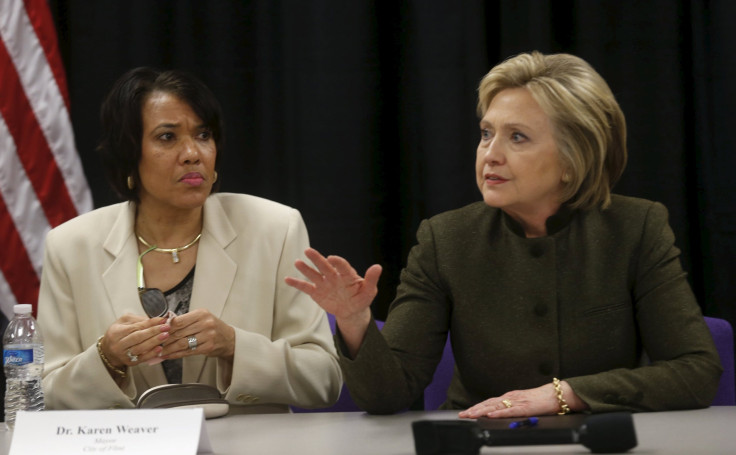 In 2014, an emergency manager sought to save money on the city's water supply infrastructure. Flint officials stopped sourcing water from a Detroit supplier that took proper anticontamination measures. Instead, it drew from the highly contaminated Flint River without necessary chemicals to prevent corrosion, resulting in the leeching of dangerous levels of lead, E.coli and other contaminants in darkly colored and odiferous water.
Last month, Clinton visited a Flint church to hold a forum about the water crisis with the city's mayor, Karen Weaver. Sanders held a water crisis-related event at Woodside Church in Flint a few weeks later. A coalition of environmental and racial justice groups last week called for the Democratic National Committee to make "environmental racism" — the intersection of race, socioeconomics and environmental issues — a main focus of the debate.
Delegates Awarded to Presidential Candidates | InsideGov
Although black voters are expected to have an influential role in the state's Democratic presidential primary next Tuesday, it's unclear whether either candidates' focus on Flint is helping to win African-American support. Sanders, who struggled to gain minority support in the early primary states, polled nationally at 38 percent and 31 percent among that electorate in recent CNN/ORC and Rasmussen Reports polls.
Clinton, who has been the clear leader among black voters, polled at 55 percent and 53 percent in the same polls. Sanders has notched several primary wins in overwhelmingly white states, but Clinton is way ahead in delegates.
FOR FREE to continue reading
✔️ Unlock the full content of International Business Times UK for free
offer available for a limited time only
✔️ Easily manage your Newsletters subscriptions and save your favourite articles
✔️ No payment method required
Already have an account?
Log in
© Copyright IBTimes 2023. All rights reserved.