Coinbase Borrow Cash: How To Loan Money Using Bitcoin As Collateral?
This article uses affiliate links, which means if you purchase products through these links, we may earn a commission. Click here to see our
T&C
. For licensing please click
here
.
Leading crypto exchange, Coinbase has recently allowed eligible customers to borrow cash using Bitcoin as collateral. Here's everything you need to know.
Rise of Crypto
First introduced in 2009, Bitcoin is the first-ever decentralized peer-to-peer payment system, which was created after the recession. It paved the way for the creation and eventual rise of cryptocurrencies.
As digital coins are not controlled by government entities, cryptocurrency has freely thrived and expanded, with investors speculating on the possibilities of this new technology driving most of the market capitalization.
Eventually, public exchanges like Coinbase have become available, which made crypto more accessible to the public. It also developed innovations in the network, the most recent of which is the Coinbase borrow cash system.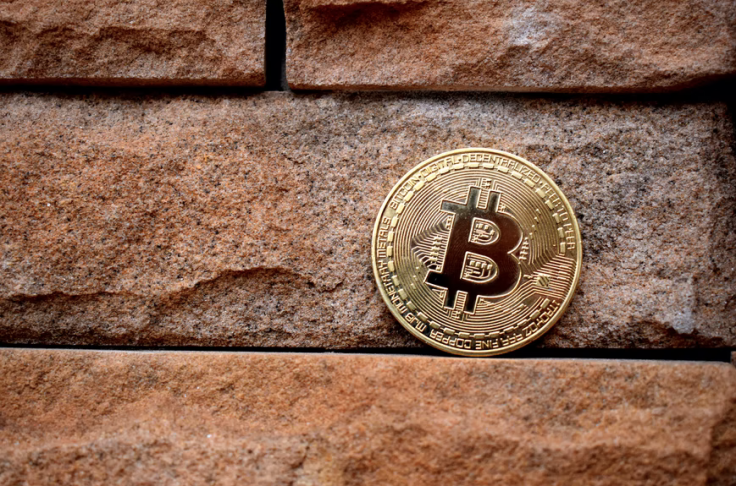 Coinbase Borrow Money
Known for enabling beginners to buy and sell crypto, Coinbase is the largest U.S. cryptocurrency trading platform by volume, offering support to more than 100 countries and 40+ million users.
Recently, the Nasdaq-listed crypto exchange said that Coinbase users can now borrow up to $1 million in cash using Bitcoin as collateral through its Coinbase Borrow Money system.
An expansion of what Coinbase announced last year, customers can now borrow as much as 40% of the value of Bitcoin in their account, removing the need to sell crypto and incur taxable gains or losses whenever you need money.
Here are some other advantages in using Coinbase Borrow:
No fees or credit checks, just an APR of 8%
Flexible repayment schedules with no due dates
Your borrowed cash can be instantly transferred to your PayPal or bank account
The Bitcoin you use as collateral remains safe inside Coinbase
No prepayment or late fees
Coinbase doesn't report any loan-related activity to credit bureaus
If you wish to take advantage of this new feature, here's what you need to do.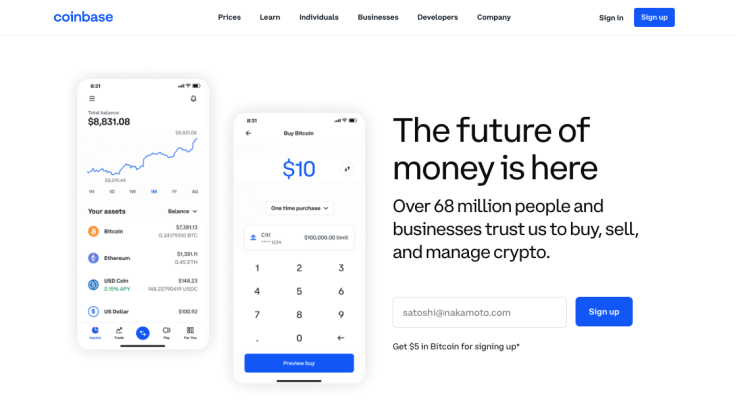 How to Borrow Money from Coinbase
1. Check Offer Availability
First, check if Coinbase offers this new feature in your state. Currently, Coinbase Borrow is available to residents of AK, AR, AZ, CA, FL, ID, IL, NC, NE, NH, NJ, NY, OH, OR, TN, TX, UT, VA, WA and WY.
Moving forward, Coinbase has plans to extend this offer to more territories and states.
2. Set Up Your Coinbase Account
If you already have an account, skip this step. If not, then you'd be pleased to know that Coinbase has made it very easy for anyone to sign up to start buying and trading on the platform. To sign up, visit the Coinbase website and click "create your account." Provide the required information, choose a payment method and verify your account using the email you provided.

You can get a more detailed explanation of Coinbase and its perks by clicking here.
3. Buy BTC and Add it to Your Portfolio
After setting up your account, open the app, click "buy," and pick Bitcoin (BTC) from the list of available assets. You should be able to see the current Bitcoin price there. Then, pick how many shares of Bitcoin you will be buying. The higher you buy, the more likely it is that you will be eligible for Coinbase Borrow.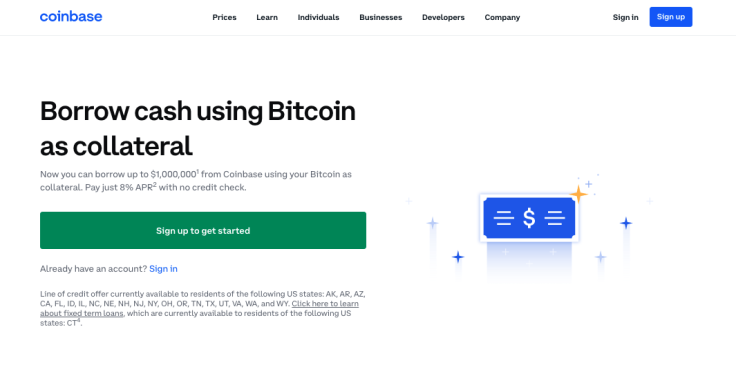 4. Preview Coin Purchase
Once you've decided how much you want to buy, click "preview" to check your price. This will show the amount of BTC coins you will be buying, the Coinbase fee and the payment method. Coinbase deducts its fees from the amount you purchase, so a $50 purchase will have a fee of $1.99 deducted from it. Complete the transaction by paying through your credit card or bank account.
5. Check If You're Eligible
Check if you're eligible for the new feature. You can do this by going to coinbase.com/borrow or when you receive an invitation via email from Coinbase.
6. Borrow and Receive Cash
If you're eligible and the offer is available, you can then borrow 30% of the value of the Bitcoin in your account. There will be no fees, credit checks or pre-payment, just an APR of 8%.
The money you borrowed can be instantly transferred to your PayPal or any U.S.-listed bank account.
7. Make Monthly Payments
After borrowing cash, you can start paying the interest due every month, with a minimum of only $10. The good thing is, there are no late payment fees. Each time a payment is made, you'll get back some of the Bitcoin that was locked as collateral.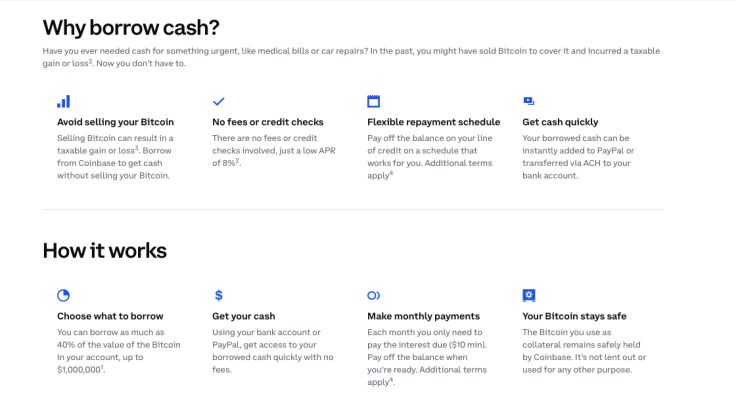 Should You Borrow Cash from Bitcoin?
If you are an eligible Coinbase customer who needs quick cash, then Coinbase Borrow is a fantastic feature you can take advantage of.
There are no credit checks, late fees, pre-payment or any other condition. Simply borrow the money and pay it back within the time period along with the 8% APR. It even allows you to pay off the loan with any price increase in the asset.
If you're interested in learning more about Coinbase and its loans, click here.
Check Also: Bitcode AI is Revolutionizing how People Make Money on Bitcoin