Columbia University Student Carries Mattress In Performance Art Protest Of Sexual Assault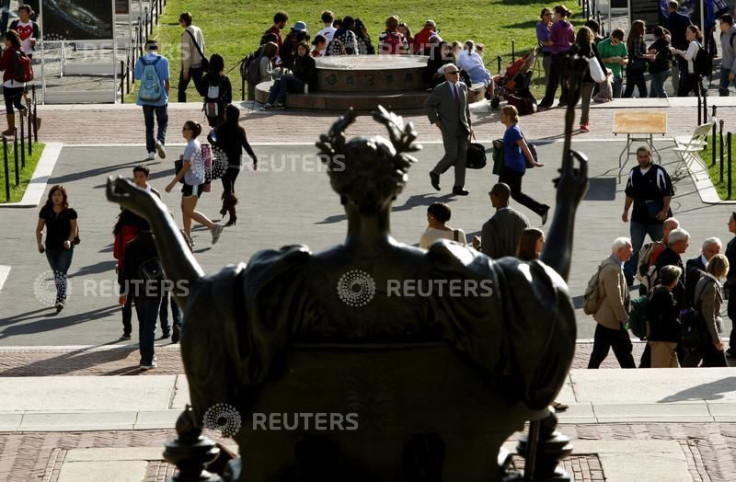 Columbia University senior Emma Sulkowicz launched a performance art project that protests the school's alleged mishandling of her sexual assault. And an email obtained by the Nation this spring between an administrator and a student activist advocating for improved sexual assault policies suggests Sulkowicz could face a heavy uphill battle.
On the first day of her sophomore year, Columbia University student Emma Sulkowicz says she was sexually assaulted in her dorm by a classmate. Although she says she was too traumatized to report it right away, she subsequently met two other women who said they'd been assaulted by the same person, which helped convince her to report it to Columbia.
All three cases were dismissed after lengthy, and Sulkowicz claims, deeply flawed hearings. Sulkowicz became one of 23 students who ultimately filed a Title IX complaint against Columbia in April for mishandling sexual assault cases. Title IX is a law that prohibits schools that receive public funding from discriminating on the basis of sex.
This week, Sulkowicz has begun protesting the handling of sexual assault case in a different way: by taking it -- and her bed -- to the streets.
In a performance art project titled "Mattress Performance or Carry That Weight" that began this week and that Sulkowicz said could potentially last until the end of the school year, the visual arts major will carry a twin-size dorm mattress everywhere she goes on campus. The project is part of her senior thesis. "I was raped in my own dorm bed," says Sulkowicz in a video discussing the performance. "And since then that space has become fraught for me … I feel like I've carried the weight of what happened there with me everywhere since then." Sulkowicz will also perform in her art studio, but she plans on carrying the mattress on campus "for as long as I attend the same school as my rapist." Sulkowicz reportedly filed a police report on May 13, though it does not appear that the NYPD was yet formal charges against Jean-Paul Nungesser, her alleged attacker.
Although Columbia University claims it has attempted to redress student complaints against the university's purported "anti-survivor institutional bias," a leaked email from the administration reveals ongoing tensions.
Over the past few months, students have been meeting with Columbia University administrators to formulate a flowchart that would clarify what rights and resources sexual assault survivors were entitled to. When it was published online, some of the students felt that important information was left out, including what evidence would be admissible at university sexual misconduct hearings.
On May 5, a student in negotiations with the administration over the flowchart requested in an email that students have "direct contact with whoever makes the decision on what information can be included or excluded." Columbia's Title IX compliance officer Virginia Ryan accidentally replied to the student instead of a fellow administrator.
The email, leaked to the Nation, read:
"Wow again. Direct contact with decision makers, not just ? Anything else!?!"
"The tone and content of your message," the student wrote in response to Ryan's Freudian send, "suggests that your purpose in collaborating with us is to 'handle' us more than it is to engage with us honestly. I just hope that future communications amongst administrators can respect the integrity of my and other students' personal investments in addressing these issues and making our campus a safer, less hostile place."
Although it seems clear that students will not stop protesting – in the media or on campus -- Suzanne Goldberg, Columbia's new special adviser to the president on sexual assault prevention and response, told Newsweek that the latest revised Gender-Based Misconduct Policy reflects the concerns of students. "Many of the policies' provisions were direct responses to student concerns and suggestions raised throughout the last academic year."
© Copyright IBTimes 2023. All rights reserved.
FOLLOW MORE IBT NEWS ON THE BELOW CHANNELS