Cornel West Defends Support For Bernie Sanders, Says Will 'Push Him With Integrity'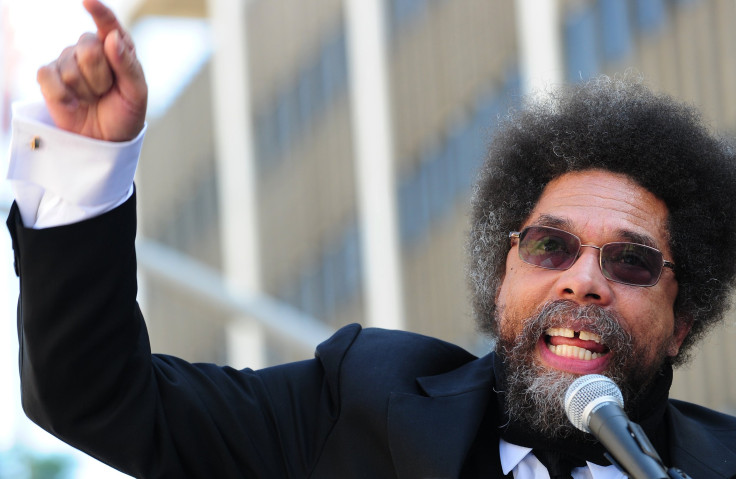 Civil rights activist Cornel West defended his endorsement of Democratic presidential hopeful Sen. Bernie Sanders, stating that this is the time "for his prophetic voice to be heard across our crisis-ridden country."
West's comments, seen in a series of tweets late Monday, come amid questions over Sanders' commitment to fight racial injustice in the U.S. While Hillary Clinton is seen to be the preferred candidate among minority voters in the race for the Democratic nomination, West's endorsement should give Sanders a boost, according to reports.
"My endorsement of Brother Bernie in the primaries is not an affirmation of the neo-liberal Democratic Party… My endorsement of Brother Bernie is not a downplaying of the immorality of the ugly Israeli occupation of Palestinians," West wrote on his Twitter account Monday. "I endorse Brother @BernieSanders because he is a long-distance runner with integrity in the struggle for justice for over 50 years."
Sanders has been criticized for not adequately addressing the issue of racial injustice in the country, and some also reportedly pointed out that his campaign announcement in May did not mention criminal justice reform. The 73-year-old Vermont senator, who has been an advocate for civil rights issues for decades, responded by releasing an agenda for "Racial Justice" earlier this month.
Sanders, whose home state of Vermont is 95 percent white and has less than 7,500 black residents, visited South Carolina last weekend, as he continues to struggle to connect with minority voters.
"We are tired of seeing black women yanked out of a car, thrown to the ground, assaulted, put in handcuffs and then sent to jail and then die three days later," Sanders said last month, referring to the July 13 death of Sandra Bland, an African-American woman who died in jail after a traffic stop in Texas.
His comments followed protests at the Netroots Nation conference in Phoenix on July 18 where "Black Lives Matter" demonstrators demanded that Sanders and Martin O'Malley -- another contender for the Democratic nomination -- address racial injustice and speak Bland's name, and the names of other African Americans who have died in police custody.
During an appearance on CNN last week, West told host Don Lemon that Sanders is the best candidate for minority voters. West has been involved in several protests against the use of excessive force by law enforcement officials against black Americans. Most recently, the 64-year-old activist was arrested for demonstrating on the one year anniversary of the death of Michael Brown in Ferguson, Missouri.
© Copyright IBTimes 2023. All rights reserved.