Coronavirus Frontline Horror: Nurses Share Battle Scar Pictures From Fight
KEY POINTS
With the ongoing battle against COVID-19, much attention was given to patients, yet frontliners have not been given the same
Photos of weary, wounded and embattled nurses and doctors all over the world have circulated
These showed the stark realities faced by modern-day healthcare providers in different nations al over the world
In the fight against COVID-19, talk has always centered on how many people are already infected and how many of them died or recovered. Sometimes, the talk would shift to the effort of scientists in finding a vaccine or cure. Rarely would the talk dwell on the nurses and doctors who are at the forefront of the battle, but in fact, they have also endured much and perhaps sometimes worse.
Today's news is full of updates about coronavirus and the extreme measures being done by governments to contain it. On another side of the news are stories about how people go into panic buying mode, emptying shelves of alcohol-based sanitizers, rubbing alcohol, surgical masks, and even toilet papers.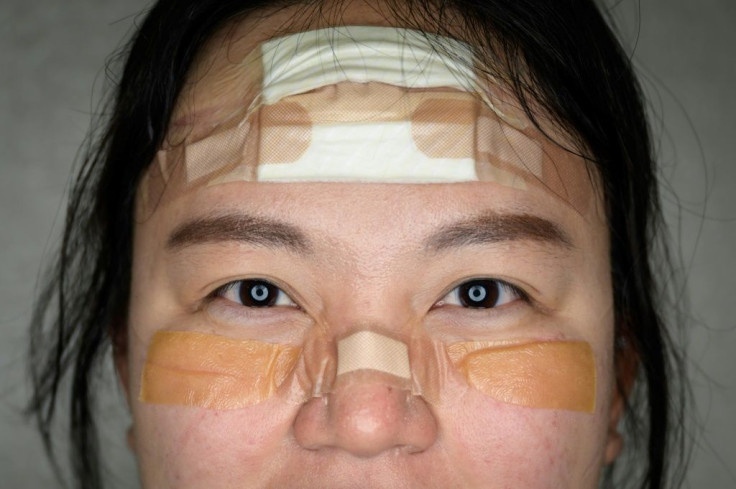 There is little news about how nurses and medics work round the clock to care for patients stricken with COVID-19. Only a few people know about how these medics and nurses, due to lack of protective masks, have to bear with ill-fitting coronavirus masks as they battle with the disease.
Painful Sores
In South Korea, nurses have been wearing tape and bandages on their faces to protect against bruises caused by ill-fitting masks. Cases of painful sores developing on the face have been a common occurrence since the coronavirus battle began. These sores are caused by hard sections of their protective gear, such as the thin metal part on the surgical mask.
To prevent such from happening again, nurses would spend at least thirty minutes in applying bandages and tape before donning on their masks. These left visible marks on their faces, which some say may take a long time to disappear.
In Keimyung University Daegu Dongsan Hospital, the nurses, instead of being cowed or ashamed by such marks and wrappings, they wear them like badges of honor in this raging battle. The hospital is located in the southern city of Daegu, in what is considered the epicenter of the largest outbreak in Asia apart from China.
The plasters, tape, and pads serve as their protection against lesions that might develop due to the wearing of protective gear for many hours. Kim Eun-hee, one of the nurses at Daegu, said they are trying very hard to cope with the situation.
Several teams of volunteer and full-time nurses have been working at the hospital, considered among the biggest in Daegu. Their efforts have been praised both online and offline. In a comment on one of South Korea's news portal, an online user said these nurses are the real heroes. Letters of support have also poured in from well-wishers and are now displayed at the hospital. According to one letter, the entire nation is behind the nurses.
A Round-the-Clock Task
At present, approximately nurses are working on eight-hour shifts at the hospital, and almost half of them are volunteers. According to Jung Sang-min, the hospital representative, nurses wear bandages more than doctors because it is they who spend more time tending the patients. He said that it takes these nurses around half-an-hour to don their protective suits. Jung added that it is the nurses who are the most dedicated in this battle.
It is also common for these nurses to work way beyond their shift, particularly if their reliever has not arrived yet or is not available. In almost all instances, off-duty nurses would just sleep on their desks and work again upon waking up.
Though it has been like this for many weeks, the nurses are in high spirits. The same story is happening in hospitals located in other countries.
No Time For Bathroom
In Italy, nurses like Alessia Bonari have posted pictures of their bruised faces resulting from hours of wearing protective gear. The country is being regarded as the center of the virus outbreak in Europe. Some of the photos on social media show nurses slumped over desks due to sheer exhaustion from the seemingly endless battle against COVID-19.
Nurse Bonari said she has to endure not taking a sip of liquid or going to the bathroom for six hours. After donning on her protective gear, she devotes her entire time tending to COVID-19 patients.
In a hospital located in Cremona, Nurse Elena Pagliarini was photographed slumped over the desk while still wearing a mask. Fellow nurses said Ms. Pagliarini has been working around the clock for a couple of days, pausing only to take a quick nap.
Eating Will Come Later
Photos of nurses working in the city of Wuhan in China have also circulated on social media for the past several weeks. The bruises on their faces told the story about their dedication to fighting the virus that has tormented the modern world.
Aside from the deep marks caused by wearing protective gear, some of them have developed facial sores and wounds. In one of the photos which left many people emotional, it shows a nurse with a scarred and wounded face brought about by hours of wearing protective gear.
It also showed the physical and mental exhaustion of the nurses and doctors. The photos were shared thousands of times on social media and revealed the extreme toll that medical personnel goes through as they battle the virus.
Reports also say that these medical personnel are so busy they do not even have enough time to eat, much less use the bathroom. Local media reports also say that Wuhan-based doctors and nurses are working non-stop to care for the patients.
In all of these, you would think that they are close to giving up. On the contrary, the nurses in all of these hospitals are all upbeat and ready to take the challenge.
Behind the happy façade, however, is the stark reality that many of the nurses that once walked the hospital hallways are gone. The toll on their health was so immense many of them are now in critical care and are now COVID-19 patients themselves.
The challenges that these nurses face do not dwell only on the physical aspect but on the mental aspect as well. The thought that you are to put in long hours of tending to patients and seeing many of them die is enough to cause mental jitters.
Nevertheless, the nurses persisted. Even though some of them succumbed to the illness they once fought, new ones took their place, facing their tasks with equal fervor and dedication.
An Accidental Hero
In the same month one year ago, no one would have known, or even cared, who Dr. Li Wenliang is or whether he is a medical or an academic doctor. Even Dr. Li himself may not have even suspected that in nine months, he would be in the limelight, nor would have the ophthalmologist expected to become a hero. In the eyes of many, both in China and the rest of the world, he is a hero.
Li Wenliang, 33 years old, was born in Beizhen, Liaoning, on Oct 12, 1986. Since his elementary days, Li had always shown an aptitude for academics. Upon finishing high school, he was admitted to Wuhan University School of Medicine in a combined bachelor's and master's degree academic program. His tutor said that Li is very diligent in his studies and was very honest.
After graduation, he worked at the Xiamen University's Xiamen Eye Center for three years. A former colleague said Li was very patient with everyone, especially his patients, never showing any dissatisfaction even when they seem not to understand what he says.
In 2014, Li became a full-fledged ophthalmologist and opted to work at the Wuhan Central Hospital in Wuhan, China. On Dec 30 of last year, Li saw a report on a patient showing positive results with a high confidence level for SARS coronavirus tests. At 5:43 in the afternoon of the same day, Li wrote to his classmates on a private group on WeChat, saying seven confirmed cases of SARS were reported to the hospital. All came from the Huanan Seafood Market.
Li also posted the examination report of the patient, along with a CT scan image. An hour after, around 6:42 PM, he said that the latest information is that it is confirmed they are coronavirus infections but that the exact virus strain is unknown.
It was at this point that Li told his WeChat group members to tell their families and friends about the news and to take precautions. Later on, he admitted to having become upset when the discussion reached a much wider audience than expected.
After screenshots of Li's messages on WeChat were shared on other Chinese forums and gained attention, his manager talked to him and blamed Li for leaking the information. On Jan 3, 2020, Wuhan Public Security Bureau Police investigated the case and interrogated the ophthalmologist. They then warned and censured him for making false accusations on the Internet. After signing a letter of the admonition not to do it again, Li returned to his work in the hospital.
He contracted the virus on Jan 8. He was admitted to the Intensive Care Unit at the Houhu Hospital District, where he was isolated, treated, and tested for the virus many times until he tested positive.
On Jan 31, Li published on social media his experience with the police along with the letter of admonition. The post went viral and started questions as to why the doctors who gave warnings earlier were silenced by the authorities.
He vowed to return to the front line as soon as he recovers. This did not happen as his condition became critical on Feb 5, and on Feb 7, 2020, Li died.
Because of his revelations on social media, Li was seen by many as a hero. The resulting public pressure became too great for Chinese authorities that soon after, they admitted the same facts recounted by the ophthalmologist about the existence of a new coronavirus.
At this time, there were already 34,876 infections, with 724 deaths. The government then initiated a lockdown on the entire city of Wuhan, preventing residents from going out and visitors from coming in. While the government efforts in containing the virus may have been met with some degree of success, this did not prevent the virus from spreading to other countries.
Today, the coronavirus COVID-19 affects 162 countries and territories worldwide, and 1 international conveyance, the Diamond Princess, which now docks in Yokohama, Japan. As of publishing time, there are now 183,319 infections, 7,177 of whom already died from the virus. 79,908 patients have recovered, and the active cases are 96,234, of which 6,164 are in serious or critical condition.
On Monday, the National Institute of Allergy and Infectious announced that a clinical trial of a coronavirus vaccine made by Moderna is currently being undertaken in Seattle. Healthy volunteers are testing various doses of the first vaccine to determine if it is safe or not. If safe, studies will be undertaken on its efficacy in combating the virus.
© Copyright IBTimes 2022. All rights reserved.
FOLLOW MORE IBT NEWS ON THE BELOW CHANNELS