Could E.J. Manuel Be This Year's Robert Griffin III or Andrew Luck? Bills QB Could Be Ready For Big Rookie Season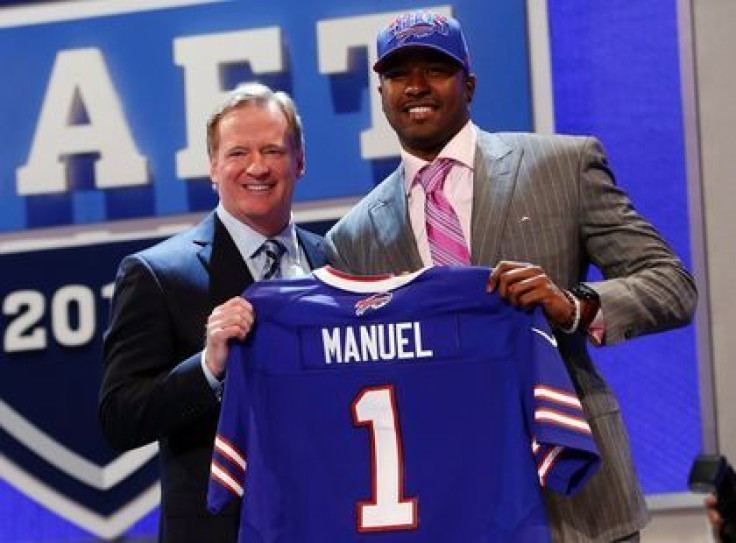 The Buffalo Bills had one of the biggest surprises of the 2013 NFL Draft when they selected E.J. Manuel with the 16th overall pick. He was taken ahead of players like Geno Smith and Matt Barkley, making him the first quarterback off the board.
Kevin Kolb came over from the Philadelphia Eagles this offseason with a chance to compete with Manuel for the starting job. The rookie, though, seems to be in the lead since Kolb has been battling a knee injury.
On Sunday, Manuel got a chance to play in his first ever NFL game, and he did not disappoint. In Buffalo's 44-20 preseason victory over the Indianapolis Colts, Manuel completed 16-of-21 passes for 107 yards and one touchdown. He didn't throw an interception and finished with a 102.7 passer rating. He added three rushing attempts for 28 yards.
It's only one game, but Manuel could be in line to have a big season. In 2012, several rookie quarterbacks were very successful and even led their teams to the playoffs. Andrew Luck and Robert Griffin III both made the postseason after being drafted No.1 and No.2 in the draft. Russell Wilson lasted until the third round, but he almost took the Seattle Seahawks to the NFC Championship Game.
Manuel has a chance to put up big numbers in new head coach Doug Marrone's system. He helped the New Orleans Saints win the Super Bowl in 2009 as the offensive coordinator. If C.J. Spiller and Stevie Johnson can remain healthy, Buffalo can be one of the more improved offenses in the NFL.
It's not just Manuel's physical gifts that give him the potential for a breakout season. His teammates have praised his maturity, which could help him secure the starting job.
"EJ has such great potential," said Bills linebacker Bryan Scott, according to nfl.com. "He's so poised, very mature for a young guy. That gets you excited as a (veteran), seeing him being able to take control of the huddle and the field and the situation (in the two-minute drill). I want to see more situations like that."
It won't be easy for Manuel to take the Bills to the playoffs. The team hasn't been to the postseason since 1999 and is in the AFC East with the New England Patriots and an improving Miami Dolphins team. Last year, though, Luck, Wilson and Griffin all made the playoffs a year after their current teams failed to do so.
© Copyright IBTimes 2023. All rights reserved.