Could Texas A&M to SEC Rumors Overshadow Rick Perry's Announcement?
Analysis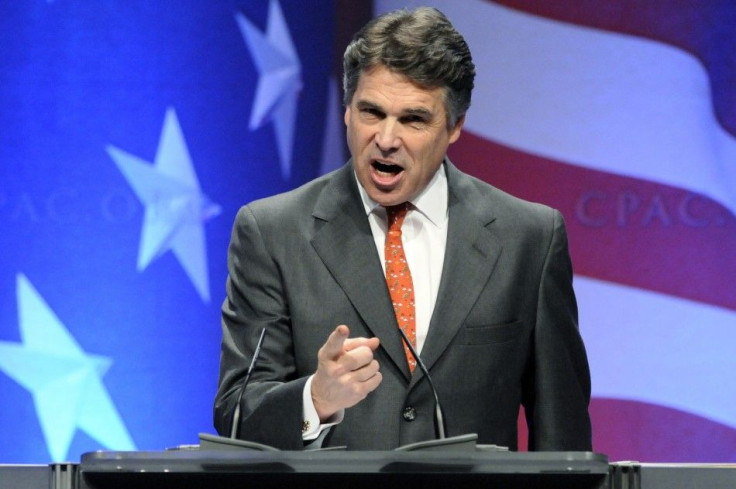 There has been a steady uptick in buzz surrounding Texas governor Rick Perry as he prepares to announce his run for White House on Saturday in South Carolina.
Perry's finally made the jump after weeks of will he or won't he speculation, but is it possible his special announcement is already being overshadowed?
The sports world was abuzz on Thursday night on rumors that Texas A&M will be leaving the Big 12 Conference to head to the Southeastern Conference.
Most major sports media outlets reported to some extent that rumors were indeed going around that Texas A&M could be heading to the SEC in the very near future. Texas Rep. Dan Branch said that the state's Higher Education Committee has scheduled a meeting for next Tuesday, "because we are hearing Texas A&M and the SEC are talking more seriously and we are hearing about a possible vote (for invitation) by SEC presidents."
Branch stated he has heard an SEC vote on Texas A&M's admittance could come as early as Saturday, and that's why the committee was trying to move so quickly.
"There are millions of dollars at stake," Branch said. "And this could affect students at other schools like Texas, Texas Tech and Baylor."
Branch is right - a move by Texas A&M could affect all of the other major Texas universities. This is why the issue is so hot right now in Texas, as everyone could be impacted.
When did this long-standing rumor of Texas A&M heading to the SEC gain legitimacy, though?
That'd be when none other than Perry innocuously admitted to reporters earlier this week that he heard some discussions by Texas A&M school officials and SEC conference officials.
"As far as I know, conversations are being had," Perry said about the TAMU to SEC rumors. "That's frankly all I know. I just refer you to the university and the decision makers over there."
Boy did that start quite the firestorm.
After that media jumped all over it and late Friday afternoon, media reported that the school has called for a Monday afternoon Board of Regents meeting to talk "conference affiliation."
With an announcement on the Monday horizons, the talk in Texas could shift from Perry announcing his presidency to discussions about college football.
Perry, a former Texas A&M yell leader, certainly holds the school close to his heart, but may have made a major tactical mistake.
There is little doubt that at any press conference or stump speech Perry gives from now until the Texas A&M situation is resolves will involve questions on his opinion of the school's move.
Now Perry could face questions about college football when he'd likely be much more interested in talking about President Obama's failures and why he is the best Republican candidate.
His admission that Texas A&M is talking with the SEC won't completely overshadow his special day on Saturday - but could at least damper it.
© Copyright IBTimes 2023. All rights reserved.