'Counterpart' Season 1 Spoilers: Episode 3 Synopsis, Trailer, Sneak Peeks Released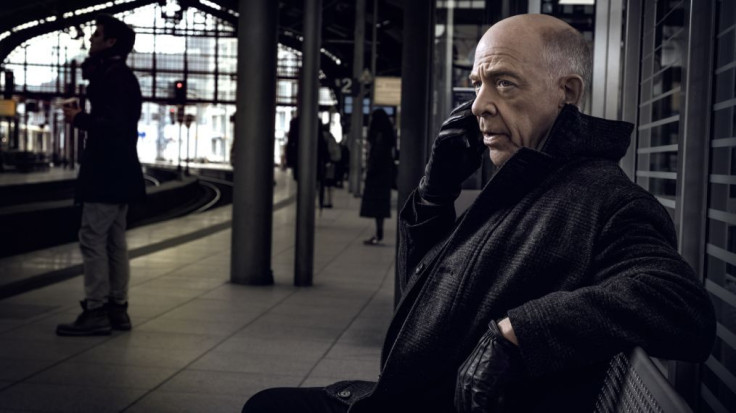 Both sides of the wall try to settle a dispute in this week's episode of "Counterpart."
According to the synopsis for Season 1, episode 3 of Starz's sci-fi thriller, the governments of the two similar worlds turn to diplomacy to resolve a conflict. While the synopsis doesn't specify what exactly the conflict is, events in the first two episodes of the series suggest that the conflict is the string of murders committed by the assassin Baldwin (Sara Serraiocco), who came from the other side.
New character Roland Fancher (Richard Schiff) is representing our side of the wall in the diplomatic talks. According to Entertainment Weekly, Fancher is the head of the Office of Interchange's diplomacy department, which is responsible for negotiating the exchange of prisoners between the two worlds. He's also an expert litigator with formidable negotiating tactics.
In a sneak peek from the episode, Fancher teaches Peter Quayle (Harry Lloyd), an upper-crust director at the Berlin-based United Nations spy agency, on the significance of negotiating between the two dimensions. "Why is it you think we go through all this trouble, keeping the doors open, the effort it takes to keep this secret under control?" Fancher asks Quayle. "Isn't it easier to just, I don't know, shut it all down, go our separate ways? The knowledge we gain is more valuable to our collective way of life than all the spy games your strategy boys will ever play."
Elsewhere in the episode, Emily (Olivia Williams) obtains a special visa to get to our side of the wall. In another sneak peek from the hour, Bob Dwyer (Kenneth Choi) orders watchdog Ian Shaw (Nicholas Pinnock) to assemble an inquiry team from the other side to deal with Baldwin who got arrested at the end of last episode."Management wants you to get answers while diplomacy negotiates for her return" Dwyer says, before telling Shaw to take Emily with him.
When Shaw points out that Emily is not cleared to pass and has never been across the two worlds, Dwyer replies, "I know [but the] call came from upstairs. She went over our heads on this one. There's nothing I can do."
In the trailer for the episode, Emily reunites with her husband Howard Prime (J.K. Simmons), who has recently been frequenting our side of the wall. "I think I understand now what pulled you into this place," Emily tells Howard Prime.
Elsewhere in the next episode, Howard Silk (also played by Simmons) interrogates Baldwin. "You're different from your other," Baldwin tells Howard Silk.
"I wish I've never met him," he bluntly replies.
"Counterpart" Season 1, episode 3, titled "The Lost Art of Diplomacy," airs on Sunday, Feb. 4 at 8 p.m. EST on Starz. Watch the trailer and the sneak peeks below:
© Copyright IBTimes 2023. All rights reserved.