Covfefe: Watch News Reporters Struggle To Pronounce Trump's Bizarre Word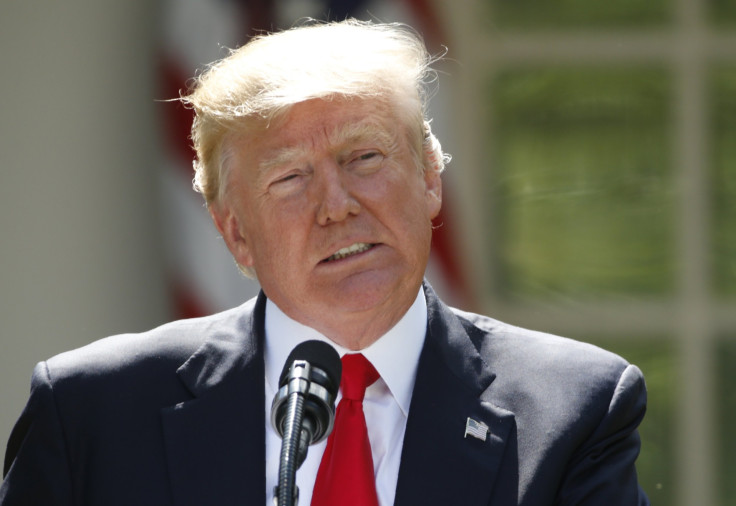 The "covfefe" phenomenon is all too real, thanks to President Donald Trump. But what does it even mean? After midnight on Wednesday, Trump got back into the groove of deriding the press. In doing so, he successfully included a major grammatical error within his tweet. But unlike his past egregious Twitter errors, no one knew what this one meant — or how to pronounce it.
"Despite the constant negative press covfefe," he wrote on Twitter. According to the Washinton Post, the now deleted tweet had been retweeted more than 127,000 times and received more than 162,000 likes in six hours. Nonetheless, he tweeted out twenty minutes later: "Who can figure out the true meaning of 'covfefe'? Enjoy!"
Read: Donald Trump's Covfefe Tweet Elicits Hilarious Reactions On Twitter
Thanks to the Internet, one can assume that "covfefe" loosely translates into "coverage" — context clues are a blessing. Yet, how would you even begin to say the word aloud? Several news reporters tried to pronounce Trump's innovative slang term, but the results weren't pretty.
<iframe width="560" height="315" src="https://www.youtube.com/embed/LB_illcM20c" frameborder="0" allowfullscreen></iframe>
"Covfeef, covfef...none of us really knows how to say it," a reporter from ABC News said.
Another reporter insisted the legitimacy of "covfefe" by saying: "Now I guess it really is a word."
To aid in the world's confusion, Fusion shared a poll on Twitter regarding the correct pronunciation of Trump's creative word. As a result, "cov-fee-fee" proved the victorious to pronounce the word with 43 percent of the votes. "Cov-feh-fay" followed with 39 percent, and "cov-feef" came in third place with 18 percent.
Read: Which Countries Aren't Part Of The Paris Agreement? US Among Few Others
Instead of attempting to figure out what "covfefe" actually means, some have resorted to questioning Trump as a person.
"What we have today -- and, really, what we have had since the day Trump came into the White House -- is a deeply isolated President who spends lots of time, particularly at night and in the early morning, watching TV and tweeting," CNN Editor-at-Large Chris Cillizza wrote. "That lack of discipline reveals that there is simply no one who can tell Trump "no." Or at least no one whom he will listen to.'"
Regardless, "covfefe" still remains a hilarious joke that managed to magically unite the world. Former First Lady and 2016 presidential nominee Hillary Clinton even got in on the joke, even though she initially believed "covfefe" was about Russia. Her tweet said: "People in covfefe houses shouldn't throw covfefe."
Riane Konc, a reporter for The New Yorker, contributed to the "covfefe" fun by writing an extensive humor article on what it represents.
"Covfefe is for the innovator," Konc wrote. "For the woman who doesn't have time to go to the gym but still wants to feel like she has strong biceps, so she grabs a bird and throws it and says, "Wow, look how far I threw that bird" as it flies away.'"
As of now, TMZ noted that "covfefe" will remain undefined within the Merriam-Webster Dictionary. Peter Solowski, Merriam-Webster's editor-at-large, told TMZ the word won't make an appearance within their dictionary anytime soon "despite tons of people trying to define it this week."
© Copyright IBTimes 2023. All rights reserved.