Which Countries Aren't Part Of The Paris Agreement? US Among Few Others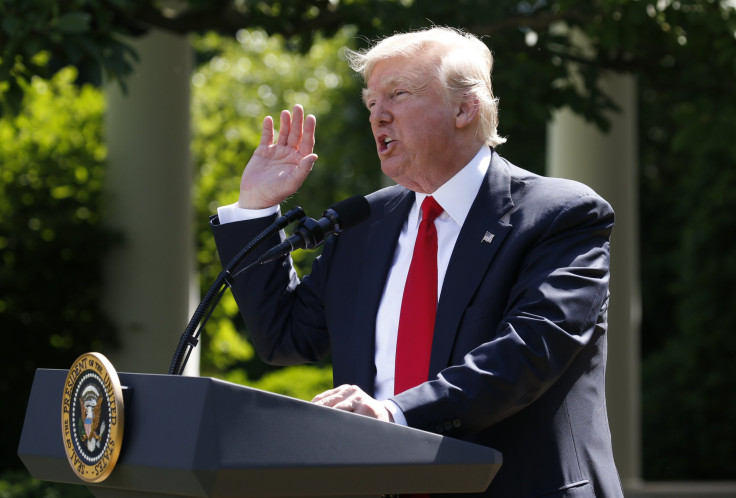 President Donald Trump announced his decision to withdraw the United States from the Paris Climate Agreement. As he stepped up to the podium at the White House Rose Garden Thursday, the president expressed his desire to "begin negotiations to re-enter either the Paris accord or really entirely new transaction on terms that are fair to the United States, its businesses, its workers, its people, its taxpayers."
Read: Elon Musk And Leonardo DiCaprio Stand By Climate Change After Trump Ditches Paris Agreement
"On these issues and so many more, we're following through on our commitments and I don't want anything to get in our way. I am fighting every day for the great people of this country," he said. "In order to fulfill my solemn duty to protect America and its citizens, the United States will withdraw from the Paris climate accord."
The Paris accord was originally agreed upon in 2015 by nearly 200 countries to mitigate the potential threat of climate change to the planet. It will aid in improving the worldwide average temperature and in minimizing greenhouse gas emissions. According to NPR, the accord requested "the widest possible cooperation by all countries" to prevent further irreversible damage.
Prior to announcing his decision, Florida Congresswoman Debbie Waserman Shultz took to Twitter to say "withdrawing from the Paris Agreement would be among the most destructive decisions of Donald Trump's presidency."
The decision to withdraw from the agreement was initiated by a group of 22 Republican senators. Majority Leader Mitch McConnell, among other top Republicans, wrote a letter urging the president to leave the agreement. Ivanka Trump and Jared Kushner were among the few encouraging him to remain in the accord, according to Axios.
The U.S. is now among a small list of counties to opt out of the Paris agreement, which also includes Nicaragua and Syria.
Considering the state of politics in Syria, it's understandable why they opted out of signing the accord. Nicaragua, on the other hand, is against the Paris agreement because they feel it doesn't do enough to combat climate change, according to Slate. Paul Oquist, who represented Nicaragua during the 2015 negotiations, said that "we're not going to submit because voluntary responsibility is a path to failure."
Read: Obama Reacts To Trump Withdrawing From Paris Climate Agreement
Naturally, Trump's decision was met with great backlash. Celebrities, non-public people, and politicians alike have been vocal about Trump's "destructive" decision on Twitter.
Like Wasserman, Leonardo DiCaprio also directly tweeted Trump leading up to the announcement hoping that the president-elect would make a "moral decision" today. Once news broke on Trump's final decision, DiCaprio continued to be vocal on Twitter.
"Today, our planet suffered," DiCaprio tweeted before suggesting a few environmental groups people should support. "It's more important than ever that we take action."
Chelsea Handler, who has been a very outspoken about her opinion of Trump, believe's "Donald Trump doesn't see the irony in making his announcement to leave the Paris Agreement while standing in a garden."
John Legend also wasn't afraid to voice his thoughts either when he tweeted, "We have to stop this asshole. This is urgent. You have to vote in 2018."
Trump's decision to exit the Paris accord "is the biggest thing Trump could do to unravel Obama's climate legacy," according to Axios reporter Jonathan Swan.
While Trump may believe that his Paris agreement exit will help with "reassertion for American workers' sovereignty," he could potentially regret those words in the future.
© Copyright IBTimes 2023. All rights reserved.