COVID-19 Hospitalizations Predicted To Double: Why Coronavirus Numbers Are Increasing
As the holidays near, health experts warn that coronavirus hospitalizations could double entering 2021.
The U.S. has reached nearly 14 million positive cases of the coronavirus, with over 180,000 new cases reported on Wednesday and 2,597 new COVID-19 deaths reported on the same day, according to data from Johns Hopkins University. In total, the U.S. has reported over 273,000 COVID-19 related deaths.
The increasing number of COVID-19 cases is putting a strain on the healthcare system as ICU beds become scarce, and many parts of the U.S. are nearing their capacity limits and could soon run out of beds.
As of Wednesday, the U.S. stood at 100,226 COVID-19 hospitalizations, according to the COVID Tracking Project.
"I wouldn't be surprised if we stand at 200,000 people hospitalized in the next month," Robert Glatter, an emergency room physician at New York City's Lenox Hill Hospital, told USA Today. "Explosive growth of the virus has the potential to overrun our ability to provide care. Not only for patients with COVID-19 but also for basic medical conditions."
Glatter called the situation a "dangerous inflection point."
The numbers are expected to spike again as the effects of the Thanksgiving holiday are yet to be fully realized. Add in the flu season, which could cause a "twindemic" with added travel during the Christmas season, and cases of the coronavirus are expected to surge again.
"We are in holiday season, and Christmas is coming, followed by the new year celebrations, so it is within reason to expect an ongoing spike in cases and hospitalizations," Ogbonnaya Omenka, an associate professor and public health specialist at Butler University, told USA Today. "The number of hospitalizations might reach almost double the current number by the end of January."
The Centers for Disease Control and Prevention issued new guidance for travelers on Tuesday, saying that they should "consider getting tested one to three days before travel and then again three to five days after travel."
The CDC also said that it recommends postponing travel and staying home.
Compounding the issue is the number of Americans that say they will not receive the vaccine when it becomes available. According to a Gallup survey, only 58% of Americans say they plan to get inoculated when a COVID-19 vaccine is approved, up from 50% in September.
"The reality is that the bulk of the population will not begin vaccination until early spring, making this a daunting challenge, especially in light of 'vaccine hesitancy' that complicates our efforts to vaccinate Americans," Glatter told USA Today.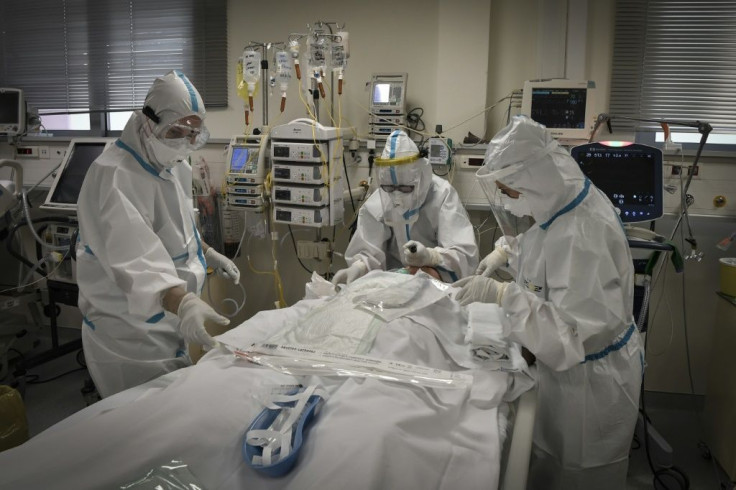 © Copyright IBTimes 2023. All rights reserved.
FOLLOW MORE IBT NEWS ON THE BELOW CHANNELS