COVID-19 Treatment: China Is Exporting Herbal Remedies But Scientists Question Their Efficacy
KEY POINTS
Chinese officials are encouraging the use of traditional medicine to prevent and treat COVID-19
China has said least 90% of the 80,000 positive cases reported thus far had used some form of traditional Chinese medicine
Scientists around the world say those claims lull people into a false sense of security
Scientists are refusing to endorse traditional Chinese remedies as a cure for the coronavirus after Chinese government officials vouched for their use in prevention and treatment of COVID-19.
Yu Yanhong, Secretary of the State Administration of Traditional Chinese Medicine, said in a news conference in Wuhan on March 23 that traditional remedies were proven successful in terms of reducing the severity of the virus and mitigating the mortality rate, and in improving recovery rates.
China's National Health Commission reported last month that at least 90% of the 80,000 COVIID-19 cases reported thus far had used some form of traditional Chinese medicine to address the complications of COVID-19.
Scientists, however, are opposed to the idea of China exporting its herbal remedies as part of its effort to help the world deal with the ongoing outbreak, saying they give people nothing but a false sense of security.
"TCM (Traditional Chinese Medicine) mixtures can be toxic, contaminated or adulterated with prescription drugs; they can also interact with prescription drugs," Dr. Edzard Ernst, Professor of Complementary Medicine at the University of Exeter, UK, told NBC News, adding that they pose both direct and indirect risks to patients. He said people could neglect proven medications and remedies under the impression that they are immune to the coronavirus after taking Chinese herbs.
Dr. Jianping Liu, Professor of Clinical Epidemiology at the Beijing University of Chinese Medicine, told the publication that the herbal remedies are a legal health system in China, which is deemed equivalent to Western medicine. He added that at bot the systems are integrated. "It's a holistic approach," he said.
Liu paraded the names of some herbal medication prescribed in China to counter COVID-19 that he said consists of dozens of herbs, adding that a clear breakdown of the ingredients wasn't widely available.
The lack of adequate details contributes to the scientists' increasing doubt over their efficacy, Dan Larhammar, a molecular cell biologist and president at the Royal Swedish Academy of Sciences, said. "We need to know which specific product is claimed to work and what is the evidence," he added.
The World Health Organisation (WHO) has estimated that the Chinese herbal remedies, which dates back to over 3,000 years, represent up to half of total medicines consumed in China but Larhammar blasted them for their vague terms, nonpharmacological concepts, and testing too many combinations of herbs.
"They are like parodies. Nobody can take this seriously," he said.
According to the Chinese news channel CGTN, the country has exported at least 100,000 boxes of lianhuaqingwen, a supposed cure for COVID-19, to Italy. Qikan Yin, General Manager of the London's Institute of Chinese Medicine, said an increasing number of traditional Chinese medicine enthusiasts in the UK have been asking for remedies to prevent and treat COVID-19 since the outbreak began in December.
"It would be fine if the method reduced the symptoms a little bit, and more the better, of course, but if that makes the person take more risks, then we are in deep trouble," Larhammar said.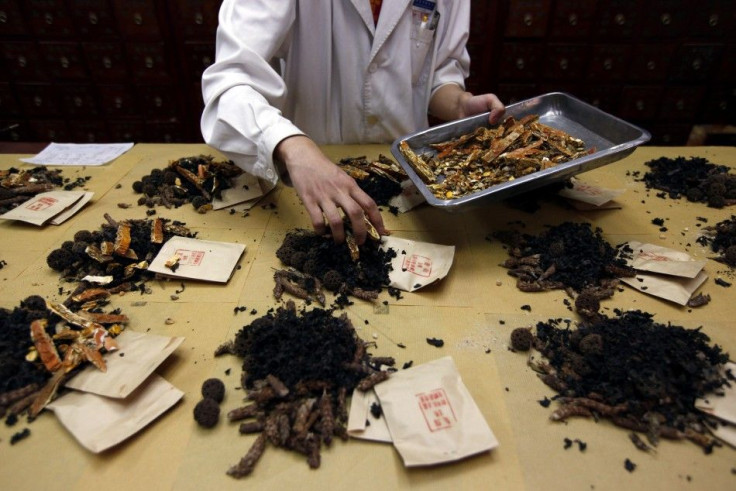 © Copyright IBTimes 2023. All rights reserved.