Crackle vs. Hulu: Streaming Wars Heat Up As Sony's Online TV Network Takes Aim At Competition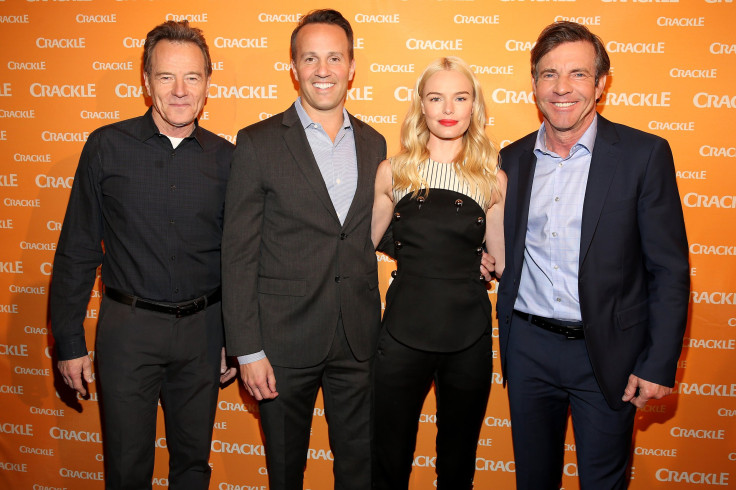 When people ask if a show or movie is available to stream, they generally mean "on Netflix, Amazon Prime or Hulu." The Sony-owned streaming network Crackle, though it's completely free and has been around in one form or another since about 2007, never really seems to enter the conversation, despite (or maybe because of?) producing original content like the feature-length sequel to "Joe Dirt."
Perhaps the back catalog of Sony-only movies and shows, and the fact that it is totally ad-supported, with no ad-free subscription option, simply isn't enough for Crackle to cut through the clutter of streaming TV options. Netflix and Amazon Prime are strictly ad-free services. Hulu is available for free with a full ad load for its shows and movies, with limited commercials for people who pay $7.99 a month, and an $11.99-a-month ad-free option for those who can't bear being marketed to.
But there is one group of people who quite enjoy Crackle's ad-only environment: advertisers.
And so Wednesday morning, amid a sea of male media buyers in navy blazers and dark jeans, Crackle General Manager Eric Berger and ad sales chief James Smith made their second annual "upfront" pitch to advertisers. They opened with an elaborate jab at Hulu, which touted its 9 million "limited commercials" subscribers at its own upfront presentation in 2015. Crackle's opening salvo was delivered by a foul-mouthed stop-motion superhero puppet voiced by Bryan Cranston, star of the Crackle original series "SuperMansion," in a video specially crafted for the presentation.
"The League of Freedom is going subscription-only!" Cranston's aging superhero, Titanium Rex, announced to a group of stop-motion reporters. "You know, the superhero services you're used to getting for free thanks to our sponsors will now cost you a fee. Isn't that great? ... Guys, everyone's doing it."
"Cool, thanks for trying to reach your hands in our pockets, too," one reporter complained. "Why, in the name of all that's holy, would you announce this at the upfronts?" another asked.
In other words, Crackle executives apparently thought it quite amusing that rival Hulu bragged about an ad-free option at a presentation geared toward impressing advertisers (though Hulu didn't, actually; the ad-free option was added in September 2015, months after their upfront).
The jabs didn't stop there. "The real killer isn't the DVR; it's subscription video-on-demand," Berger said. "Every day you see new entrants into the subscription market, and none of them take ads. Even some very high-profile ad-supported services are switching out of an ad model and into subscription," he continued, showing a screenshot of Hulu pricing plans wherein the "No Commercials" plan is indicated as "Recommended."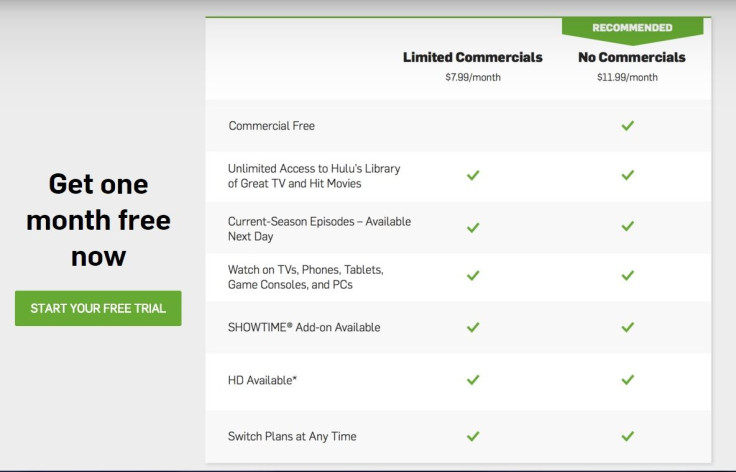 Of course, the Hulu logo didn't appear anywhere on that screenshot, and at no point did the word "Hulu" leave anyone's mouth onstage. "That could just be a reference to anyone with a green logo," Berger joked to International Business Times after the presentation.
Yet Crackle's message to those in the room was clear: Hulu is not the advertising industry's friend.
This is not, strictly speaking, true. While Hulu does have an ad-free tier, its basic subscription service (with "limited" commercials) is its bread and butter; the ad-free version is meant to wring money from people who are classic ad-avoiders, the 15-20 percent of the population who will do anything to not watch ads, and so aren't good targets for marketers anyway. Hulu also offers its advertisers ratings guarantees based on people watching the entirety of their ads, from first frame to last — which not even regular TV players can do, as their commercial ratings are a per-minute average. And because it has that base of 9 million subscribers, it has a mountain of data to give advertisers, too.
Berger reiterated several times that Crackle isn't planning to pull a Hulu and offer an ad-free option. But it is taking steps to deal with people's ad-avoiding tendencies by starting to offer marketers something that goes far beyond garden-variety product placement. For select partners, Crackle will give viewers only five ads during, say, an episode of a series like Dennis Quaid drama "The Art of More," but these five ads will be more like an extension of the show, involving characters and storylines to blur the line between commercial and content.
Essentially, we're talking about the video equivalent of native ads. It's a concept that isn't new but has been burning up TV screens of late, making it harder and harder for viewers to tell the difference between the content they've chosen to view and the content an advertiser wants them to see. Welcome to the future, ad-avoiders.
FOR FREE to continue reading
✔️ Unlock the full content of International Business Times UK for free
offer available for a limited time only
✔️ Easily manage your Newsletters subscriptions and save your favourite articles
✔️ No payment method required
Already have an account?
Log in
© Copyright IBTimes 2023. All rights reserved.