'Criminal Minds' Season 12 Cast Member Suspended; What Happened To Hotch Actor Thomas Gibson?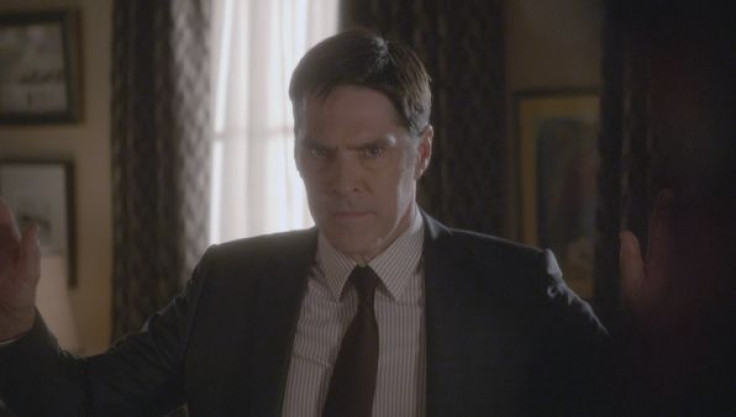 "Criminal Minds" may be a cast member down for an episode or two in Season 12. The CBS series may show the Behavioral Analysis Unit (BAU) work as a team to catch killers, but backstage, the cast and crew are less than amicable.
Thomas Gibson, who plays BAU Unit Chief Aaron "Hotch" Hotchner on the crime show, has been suspended for an unknown time period due to his controversy with a "Criminal Minds" producer and writer, TMZ reports. Apparently, production sources close to the publication said that Gibson was directing and acting in a scene a few weeks back when he got into a creative argument with one of the writers.
The disputed escalated quickly and Gibson reportedly exploded in anger and kicked the writer in the leg!
This "Criminal Minds" producer didn't let the incident go. He called his agent who then talked to the top CBS executives. The network had no choice but to take some action so they suspended Gibson. Although it isn't known for how long the actor is barred from set, the website reveals that, so far, he has been absent from shooting for two weeks.
Reportedly, Gibson kicked the writer as a retaliation after he became aggressive. The actor told TMZ, "There were creative differences on the set and a disagreement. I regret that it occurred. We all want to work together as a team to make the best show possible. We always have and always will."
TVLine reports that Gibson will be absent for two episodes in Season 12 and his future with "Criminal Minds" is under review.
"Criminal Minds" Season 12 premieres on Wednesday, Sept. 28, at 9 p.m. EST on CBS.
What do you think of Thomas Gibson's altercation with a producer? Let us know your thoughts in the comments section below.
© Copyright IBTimes 2023. All rights reserved.