'Criminal Minds' Star Thomas Gibson Releases Statement After Being Fired; How Will Hotch Be Written Off Season 12?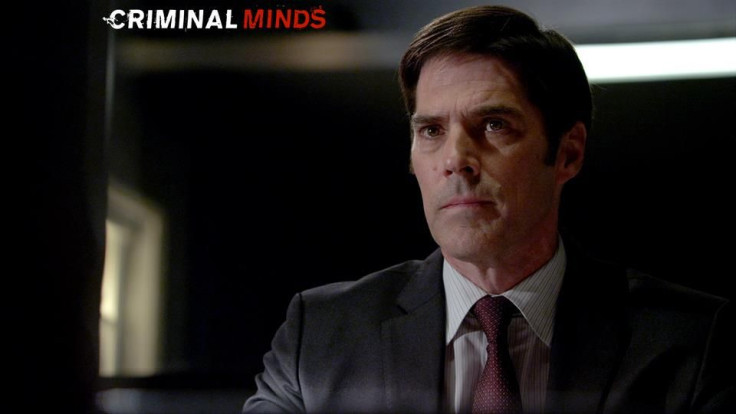 UPDATE 8/12 2:08 p.m.: Thomas Gibson released the following statement to TMZ after being fired from the set of "Criminal Minds: "I love 'Criminal Minds' and have put my heart and soul into it for the last 12 years. I had hoped to see it through to end, but that won't be possible now. I would like to say thank you to the writers, producers, actors, our amazing crew, and, most importantly, the best fans that a show could ever hope to have."
ORIGINAL STORY BELOW:
There's been a major shakeup on the set of CBS' hit show, "Criminal Minds." On Thursday it was announced that Thomas Gibson, who plays Aaron Hotchner — also known as Hotch — on the crime drama, was in hot water after kicking a writer on set.
Early reports suggested that Gibson — whom multiple outlets reported was prone to such behavior — had been suspended for two episodes following the incident. New reports suggest his punishment will be far more severe. On Friday, CBS released an official statement in which they announced that Gibson, 54, would no longer be appearing in the show. The network plans to address his exit in the show, tying up his storyline in a way that makes sense with the events unfolding on screen.
"Thomas Gibson has been dismissed from 'Criminal Minds.' Creative details for how the character's exit will be addressed in the show will be announced at a later date," ABC Studios and CBS Television Studios said in their statement (via The Hollywood Reporter).
No information has been released regarding Gibson's character's storyline. There are several possible ways "Criminal Minds" could write Hotch out of the show, including a mysterious death, disappearance, and retirement. When the series left off in Season 11, serial killer Mr. Scratch (Bodhi Elfman) had escaped prison. He had previously helped frame Hotch, even attempting to brainwash him into killing his co-workers. It's possible that they could use this storyline to kill off the character.
Filming for the series is thought to have been underway when Gibson's firing took place. A synopisis for the upcoming season makes no mention of the actor or his character, teasing only the addition of Adam Rodriguez as Luke Alvez and the promotion of Aisha Tyler (Dr. Tara Lewis).
The incident leading to Gibson's firing took place on set earlier this week. According to TMZ, he and a writer-producer on the show began bumping heads weeks earlier when the actor took the reigns on a scene he was both acting in and directing. The creative argument escalated into a physical altercation with the "Criminal Minds" star kicking the writer in the leg. The extent of his injuries remains unclear. Gibson was handed a swift and seemingly just punishment, but it may not have been enough for the scorned writer.
Full details on the situation remain unclear. Initial reports suggest that Gibson's kick was retaliation, as the writer had become aggressive toward him. Gibson — who has been on the show for 10 long years — told TMZ that he was remorseful over what had happened, explaining that it is his hope — as well as the hope of everyone on the "Criminal Minds" set that they can work together "to make the best show possible."
"There were creative differences on the set and a disagreement," Gibson said. "I regret that it occurred."
Season 12 of "Criminal Minds" is slated to air on CBS Sept. 28, at 9 p.m. EST.
© Copyright IBTimes 2023. All rights reserved.