Critics Condemn Sturgis Rally As 'Spreader' Event As COVID Cases Rise 1,500% In 14 Days
After over 525,000 vehicles descended upon the Sturgis Motorcycle Rally earlier this month, reported COVID cases in South Dakota have increased by 1,500% in the two weeks that followed, causing some critics to condemn the annual rally for being held.
South Dakota has had seven COVID-related deaths and 3,819 new cases, up from 644 cases in the 14 days preceding the Aug. 6-15 Sturgis rally, according to NBC News.
This marks the largest percentage of COVID case increase for a state in the U.S. in the past two weeks with Meade County, where Sturgis resides, counting 330 new virus cases, up from 20 before the motorcycle rally, according to data from Johns Hopkins University, as reported by NBC News.
The 1,500% increase in COVID cases in South Dakota comes as Sturgis drew half a million participants, one of its biggest years ever, according to the Meade County Sheriff Ron Merwin.
Merwin told the Rapid City Journal during the rally, "There are more people here than in the 31 years I've been doing this."
South Dakota Department of Health spokesperson Daniel Bucheli told NBC News that the agency has only linked 16 cases of the virus to the motorcycle rally. He said in an email to the news outlet that the spikes in COVID cases "are following a national trend being experienced in every state."
He added, "It is important to mention that Meade County currently has a lower vaccination rate than other counties in SD."
While it is too early to determine if the rally was a superspreader event, critics of Sturgis are already sounding off about it on social media.
One Twitter user said that COVID cases are now up in South Dakota all because of a "Bike Ride."
Another critic of the rally asked, "How'd Sturgis work out?"
One Twitter user pointed out that they won't go near anyone that went to Sturgis for fear of contracting COVID.
Another person said they would do the same.
South Dakota Gov. Kristi Noem has been criticized for her views on the pandemic as she kept the state open during lockdowns and has forgone a mask mandate.
On Monday, she tweeted that if President Joe Biden "illegally mandates vaccines, I will take every action available under the law to protect South Dakotans from the federal government."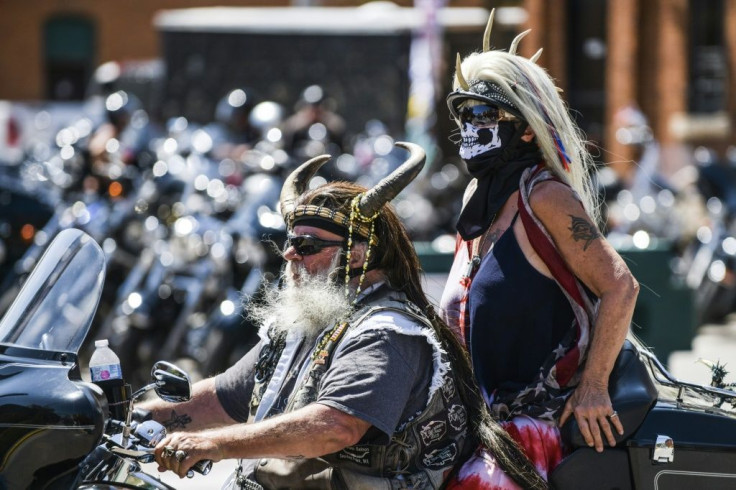 © Copyright IBTimes 2023. All rights reserved.
FOLLOW MORE IBT NEWS ON THE BELOW CHANNELS