Cuba Travel Restrictions Lifted, But US 'Wet Foot, Dry Foot' Policies Remain The Same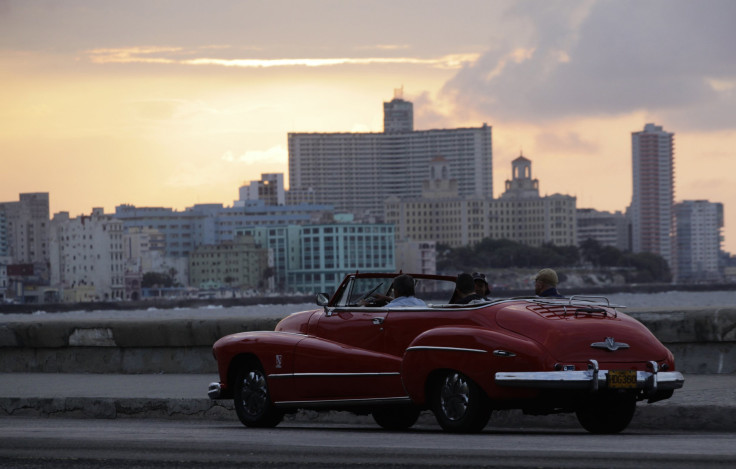 The stringent and much maligned travel restrictions imposed upon Cuban citizens since 1961 were lifted Monday in what is seen as one of President Raul Castro's most far-reaching reforms since he took over power from his ailing brother, Fidel, in 2006.
Beginning Monday, Cubans will no longer need an exit visa permitting departure from Cuba or an invitation from a resident in their destination country in order to travel. They can also stay abroad without losing their citizenship or other rights, including free health care for up to 24 months -- more than twice as long as was previously allowed.
Moreover, those who wish to come home for good can now reapply for residency.
Philip Peters, vice president of the Virginia-based Lexington Institute, notes in a report out last month on Cuba's migration reform that the new polices "carry a risk of increasing the loss of trained and skilled personnel through emigration."
"They also seem to bet on the idea that Cubans, once given the freedom to travel and to return, will indeed return in large numbers and bring important benefits to Cuba's economy."
The complicated bureaucratic process of getting visas and permits on the island before Monday involved fees that ran as high as $500, a price that made travel abroad difficult for many Cubans whose average monthly income is about $460. Moreover, citizens had no guarantee at the end of the process that the government would grant permission to leave.
The communist government announced that it would do away with exit visas back in October and published an official statement in the state-run Granma newspaper. While the new rules are expected to benefit the vast majority of Cubans, Granma reported that the government planned to restrict some travel "to defend itself from the interventionist and subversive plans of the U.S. government and its allies."
"For this reason, measures will be maintained, which are aimed at preserving the human capital created by the revolution from the plunder of talent by the more powerful [countries]," it said, hinting that some like military officials who possess government secrets or sports stars who could earn a fortune overseas will also face continued restrictions.
Roberta Jacobson, assistant secretary of state for Western Hemisphere affairs, said at a press event back in October that Washington wasn't clear about how the migration reforms would affect the U.S. or other countries.
"If you remove the exit permit but you require Cuban citizens to revalidate their passports, the question is: Will everyone get a passport back and therefore be free to travel, or will there still be controls?"
Jacobson was also unsure whether the U.S. diplomatic mission in Havana would need additional personnel to handle the increase in visa applications but said that the Universal Declaration on Human Rights requires governments to recognize their citizens' right to travel freely -- something she said the U.S. had "long sought for Cuban citizens."
Washington has granted Cubans automatic residency if they could reach U.S. shores since 1966 under the Cuban Adjustment Act, commonly referred to as the "wet foot, dry foot" policy. U.S. officials stated this week that the act would remain in place for the time being, but Peters notes in his study that such policies regarding Cuban immigrants are riddled with contradictions.
"In United States immigration policy, Cubans receive unique and highly favorable treatment in terms of admission criteria, speed of admission and government benefits extended even to Cubans who arrive with no visa and make no claim of persecution and would be treated as illegal immigrants if they came from any other place," he notes.
"It is a patchwork policy that lacks a central organizing concept. It has internal contradictions, and many of its elements are in conflict with U.S. policies governing migration, refugees, fiscal responsibility and border security. A review and modernization is long overdue."
An estimated one in six Cuban nationals lives abroad with about a million in the state of Florida alone. Cubans are typically granted residency within a year of being on U.S. soil, and now that they have two years to remain out of the country, there is a one-year overlap during which immigrants can establish residency without losing their right to return to Cuba.
Many worry that the changes taking effect Monday could trigger a new class of Cuban binationals seamlessly moving back and forth between the two countries -- something neither one is prepared for.
© Copyright IBTimes 2023. All rights reserved.
FOLLOW MORE IBT NEWS ON THE BELOW CHANNELS