CZ Clears FUD, Denies Claims That Binance Is Dumping Bitcoin To Artificially Boost BNB Price
KEY POINTS
Binance was sued by the SEC last Monday
The SEC recently asked the court to freeze the assets of Binance.US
BNB saw a 4.11% gain and was trading in the green zone at $247.47 as 0f 4:56 a.m. ET on Wednesday
Changpeng Zhao (CZ), the co-founder and CEO of Binance, the world's largest centralized cryptocurrency exchange by trading volume, cleared the FUD (fear, uncertainty, doubt) making rounds online that the crypto empire is dumping Bitcoin to artificially bolster and stabilize the price of its native token Binance Coin (BNB).
Even before the U.S. Securities and Exchange Commission filed 13 charges against Binance.US, Zhao, and other associated businesses, the crypto empire had been the subject of many speculations on various social media outlets and even in mainstream media.
This further intensified last week following the SEC lawsuit and after the financial regulator filed a motion asking the court to freeze the assets of Binance.US and sought its approval to use "alternative means" to summon CZ.
With the crypto market struggling to get out of the red puddle caused by the cloud of regulatory uncertainty hovering over the industry, another allegation has been thrown toward Binance. This time, it involves some sort of market manipulation to make it appear that its token BNB is surviving the ongoing crypto crackdown and regulatory enforcement.
Zhao, more popularly known as CZ in the crypto space, immediately cleared these claims and dispelled them by saying that these are nothing but FUD.
"4. Binance have not sold BTC or BNB. We even still have a bag of FTT," the CEO said in a tweet, sharing his disbelief on how "amazing they can know exactly who sold based on just a price chart involving millions of traders. FUD."
On Tuesday, several crypto traders, including users of Twitter handles @52kskew and @JW100x shared the short-term price correlations between a sell-off in Bitcoin and a purchase in BNB. The tweets immediately went viral and amassed over 3 million views based on Twitter data.
"USDT reserves have been pumped into BNB aggressively since 27th May," a Twitter user who uses the handle @52kskew said, adding that "BNB is being sold off for BUSD to suppress volatility in BTC."
The user further said that "BUSD is pumped into BTC to suppress downside volatility so BTC can be swapped out for USDT."
Meanwhile, the Twitter user with the handle @JW100x claimed that "as spot Bitcoin is sold off, BNB is purchased, which defends the $220 liquidation but also caps the upside potential of Bitcoin. It is a total house of cards."
Despite the ongoing chaos Binance and its affiliated businesses are currently facing, its token is slowly climbing up.
BNB saw a 4.11% gain. It was trading in the green zone at $247.47 over the past 24 hours with its 4-hour trading volume up by 30.99% at $965 million as of 4:56 a.m. ET on Wednesday, according to the latest data from CoinMarketCap.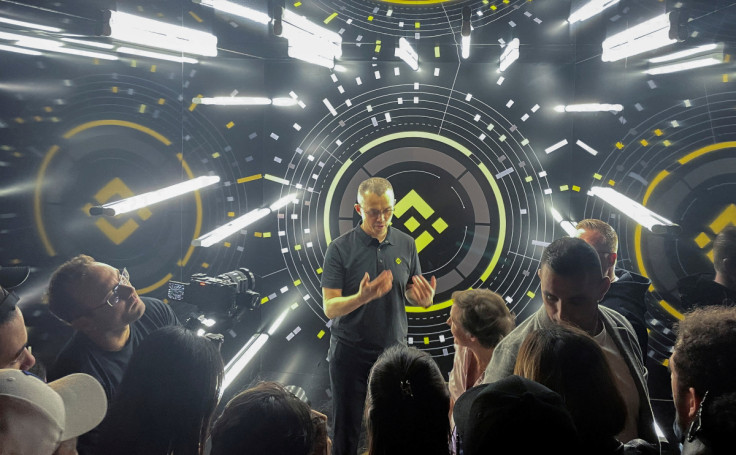 © Copyright IBTimes 2023. All rights reserved.