'Dance Moms' Sneak Peek: Abby Lee Miller Tells Maddie Ziegler She Failed In Episode 25 Clip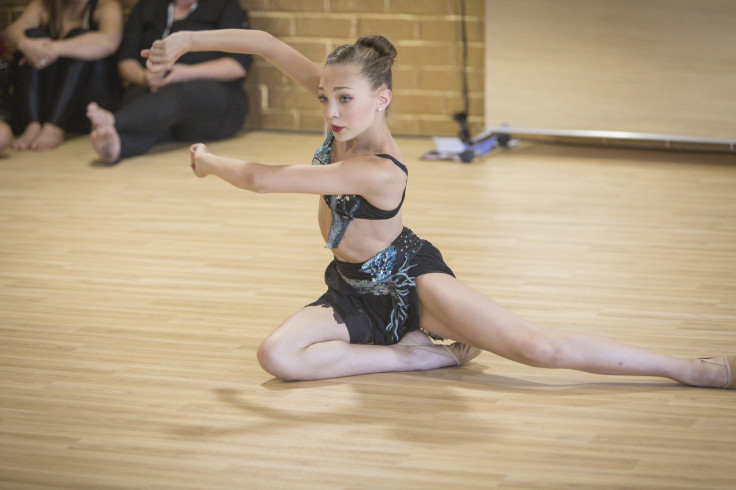 Maddie Ziegler has been Abby Lee Miller's star student since Season 1 of "Dance Moms," but it appears their teacher-student relationship is going to hit a rough patch. In a sneak-peek video for Tuesday's Season 5 installment of "Dance Moms," the ALDC (Abby Lee Dance Company) coach gives her dancer a stern talking to.
After failing to win against her younger sister Mackenzie, then 10, during episode 23's solo competition, Abby makes it clear she expects Maddie, 12, to place first-place in episode 25.
"Ugh," Abby says of Maddie's solo rehearsal before giving her a tongue lashing alongside her teammates, Nia Frazier, then 13, and Kendall Vertes, 12.
"You three are doing solos. I don't want anyone on this team that is not a first-place winner," Abby says to the girls. "If you win, it makes my studio look better."
Abby then turns her attention to Maddie, who appears teary-eyed, telling her that her loss to Mackenzie's made her studio look unfavorable. "Maddie, you didn't win, your sister beat you, so, you failed. It doesn't look good for the studio," she says.
When the girls, who are all due to compete solos in episode 25, are asked if they were dedicated enough to their craft to sit "on a yoga ball" before class, none of the girls respond. When Abby tells her students that means they "don't want really want to do this," Maddie meekly speaks up, saying, "I do."
Watch the sneak-peek video below:
The pressure is on! Watch an all-new #DanceMoms tomorrow at 9/8c. https://t.co/cPlgVDsqRS

- Dance Moms (@DanceMoms) June 29, 2015
According to Lifetime's synopsis for episode 25, titled "Abby vs. Kira," Abby's decision to push Maddie will play a big role in the installment. "Abby pressure Maddie to regain her standing as the ALDC's top dancer," the summary reveals.
Will Maddie be able to take home a first-place win? Find out how she placed at Believe in Fresno, California, on April 19 here. "Dance Moms" airs Tuesday at 9 p.m. EDT on Lifetime.
© Copyright IBTimes 2023. All rights reserved.