'Dance Moms' Stars Kendall Vertes And Nia Frazier To Release Debut Singles, Music Videos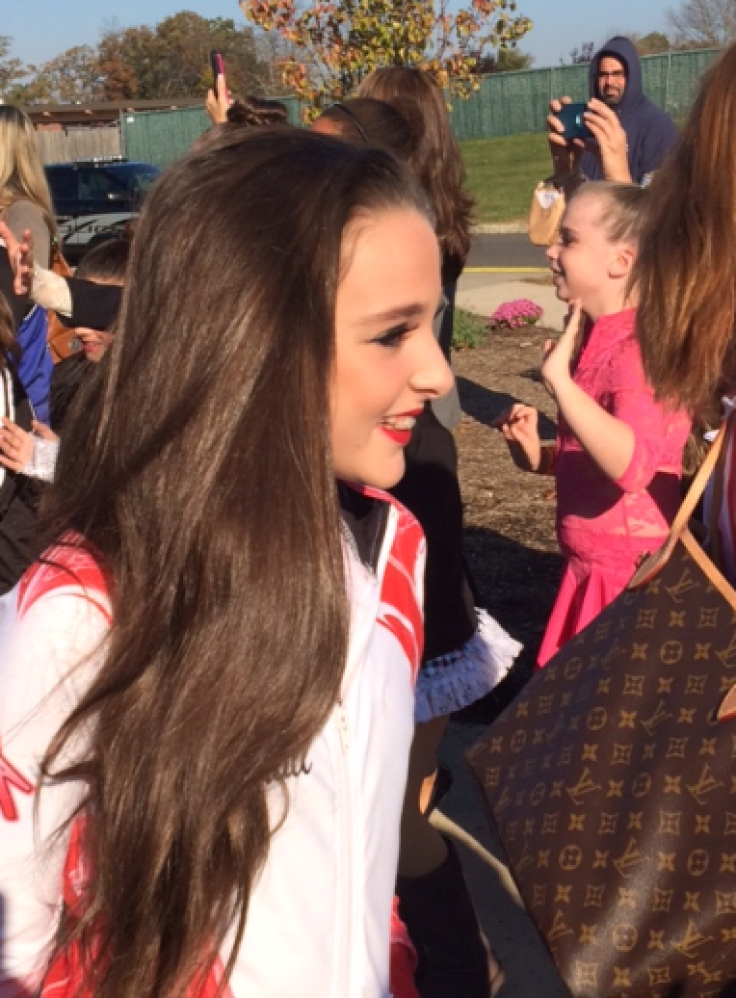 It appears Mackenzie Ziegler is not the only singer in the "Dance Moms" cast. Following the success of the 10-year-old ALDC dancer's single "It's a Girl Party" -- and her 12-year-old sister and co-star Maddie Ziegler's leading role in Sia's music videos -- two more stars from the hit Lifetime reality series, Kendall Vertes and Nia Frazier, are also taking on the music industry.
Two months after the "Dance Moms" cast relocated to Los Angeles for Season 5, coach Abby Lee Miller announced that Kendall, 12, had scored a record deal. Unsurprisingly, Miller is serving as her producer. "[Kendall] is jumping for joy over her new music deal," reads Miller's Jan. 23 Instagram post. The announcement also included the hashtag #aldctunes.
According to Miller, Kendall's first single, "Wear 'Em Out," was created not just to spark her student's career in the entertainment industry, but also to give her elite junior team original music to compete with on "Dance Moms."
"We don't like any of the music," Miller said of the songs used on the show during a recent AfterBuzz TV appearance. "Here's the deal. I feel like we have to produce our own music so we'll have something better to use."
The Abby Lee Dance Company dancer recently filmed the video for her single. Photos taken from the set show that the project will have a military theme. "I want to give a 21-gun salute to all of the cast and crew members. This is amazing!" Kendall said in a video posted to Miller's Instagram page Sunday.
While Kendall has yet to release her first single -- you can listen to an unofficial version below -- it appears she already may have a second song in the lineup. "Back in the recording studio to lay down 2 new songs!" Miller recently shared on Instagram alongside an image of the dancer.
But Kendall is not the only "Dance Moms" star cultivating her role in the music industry. Following Tuesday's dramatic episode of "Dance Moms," in which Miller appeared to sabotage dancer Nia Frazier's acting audition," her mom and co-star, Holly Frazier, revealed that her daughter also was working on her own single and music video. Her debut song reportedly will be called "Star in Your Own Life."
"Getting fitted and styled for Nia's first music video! Fabulous team!!" Holly tweeted Feb. 3.
The "Dance Moms" star credited everyone but Miller with helping her daughter's video come to fruition, from creative director and choreographer Mikey Minden to wardrobe stylist Joey Thao and hairstylist Clyde Haygood. Other big names who appeared to play a hand in making Nia's musical dreams come true include Danity Kane star Aubrey O'Day and "Freaks Like Me" singer Todrick Hall.
The following day, Holly shared dozens of photos from the set. "Diva in the making ... Transformation," Holly posted alongside an image of Nia in complete hair and makeup. She later shared a behind-the-scenes look at what fans can expect from the project. "Nia is gettin' it!" Holly captioned a photo of Nia dancing.
While Nia's music video and song have yet to premiere, it looks like fans will get a sneak peek at the making of the single during next week's episode of "Dance Moms." In a promo for the Feb. 17 installment, Nia can be seen singing in a sound booth.
"Dance Moms" airs Tuesdays at 9 p.m. EST on Lifetime.
© Copyright IBTimes 2023. All rights reserved.
FOLLOW MORE IBT NEWS ON THE BELOW CHANNELS