'Dateline' Episodes: Analysis Of Hosts, Cases Provides Insight Into Five Years Of NBC Crime Show
Since it's 1992 premiere, "Dateline" has been shining a light on a wide array of true crime cases. Throughout Season 28's new episodes, Keith Morrison, Andrea Canning, Josh Mankiewicz, and Dennis Murphy have used their investigative talents as a vehicle to bring audiences inside both new and familiar stories alike. Due to the varied nature of the NBC show, some may have wondered how exactly the cases, hosting duties, topics, and more have broken down.
Now, thanks to CaseFleet's analysis, true crime fans can get a better idea of what has been the main focus of "Dateline" episodes over the past five years.
READ: 'Dateline' Announces New 'Motive For Murder' Podcast: How, When To Listen To Josh Mankiewicz-Hosted Episodes
After analyzing over 270 episodes of the NBC show which aired between 2015-19, the case management software company deduced which states were featured the most on the show during the aforementioned time period. California came in first place with 42 cases, which was followed by Texas and New York with 23, and Florida with 18.
The hosts of "Dateline" were also examined in the study. The data revealed that Morrison has led true crime fans through the most episodes with 30%. As seen in the infographic below, Canning is next in line with 22.96%, followed by Murphy, Mankiewicz, and others.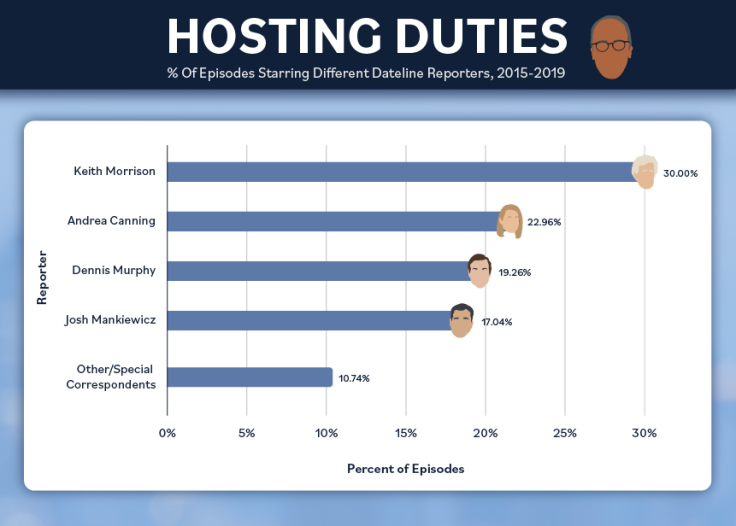 As for what topics have been covered most frequently, murder took the top spot by a landslide with 57.41%. Its closest competition, missing person, earned 9.63%. After those, famous case, follow up on past case, and multiple murders came in at 7.78%, 4.44%, and 4.07%, respectively.
The methods used to commit each crime featured were also tallied in the effort to comprehensively assess the NBC show's coverage over the past few years. Gunshot came in first with 25.93%, followed by strangulation at 10%, stabbing at 7.04%, and blunt force trauma at 4.44%.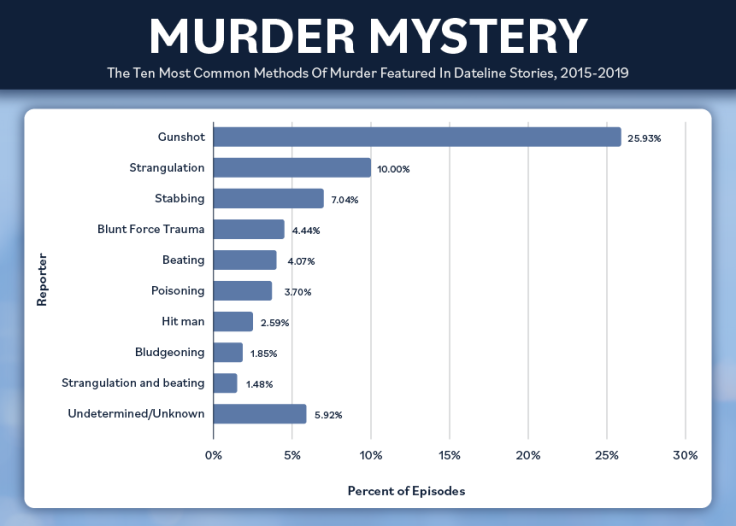 As for the ultimate conclusion in each episode, a suspect was caught in 89.63% of the cases featured on the show and 72.59% were successfully convicted. Another noteworthy fact that emerged from the analysis was that the suspect was not the spouse or significant other 47.78% of the time.
Throughout Season 28, Morrison, Canning, Mankiewicz, and Murphy tackled both highly-publicized cases and some that viewers may not have explored before. New information about Lori Vallow, FLDS Church member Warren Jeffs, and Colorado mom Kelsey Berreth all took the spotlight in various episodes throughout the new season. Bryan Rein's murder, Eduardo Garcia Valseca's kidnapping, and Derek Alldred's secret lives have also been explored in recent installments.
"Dateline" airs on Friday and Saturday nights on NBC. Check your local listings.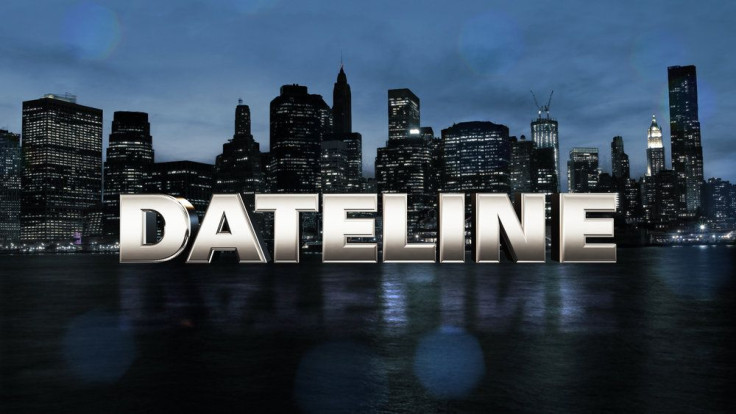 © Copyright IBTimes 2023. All rights reserved.