Dave Hester Returns To A&E's 'Storage Wars' After Lawsuit Drama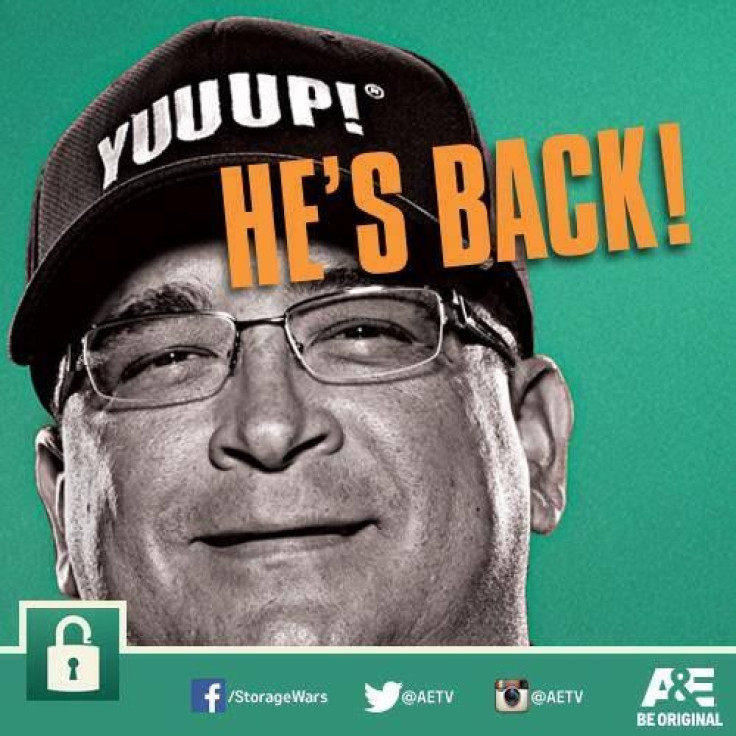 Apparently nothing, not even the law, can keep Dave Hester away from "Storage Wars."
Almost two years after being fired for publicly accusing A&E producers of fakery and suing the network following his subsequent dismissal, the treasure-hunter everyone loves to hate is set to return to the reality-TV series next month.
"He's back! You never know who's going to show up to Dan and Laura's auctions! Dave Hester returns to all new episodes of Storage Wars August 12 on A&E," the network confirmed via its official Facebook page Tuesday.
While some fans welcomed Hester's return, claiming his participation will make the program, which follows several bidders in a hunt to buy and sell abandoned storage lockers, "worth watching again," others were not so thrilled by the original cast member's reappearance.
"Dave said producers rigged the unites, now she's back! PLEASE. So he's as big a phony as he claimed the show was," said one Facebook fan. "Done watching. Can't stand him!" said another viewer. "A good reason to stop watching the show!" said one fan.
While some viewers believe Hester's return could help reverse the show's recent dip in popularity, others opined that the reinstatement of another former cast member, Barry Weiss, 64, currently the star of his own spinoff series "Barry'd Treasure," would be more welcome.
"Bring back Barry instead!" said one fan, a sentiment echoed by many of "Storage Wars" Facebook followers. "Let me know when Barry Weiss comes back. He's the breakout star!" wrote another viewer.
In December, Hester filed a lawsuit against the network citing unfair business practices following his abrupt dismissal in 2012. In the original lawsuit, Hester sued for $750,000 in general and punitive damages, alleging that he was fired after reporting that the storage locker finds on the series were planted by producers.
In March, a judge ordered Hester to pay more than $122,00 to cover the network's legal fees in the suit. According to court documents filed July 11, via the National Enquirer, Hester has since settled his termination lawsuit against A&E for an undisclosed amount.
Hester's new episodes of "Storage Wars" air Tuesday, Aug. 12, at 9 p.m. and 9:30 p.m. EDT on A&E. At 10 p.m. catch the premiere of "Storage Wars" stars Brandi Passante and Jarrod Schulz's new program, "Brandi and Jarrod: Married to the Job."
© Copyright IBTimes 2023. All rights reserved.