'Days Of Our Lives' Spoilers: Chloe Makes A Surprise Appearance At Nicole's Hearing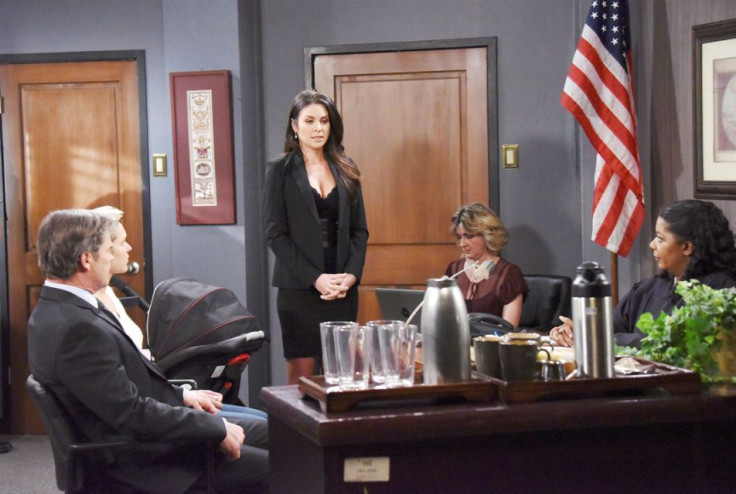 Though she is Holly's biological mother, Nicole broke the law when she took the baby from Salem and ran off to Canada with her. Now, she will head to court to face the consequences on the Monday, June 12 episode of "Days of Our Lives," and she will be stunned when Chloe shows up to the hearing.
After Nicole (Arianne Zucker) fled town on the NBC soap, Chloe (Nadia Bjorlin) pressed kidnapping charges against her, with the promise that if she ever returned to Salem, Nicole would be arrested. She was later joined by Brady (Eric Martsolf) and the two were planning on a life on the run together, until things were interrupted when Xander (Paul Telfer) showed up, shot Brady, and kidnapped Nicole and Holly on Deimos' (Vincent Irizarry) behalf. Brady's life was then threatened because of the heart transplant he had received through Daniel last year, and when he was brought back to Salem, it was revealed that his body was rejecting the heart now due to the trauma of being shot, and he was going to die. After finally escaping from Xander and Deimos in Greece, Nicole then headed back to Salem to say a final farewell to Brady, knowing it meant her life on the run was over.
Read: JJ And Lani Make A Shocking Discovery About The Island On "Days Of Our Lives"
When she arrived back in town and Brady died, Nicole performed an unexpected miracle by placing Holly on his chest, close to Daniel's heart. Since Daniel was Holly's biological father, the proximity to his little girl caused his heart to once again begin beating in Brady's chest, and he was brought back to life. Nicole was arrested soon after, and Chloe was reprimanded by Eric (Greg Vaughan), Marlena (Deirdre Hall) and John (Drake Hogestyn), because Nicole had done something wonderful and didn't deserve to be treated like a criminal. She was urged to "fix" the situation however she could.
Now, the day has arrived for Nicole to learn her fate for kidnapping Holly, and she's prepared herself to go to jail for a very long time because of what she did. However, when Chloe shows up, things could change.
Though Chloe also feels an attachment to Holly as the surrogate who carried her, and she was the one who was awarded legal custody of her because of Nicole's prior association with Deimos, she also does know that Holly is Nicole's miracle baby since she's all she has left of Daniel. And knowing that she helped bring Brady back as well is something that matters more than anyone could ever understand. As a result, she may decide to try and fix things by asking to drop the charges, or at least by making a statement on Nicole's behalf in an effort to lessen her sentence.
Read: Eli Goes Missing On "Days Of Our Lives"
However, even if she does come to her former best friend's aide, it may be too late to give things a proper fix. The judge may not be amused and may refuse to drop the charges, meaning Nicole could still face serious consequences as a result, and Chloe would be too late to change things.
"Days Of Our Lives" airs weekdays on NBC.
© Copyright IBTimes 2023. All rights reserved.