'Days Of Our Lives' Spoilers: How Will Diana Mess With John And Marlena?
She told John he was the man who fathered her son, Leo but asked him not to reveal the truth to anyone. Now, Diana's reason for secrecy could be revealed on the Tuesday, Feb. 19 episode of "Days of Our Lives."
After John (Drake Hogestyn) began to suspect that he could be Leo's (Greg Rikaart) father when he learned that his former love Diana Colville (Judith Chapman) was his mother, he went to her for answers on the NBC soap. Much to his dismay, she then confirmed to him that the man destroying Sonny (Freddie Smith) and Will's (Chandler Massey) lives was, in fact, his child. However, she cautioned him that Leo didn't know that, and she wanted to keep things that way, so she asked him to keep the revelation to himself. For now, he hasn't mentioned it to Marlena (Deidre Hall) either, knowing that another secret child from his past could once again set them up for failure.
However, as he begins to feel guilt from it and wants to come clean, Diana may continue to urge him to stay silent—and according to spoilers for the soap, she may have a very specific reason why.
"A manipulative Diana toys with John and Marlena," spoilers reveal.
If Diana is actually lying to John, then she could be doing so to protect Leo in multiple ways. Not only does she know that she was summoned to Salem to try and mess with him so he divorces Sonny, but she is also the only person who knows Leo's murderous past secret regarding his real father. If she can keep John on the hook, not only will it keep Leo's real secret safe for a little while longer, but it could force him and Marlena to stop trying to help Sonny and will as well—meaning Leo gets to keep the life of luxury he's been enjoying since blackmailing Sonny into marriage.
Regardless of her plans, Diana is definitely up to something when it comes to Salem's golden couple.
"Days of Our Lives" airs weekdays on NBC.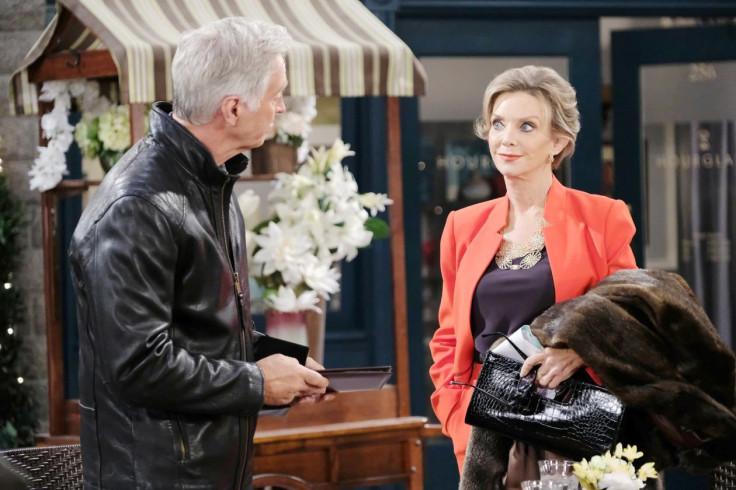 © Copyright IBTimes 2022. All rights reserved.
FOLLOW MORE IBT NEWS ON THE BELOW CHANNELS