Derrick Rose News: Will Chicago Bulls Point Guard Return This Week?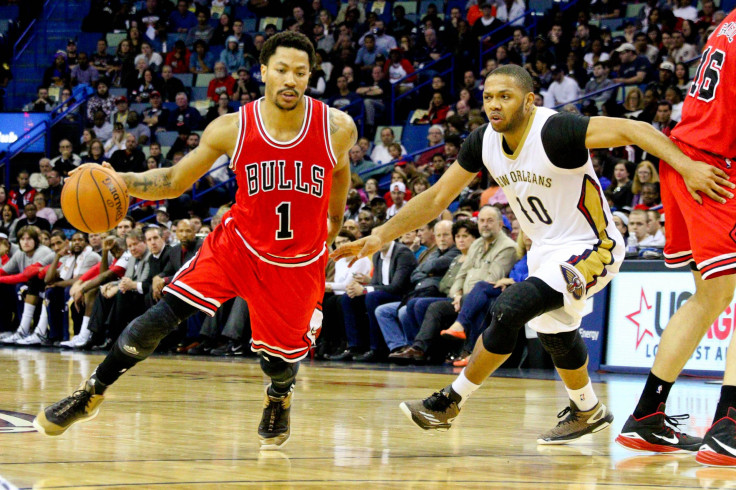 Holding a slim one-game lead on the No. 3 seed in the Eastern Conference with five games left in the regular season, the Chicago Bulls could be welcoming back star point guard Derrick Rose sometime this week.
The 26-year-old former MVP spoke to ESPN sideline reporter Lisa Salters prior to Sunday's 99-94 road loss to the Cleveland Cavaliers, and updated his status following surgery on Feb. 27 to repair a tear in the medial meniscus of his right knee. He was expected to miss four to six weeks of action, but Rose said his third come back from a knee operation has more to do with his mind than his body.
"If anything, I'm just trying to get my mental [approach] together so when I come back it won't be like my previous times," Rose said to Salters. "I think I was away from the game too long [during] previous injuries, and with me missing five, six, seven weeks now, I think that my return is about to be [smoother]."
The three-time All-Star, who only four years ago guided the Bulls to 62 victories and the top seed in the East, stressed his gratitude to still be part of Chicago's plans.
"I'm playing all right," Rose said. "For a guy that missed two years, coming back and just being able to be with these guys and still being on the game plan. What do you know, missed two years and still be on the game plan ... the team is preparing for you? I'm just grateful for that. I'm grateful to still be able to play this game."
Rose participated in contact practices for the first time since surgery last week, hoping to get his body up to proper game speed. However, head coach Tom Thibodeau said any return came with the caveat of limited minutes.
Should Rose and the Bulls prefer he take the court once again in front of a friendly United Center crowd, there are only two options left. Chicago starts the final push before the regular season Wednesday with trips to the Orlando Magic and Miami Heat on back-to-back nights, and then returns home Saturday to face the Philadelphia 76ers. Chicago will take to the road for the final time in the regular season against the Brooklyn Nets, and lastly hosts the No. 1 seed Atlanta Hawks.
Even if the schedule seems to hint at only two possibilities, Thibodeau is more concerned with Rose's comfort level.
"Well, we're hopeful,'' Thibodeau said Sunday, via the Chicago Sun Times. "Everything has gone according to plan. He's got to keep taking the contact on [in practice], keep moving forward, and hopefully it will be soon.
"We're watching, we're talking, but he's got to feel comfortable enough to be out there.''
Chicago's lost two of its last three games, but can keep the No. 4 seed Toronto Raptors at bay with Rose acting as another top option on offense. In Rose's absence the Bulls have relied on a breakout All-Star year from shooting guard Jimmy Butler and another All-Star turn from big man Pau Gasol with 18.5 points, 11.8 rebounds and 1.0 blocks.
However, a healthy Rose, who averaged 18.4 points and 5.0 assists before he went down, adds another dimension to Chicago's offense and gives the squad a strong chance to upend Cleveland and Atlanta for a deep postseason run.
© Copyright IBTimes 2023. All rights reserved.