Des Moines Register Calls For Donald Trump To Drop Out Of 2016 Presidential Race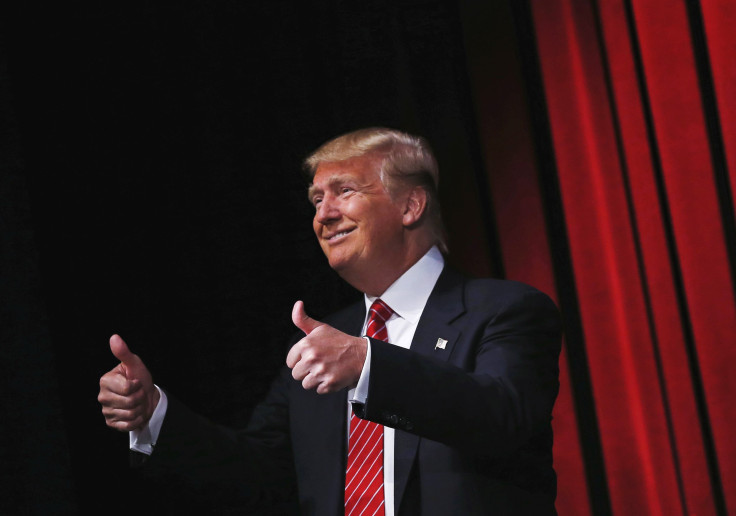 One of the most influential newspapers in the critical primary state of Iowa delivered a scathing op-ed against GOP presidential candidate Donald Trump on Monday, calling for him to drop out of the 2016 race.
"In the five weeks since he announced his campaign to seek the GOP nomination for president, Trump has been more focused on promoting himself, and his brand, than in addressing the problems facing the nation. If he were merely a self-absorbed, B-list celebrity, his unchecked ego could be tolerated as a source of mild amusement," the Des Moines Register said in the op-ed.
"But he now wants to become president, which means that he aspires to be the leader of the free world and the keeper of our nuclear launch codes."
The op-ed comes shortly after the Republican candidate ignited a major controversy with his comments Saturday about Senator John McCain. He reportedly said McCain, a former prisoner of war who was tortured during the Vietnam war, was "not a war hero," and that "I like people that weren't captured."
The op-ed commended McCain's service and excoriated Trump's comments as "disgraceful."
"The best way Donald Trump can serve his country is by apologizing to McCain and terminating this ill-conceived campaign," the opinion piece stated, echoing calls made earlier by Texas Governor and GOP presidential contender Rick Perry.
The editorial further added that Trump "has become 'the distraction with traction' — a feckless blowhard who can generate headlines, name recognition and polling numbers not by provoking thought, but by provoking outrage."
On Monday, McCain also called for Trump to apologize to prisoners of war and families of those who died in captivity. "There are so many men, and some women, who served and sacrificed and happened to be held prisoner and somehow to denigrate that, in any way, their service I think is offensive," he said on MSNBC. "A great honor of my life was to serve in the company of heroes. I'm not a hero."
Despite being condemned by candidates on both sides of the field, Trump has rocketed to the top of national polls, which show him leading the GOP's 2016 field. However, the most recent poll came out before his comments on McCain.
"What happened is, later on, the Republican candidates -- some of whom are registering 1 percent and zero -- and they're very upset that I'm leading the polls by actually a nice margin," Trump told ABC on Sunday.
However, pollsters pointed out that polls this early into the 2016 race are unreliable. "Leaders came and went like flashcards in the 2012 Republican primary contest, and, as noted, potential fallout from Trump's comments on McCain – or his next pronouncements – remains to be seen," public opinion researcher Gary Langer wrote in ABC about the most recent polls.
© Copyright IBTimes 2023. All rights reserved.