DeSantis Slammed Over 'Don't Say Gay' Bill That Bans Sexual Orientation Discussions In Schools
Florida Gov. Ron DeSantis is facing backlash after voicing his support for a bill that would ban the discussion of gender identity and sexual orientation in the state's primary schools.
The Parental Rights in Education bill has been called the "Don't Say Gay" bill by critics due to its goal of excluding the discussion of LGBTQ issues in the classrooms of younger grade levels.
The bill states, "a school district may not encourage classroom discussion about sexual orientation or gender identity in primary grade levels or in a manner that is not age-appropriate or developmentally appropriate for students."
The "Don't Say Gay" bill, which passed the Florida Senate Education Committee on Tuesday, would allow parents to sue the district should the potential law be violated.
"Schools need to be teaching kids to read, to write," DeSantis said on Monday to reporters. "They need to teach them science, history. We need more civics and understanding of the U.S. Constitution, what makes our country unique, all those basic stuff."
DeSantis insisted it was important for parents to have a say in what their children learn. "The larger issue with all of this is parents must have a seat at the table when it comes to what's going on in their schools," he said.
On Wednesday, "Don't Say Gay" began trending on Twitter, with people slamming the bill and DeSantis' support of it.
"The DeSantis/GOP 'Don't Say Gay' bill out of Florida is a blatant attack on the LGBTQ community as well as an attack on freedom. This is the state government telling local communities and school districts what they can't do...restricting freedom," one person wrote.
"The 'Don't Say Gay' bill backed by DeSantis is a despicable and harmful bill that will harm kids and seeks to harm the LGBTQ community. We're here whether you want to acknowledge us or not. YOU WILL NOT ERASE US. #StopDontSayGay," the individual wrote.
On Tuesday, President Joe Biden shared a Twitter post in which he denounced the bill. "I want every member of the LGBTQI+ community — especially the kids who will be impacted by this hateful bill — to know that you are loved and accepted just as you are," he wrote.
"I have your back, and my Administration will continue to fight for the protections and safety you deserve."
Four states -- Louisiana, Mississippi, Oklahoma, and Texas -- have similar laws banning discussions about sexual orientation and gender identity in the classroom, according to the GLSEN, an LGBTQ advocacy group.
Meanwhile, ​​seven states -- California, Colorado, Connecticut, Illinois, Nevada, New Jersey, and Oregon --promote the inclusivity of LGBTQ issues into the curriculum.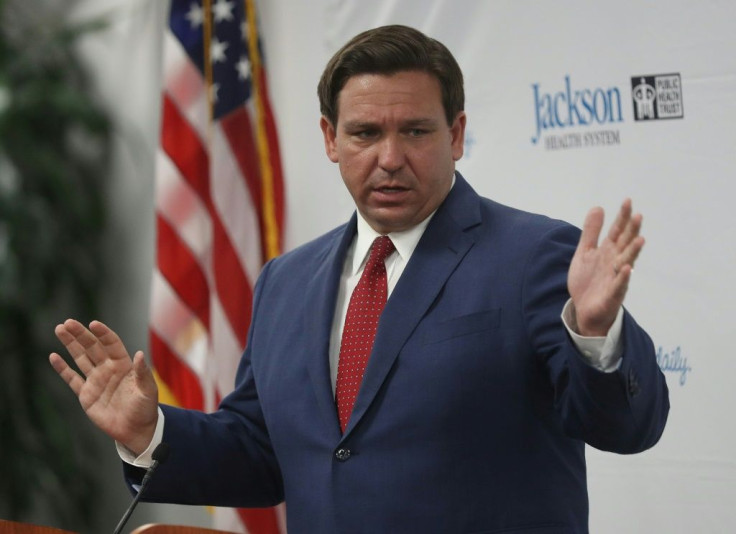 © Copyright IBTimes 2023. All rights reserved.