'Devious Maids' Spoilers: What Happened In The Season 2 Finale? Recap Before The Season 3 Premiere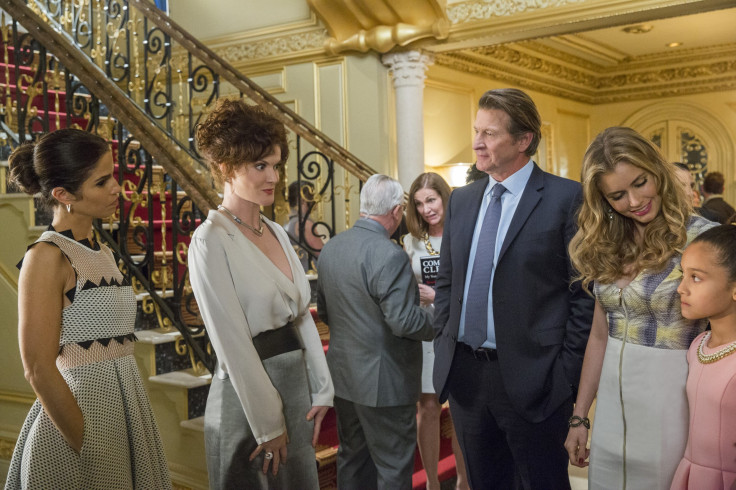 New month, new drama. "Devious Maids" will be kicking off the month of June on an intense note. And according to reports, Season 3 of the hit Lifetime series is going to have its fair share of blood shed -- so grab your mop and buy some bleach because things are about to get messy.
But before fans welcome back their favorite maids on Monday, June 1, during the premiere titled "Awakenings," why don't you check out how the Season 2 finale of "Devious Maids" left off? (Hint: It was jaw-dropping.)
When episode 13, "Look Back in Anger," began, it was thought that the most dramatic scene of the installment would be when Nicholas (Mark Deklin) revealed his deadly secret to the Powell's. Marisol (Ana Ortiz) discovered that Nicholas was the one who killed Evelyn (Rebecca Wisocky) and Adrian's (Tom Irwin) son. But, according to Nicholas, the hit was accidental. On that fateful night, his wife told him that she was having an affair with their maid. Due to the shocking news, Nicholas took his eyes off the road for a moment, which is when he hit the boy.
Out of guilt (and pressure by Marisol), Nicholas came clean to Evelyn and Adrian whose relationship was already strained due to personal problems. And as you can imagine, the parents were infuriated by the news. Adrian took a knife and swung it at Nicholas anger, slicing the man who killed their son. But Evelyn and Marisol were about to keep Adrian from doing any further damage, telling him that Nicholas was going to turn himself into the police.
The episode then shifted to a lighter mood when Spence (Grant Show) asked Rosie (Dania Ramirez) for her hand in marriage. But of course, nothing is ever a happily ever after when it comes to "Devious Maids." Their wedding was interrupted when Ty (Gideon Glick) showed up wielding a gun. Hoping to shoot Valentina (Edy Ganem) out of fear she was going to get him convicted (Ty was nervous Valentina knew he was a part of the burglary ring), the frightened nephew of Spence fired rounds into the wedding party.
The episode cut on a cliffhanger, not revealing who was hit, but teasing someone was injured as Rosie drops her blood-soaked bouquet.
During an interview with "Good Day LA" Ramirez teased what fans of the Marc Cherry series could expect from the Season 3 premiere of "Devious Maids."
"I'll tell you this," she said. "There's more than one [person who gets] shot."
But with (a potential) death comes life! Fans well remember that Zoila (Judy Reyes) announced the shocking news that she was pregnant in the Season 2 finale.

"Yes, and I have to say that while I'm not always a big fan of the 'I'm pregnant' storyline, I'm a huge fan of the 'I don't know who the baby's father is' storyline," executive producer Sabrina Wind dished to TVLine following Season 2's last episode. "And Judy is loving this storyline, both for Zoila and for herself. She's getting some problems that an ingenue would normally would get."

So, in addition to learning who was caught in the line of fire during the Season 3 premiere of "Devious Maids," viewers will also unveil the mystery of who Zoila's baby daddy is in the forthcoming installment.
Who do you think Ty shot in the Season 2 finale of "Devious Maids"? Tune in to the Season 3 premiere on Monday, June 1, at 9 p.m. EDT on Lifetime to find out!
© Copyright IBTimes 2023. All rights reserved.