Did J. Cole Call Out Kanye West And Drake On New Album '4 Your Eyez Only'?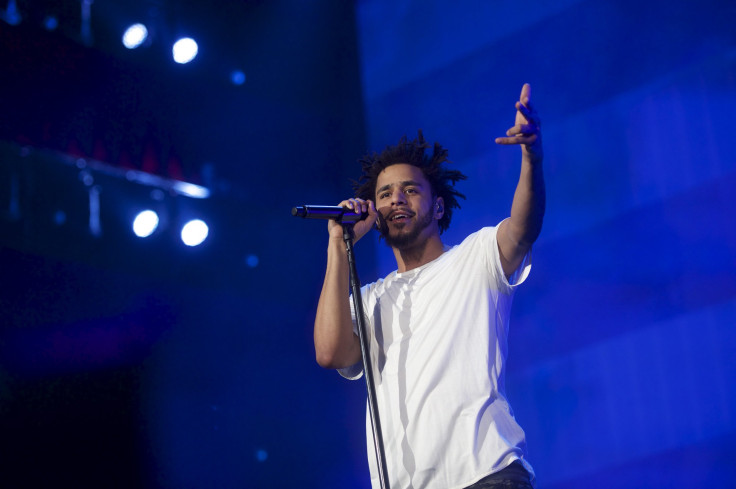 On Thursday, J. Cole made a surprise announcement for his upcoming album, "4 Your Eyez Only," which is set to release on Dec. 9. While no singles have been released, the North Carolina rapper did release a 40-minute documentary for the album, which previews new music.
After taking some time off from putting out new music, J. Cole is back and clearly has a problem with some popular rappers. While Cole doesn't mention any names in the songs, it's easy to see he's using the hip-hop stars of today for his story.
Rapping over the same beat which Joey Badass used for "Waves," Cole seems to be taking shots at Drake, rapping about idolizing rappers and then finding out they don't write their own lyrics. Cole also takes offense to rappers who "hear some new style bubbling up" and then rip-off the style.
When it comes to having a ghostwriter and taking someone else's style, Drake has been the target of those claims for the past few years. Between having Quentin Miller allegedly ghostwrite his songs, and being accused of using the Jamaican sound for his hits, Drake could very well be the subject of Cole's verse.
But J. Cole doesn't stop there. On another song, Cole vents his frustration with many of hip-hop's newest stars who have "Lil" in their name. "I hate these rappers / especially the amatuer eight-week rappers / Lil whatever, just another short bus rapper / Fake drug dealers turned tour bus trapper."
The rapper also previewed another verse that has many hip-hop fans thinking he's talking about Kanye West and his recent mental health issues. Like his other verses, this one features no names but includes less dissing and more storytelling. "He's falling apart, but we deny it… When he tell us he a genius but it's clearer lately / It's been hard for him to look into a mirror lately."
Although J. Cole is not known for getting involved in rap beefs, his latest lyrics are sure to elicit a few responses from some of today's rappers.
© Copyright IBTimes 2023. All rights reserved.