Did Nikki Bella Have A Bachelorette Party Amid John Cena Relationship Troubles?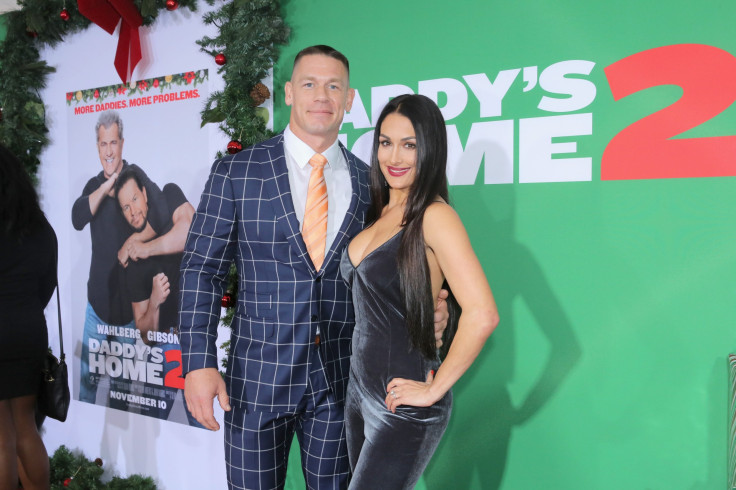 Nikki Bella and John Cena have managed to find themselves at the center of break up rumors following a trailer that teased the cancellation of their wedding, but over the weekend, the WWE star gave fans hope that she and her fiancé still plan on getting married.
On Saturday, Bella shared the first glimpse of her bachelorette party on Instagram. The star posted a photo of herself, twin sister Brie Bella, and several friends sitting outside of a restaurant. "Painting the town Coco," she captioned the photo.
From then on, a majority of her pictures, as well as her pals', featured the hashtag, #paintingthetowncoco.
Bella kicked off the weekend by sharing a photo of herself smiling while surrounded by men. "The dares for the bachelorette. Nothing like the French men in Paris to help complete them. #paintingthetowncoco," she captioned the photo.
Over on her sister Brie's account, the mom of baby girl Birdie Joe Danielson, shared a photo of the women posing during a night out. She captioned the picture by using the lips emoji along with the hashtag, "#paintingthetowncoco."
Luckily for fans, it seems they will get to join Bella on her Parisian bachelorette party. On her Instagram story, the star shared a photo of herself and friends in costumes, while revealing E! cameras were on the scene to capture all of the fun.
"Last night's Masquerade Ball… coming soon to 'Total Bellas' this May," the top of the image read.
Bella's bachelorette celebration comes amid chatter she and Cena have been experiencing some relationship troubles. In the "Total Bellas" Season 3 promo, Bella asked her fiancé if they should call their wedding off.
Cena later admitted that they have been experiencing some issues, but were working on fixing their relationship.
"You have two choices. You either jump ship and start a new relationship or move forward and try to work through it. We're gonna move forward and try to work through it," he said during an appearance on the "Today" show in February.
Although Cena and Bella haven't said much about their relationship since then, it appears the couple is moving forward with their wedding plans, and the "Total Divas" star is enjoying her last moments as an unmarried woman.
© Copyright IBTimes 2023. All rights reserved.