Dietary Guidelines For Americans 2015: New Rules Skirt Controversy In Ignoring Meat, Recommending Less Sugar, More Vegetables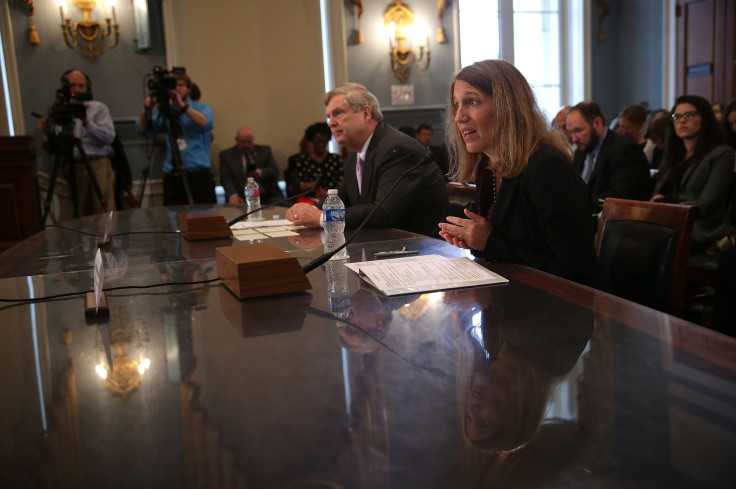 The U.S. government's latest Dietary Guidelines, released Thursday, recommend that Americans eat more fruits and vegetables and less sugar, saturated fat and salt. But the guidelines, which have wide-ranging influence from school lunch programs and federal nutrition policy to dietary manuals and doctors' advice, are couched in gentle language that shies away from controversy, particularly on the issue of eating red meat, which in October was explicitly linked to cancer.
The dietary guidelines are published by the U.S. Departments of Health and Human Services and the Department of Agriculture and updated every five years. Those published Thursday, which were supposed to come out in 2015, suggest that people consume less than 2,300 milligrams of sodium per day, take in less than 10 percent of their calories every day from sugar and get less than 10 percent of their calories from saturated fats. They state that a "healthy eating pattern" means "a variety of vegetables," plus fruits, whole grains, fat-free or low-fat dairy, a variety of proteins that include "lean meats and poultry," and oils.
The purpose of the dietary guidelines is to help Americans eat more healthily, in order to reduce their risk of developing chronic diseases. The guidelines are supposed to be based on scientific evidence, although critics have openly questioned whether it is science or the food industry that is more influential in shaping them.
"The federal government's basic nutrition advice has remained largely unchanged for the past 35 years," said Michael Jacobson, head of the advocacy group Center for Science in the Public Interest, in a statement. "The problem is that the food industry has continued to pressure and tempt us to eat a diet of burgers, pizzas, burritos, cookies, doughnuts, sodas, shakes and other foods loaded with white flour, red and processed meat, salt, saturated fat, and added sugars, and not enough vegetables, fruit, and whole grains."
In the section "Key Recommendations" of the new guidelines, for instance, the term "red meat" is nowhere to be found. Instead, it is saturated fat that the guidelines recommend against eating, although red meat is considered one of the top sources, alongside full-fat dairy products, of saturated fat in Americans' diets. After an expert panel recommended last February that Americans eat less red and processed meat, the meat industry swore to lobby Congress and maintain meat's longstanding place in the American diet.
The updated policy was expected to be similar to the previous edition, with the same emphasis on eating fruits, vegetables, low-fat dairy, whole grains and lean protein while staying away from food high in refined and processed sugars (to the dismay of food companies) and salt.
Still, the road to the new guidelines has been paved with controversy, dating as far back as February, when the 2015 Dietary Guidelines Advisory Committee submitted its report that shared scientific evidence on nutrition, diet and health and offered a series of recommendations to shape the guidelines.
This year, the committee suggests that the government recommend eating less meat and more fruits and vegetables, not just for health reasons but also to lessen the environmental impact of the American diet. In an unexpected move, it removed cholesterol from the list of suspect substances. More expected were its warnings to consume even less added sugar than in the previous guidelines, which had set the ceiling at 16 percent.
That committee also urged that the guidelines consider the issue of sustainability, which "should be incorporated into federal and local feeding programs when possible," the report said.
Both critics and advocates of those ideas — less meat, more care for the environment — soon sounded off.
The U.S. meat industry subsequently slammed the committee, saying it deviated from its original task of "reviewing nutritional science," said Barry Carpenter, president and CEO of the North American Meat Institute. "It's akin to having a dermatologist provide recommendations about cardiac care," he said.
But in May, a collection of 700 doctors, nutritionists and other public health professionals signed a joint letter to the Agriculture and Health departments in support of eating less meat and factoring sustainability into dietary guidelines.
"If, in an age when we know that food and water shortages are clear and present dangers, we choose to ignore them in our dietary guidelines, then these are not dietary guidelines for Americans," said Dr. David Katz, signatory and founding director of the Yale University Prevention Research Center, in a statement.
Livestock production — raising meat, milk and eggs for humans to eat — is detrimental to the environment in numerous ways, contributing to deforestation, water and air pollution and global warming, to name just a few, studies have shown. Raising beef is especially harmful, requiring 28 times the amount of land needed for pork or chicken and consuming 11 times the amount of water, a 2014 study found.
Total Red Meat Consumption in the United States | HealthGrove
But in October, Secretary of Agriculture Tom Vilsack and Secretary of Health and Human Services Sylvia Mathews Burwell said the 2015 guidelines would not take into account questions of how food is grown or raised and the environmental impact of those methods. In a joint blog post, they wrote, "We do not believe that the 2015 DGAs are the appropriate vehicle for this important policy conversation about sustainability."
© Copyright IBTimes 2023. All rights reserved.