Digital Detox Vacations: How A Trip Without My iPhone And The Internet Helped Me Disconnect From -- And Then Reconnect With -- Reality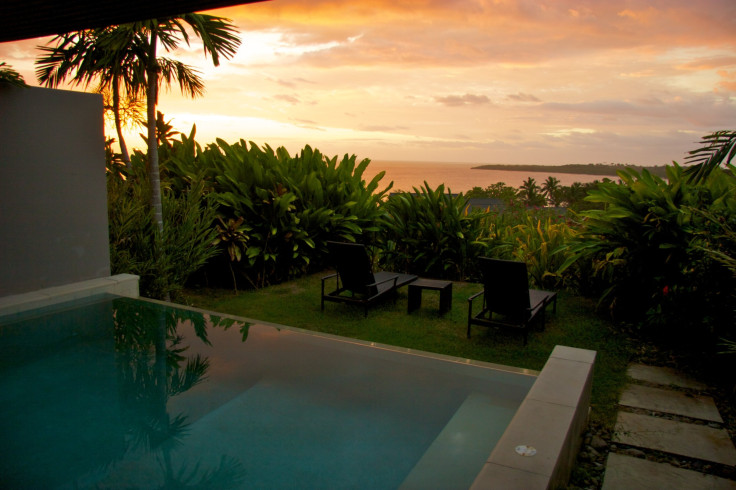 WAKAYA ISLAND, Fiji -- Soaring over mainland Fiji, smoke from sugarcane pyres spiraled upward as breakers splashed against cobalt coral cays, but I couldn't Instagram the view or tweet about the flight. I had locked my phone into a hidden compartment at the base of my checked luggage to avoid the temptation of using it.
Peering at the other passengers -- most of whom craned their necks over handheld devices, tapping away -- I realized that I didn't know how to keep my thumbs occupied. I twiddled my fingers. I monitored the plane controls. I tapped my hands on my knees.
At the same time, I felt an inflated sense of superiority as if I were the only one on the flight who was truly living in the real world. But since when, I wondered, did the "real world" start to feel so uncomfortable to me? I wasn't sure.
For my 10-day journey around Fiji, I planned to try out the latest travel fad since talks of space tourism: The digital detox. In essence, digital detox is a retreat from technology. A boom in anti-digital tourism has drawn device junkies such as myself to resorts across the planet that offer gadget-free packages to help the hyperconnected disconnect.
When I arrived for the first leg of my detox at Wakaya Island -- a speck of paradise in the Lomaiviti Group, 1,500 miles off the coast of Australia -- I had spent nearly eight hours offline. My palms itched. I yearned for my iPhone, which was not only my connection to the outside world but my alarm clock, flashlight, watch and camera.
I sought out a digital detox because I had begun to feel disconnected from the world, though my online life gave me the illusion of being more connected than ever before. In reality, this trip was the first time in five years that I'd left my computer at home.
I'm someone who normally spends around about seven hours per day online, and I'm hardly alone. In a survey, ad agency The Buntin Group found that the average American clocks in 23 hours per week online. According to a study last year by Pew Research Center, more than half of the U.S. population owns a smartphone, and that figure climbs to a staggering 81 percent in the 25 to 34 age bracket, to which I belong.
But there is also this: My iPhone is a thing that I hate to love. When it comes to technology trends, I was a late adopter, swearing for years that I would stick to my simple flip phone because I detested how the iPhone made people look in the streets.
When I lived in New York, I would navigate the train system with a paper map I took from the Intercontinental Barclay Hotel instead of using Google Maps. My whole life, I would often strike up conversations with strangers instead of logging on to Twitter. But somewhere between trying to locate New York's clandestine Z train and a bad restaurant choice that I didn't Yelp, someone convinced me that owning a smartphone would make my life easier. It did, but it also made me lazier and dependent.
Years later, I find it difficult to call myself a smartphone or Internet addict, per se, but my behavior tells another story. On any given day, I might flick between Facebook and email every 20 minutes. I've convinced myself that being on top of things and being extra responsive makes me a better person to friends and workmates.
Before disconnecting in Fiji I felt sick of myself, but I chose not to go cold turkey during the detox, as many do. It seemed too difficult. Instead, I implemented a phase-out plan, allowing myself to check email and use Skype to call family once a day for the first few days, winding down to four days with zero usage. I had, however, signed out of my social channels entirely.
I convinced myself this wasn't cheating, which truly made me feel like an addict. But who isn't these days?
The Rise Of Digital Detox
Last year, the Four Seasons hotel in Peninsula Papagayo, Costa Rica, partnered with iPhone case company Uncommon to offer a "Disconnect to Reconnect" retreat, where guests give up their iPhones for 24 hours in exchange for a list of 24 things to do without technology and a free Costa Rican-themed phone case. Other resorts with technology detox packages include the Westin in Dublin, Lake Placid Lodge and the River Place Hotel in Portland.
The Renaissance in Pittsburgh offers a family digital detox package, where hotel staff not only lock up the family's digital devices but remove the phone, television and iHome dock station from their room, replacing the technology with board games and playing cards. In the less extreme, hotels like the JW Marriott in Cancun have instituted "tech-free" zones to encourage guests to leave their devices in their rooms.
In August 2013, the Intercontinental Hotel Nadi, Fiji, began the Ultimate Business Break, where guests of their Club Plunge pay upward of $5,290 (inclusive of their stay) to surrender their devices to a personal butler. If guests break their commitment, they're subjected to "pampering penalties" such as an hour by the pool, evening cocktails or a massage, according to marketing executive Jennifer Forrest. These pseudo retributions may seem like rewards, but the point of the package, Forrest said, is to get people to let go and relax, which can be harder than you may think.
"It's giving business people the opportunity to completely disconnect from the hustle and bustle and mental strain that comes from being connected to devices," she explained. "When I put down my phone for a second my heart rate will increase; it's not good to have that. You need freedom in your mind."
Unplugging from social channels -- not to mention the Internet in general -- leads to a greater sense of self-control, professors Keith Wilcox of Columbia University and Andrew T. Stephen of the University of Pittsburgh found in a 2013 study titled Are Close Friends the Enemy? Online Social Networks, Self-Esteem, and Self Control.
According to their research, we act differently on Facebook because we know we're being watched. We can choose the information people see about us, and as we read other peoples' posts we become less self-aware. At the same time, we develop a heightened sense of self, which makes us impetuous.
"Using online social networks can have a positive effect on self-esteem and well-being. However, these increased feelings of self-worth can have a detrimental effect on behavior," Wilcox and Stephen explained in the report. "Given that self-control is important for maintaining social order and personal well-being, this subtle effect could have widespread impact."
Slipping In To "Fiji Time"
David Gilmour, founder of Fiji Water, built the exclusive resort Wakaya Club on his privately owned island of the same name in 1990. The property consists of just 10 waterfront Fijian cottages and an organic ginger farm, and over the years has been a source of rejuvenation for executives including Bill Gates, Steve Jobs and Rupert Murdoch.
I expected this piece of paradise, which is a 40-minute flight from the main island of Viti Levu in a secluded corner of the South Pacific Ocean, to be the ideal spot to escape the digital world. The receptionist, however, informed me almost immediately that my room was outfitted with free Wi-Fi. My heart sank.
Temptation, I knew, would make my analog circuit break a nail-biter -- and it did. Once I set my luggage down, I bargained with myself, promising I would log on "just this once," then I would promptly head outside. I needed to shop for a bed to put in the new apartment I would move into post-Fiji, so I visited one site, then another. I went from bed shopping to chatting with my mom on Skype about the view to watching a short video about a fluffy kitten eating a banana. I felt guilty, but I chose to forgive myself and start over, which is how I imagine one moves forward when overcoming an obsession.
I allowed myself to slip into what locals call "Fiji time," letting go of the goings on "out there" and settling into island life, and into my life, with unlimited coconut water to ease the detox. When I felt panic rise up in my chest, summoned by the desire to go online, I would ask myself: Does it really make a difference in the present moment if I know what's trending online or what emails I've received? The answer was always no.
Wakaya boasts the usual attractions of a tranquil island getaway: Snorkeling, swinging hammocks, a massage technique called water shiatsu that's performed while floating in a serenity pool that plays music underwater.
Yet, it wasn't just relaxation that taught me how to disconnect. It was the people.
After Wakaya's Methodist church service on Sunday, men in the local village swang through mango trees, cutting down sweet tropical fruit on the verge of ripeness. One of them tossed me a green mango and invited me to a "kava session," a Fijian ritual in which villagers gather to share a drink made from kava root. The main compound in the mixture, kavalactones, has sedative and anesthetic qualities that numb your mouth.
Some time later, a crowd had formed under a family's portico, laughing and smiling as they prepared fresh mango slices. The group ushered me to a spot on a thatched mat, where a man appointed to prepare the drink for us of mixed sun-dried, pulverized kava root with water, then strained it through a thin cloth into a communal wooden bowl. The grog, as it's called, smelled, looked and tasted like earth, and was served in a bilo, or half-coconut shell.
Locals will spend seven to 15 hours a day sitting together -- without iPhones, computers or televisions -- to sip and tell stories in the round.
Petero Lolohea, an ordained pastor who doubles as the activities coordinator at Wakaya Club, noted that Fijian people are among the happiest in the world, in part due to the atmosphere kava creates. "Relationships are more important than technology," Lolohea said. "In the type of community we live, we share everything we have. When it comes to family, it's the most important thing in the world because it's the recipe of love."
The sharing of kava indeed made me feel much more fulfilled than hitting the share button on Youtube or Facebook.
A 2012 New York Times and Latitude Research study found that we share online for five key reasons, among them to create self-fulfillment, to define ourselves to others, and to nourish and grow our relationships. Yet a report by Dr. Hanna Krasnova, a senior researcher at Humboldt-University Berlin, revealed that 33 percent of Facebook users feel unhappy during use. Envy, Krasnova noted, is the most significant source of this unhappiness.
In the offline silence and time spent sipping kava with locals, I realized that my constant Internet-checking came from an irrational fear of missing out. The feeling that I was "in the know" gave me a false sense of power: If I knew what was going on in the world, then through my awareness I was in control.
On the contrary, knowing without the capacity to effect change upon reality only causes me anxiety, while assuming from Facebook that somehow everyone else's lives appear better than my own makes me feel self-conscious and inferior.
Soon after I made that discovery, I would have taken a photo of my feet hanging off a hammock with palm trees swaying in the background. I would have shared that photo on Facebook and Instagram and waited for the responses. But I stopped myself.
Reconnecting To Reality
From Wakaya, it took four flights, a 20-minute drive, and a 20-minute speedboat trip in the rain to reach Matangi Island. In Fiji's tropical northeastern archipelago, far from the mainland, I thought for sure they wouldn't have Internet. They did.
But the Internet was only in the main dining hall, and there weren't phones, televisions or radios in the room. While other resorts encourage relaxation as a means to digitally detox, Matangi keeps guests so enlivened with activity there isn't time for Internet.
I swam around Horseshoe Bay. I visited a pearl farm. I hiked through the jungle to waterfalls on nearby Taveuni Island. Through all of this, I still managed to squeeze in a few hours online. What ended up halting my usage altogether wasn't distraction but determined choice.
I contacted friends and family back home to let them know I would be officially signing off for the remainder of my trip. Then, I handed my iPhone over to the hostess.
When I returned from Fiji several days later, I moved into a new apartment, which, coincidentally, had neither an Internet connection nor phone reception. It's the most connected I've felt to myself and the world around me in a long time.
FOR FREE to continue reading
✔️ Unlock the full content of International Business Times UK for free
offer available for a limited time only
✔️ Easily manage your Newsletters subscriptions and save your favourite articles
✔️ No payment method required
Already have an account?
Log in
© Copyright IBTimes 2023. All rights reserved.