'Digital Divide': Pew Study Finds Black Adults Have Less Internet Access Than Whites

A study published Monday by the Pew Research Center found that a technological divide still exists between black and white Americans.
Based on a survey of 6,010 American adults, with 664 who identified as African-American, only 80 percent of black adults reported using the Internet regularly compared with 87 percent of white adults. When it came to having access to high-speed Internet, only 62 percent of African-Americans had a broadband connection at home compared with 74 percent of white Americans.
The study also found an even larger gap when looking at older African-Americans and black adults that did not attend college. Compared with white adults with a similar demographic profile, African-Americans in these subgroups are "significantly less likely to go online or to have broadband service at home."
Just 45 percent of black seniors use the Internet and 30 percent have broadband at home. This is compared with 63 percent of white seniors using the Internet, and 51 percent having broadband.
On a positive note, the study found that mobile Internet access is more equivalent between black and white Americans. More African-American senior citizens own a cell phone than use the Internet.
Pew also reported that young, college-educated and high-income African-Americans are equally as likely as their whites in the same demographic to use the Internet and have broadband access. About 86 percent of African-Americans aged 18-29 have broadband access at home, and 88 percent of college-graduated black adults report the same. For African- American families with an annual household income of more than $75,000, 91 percent have broadband.
Pew reported that these numbers are "well above the national average" and are identical with white families of the same demographics.
Pew found African-American Internet users are much more active on Twitter than white Internet users, especially among young adults. Only 28 percent of white adults aged 18-29 use Twitter while a full 40 percent of black young adults are on the microblogging platform.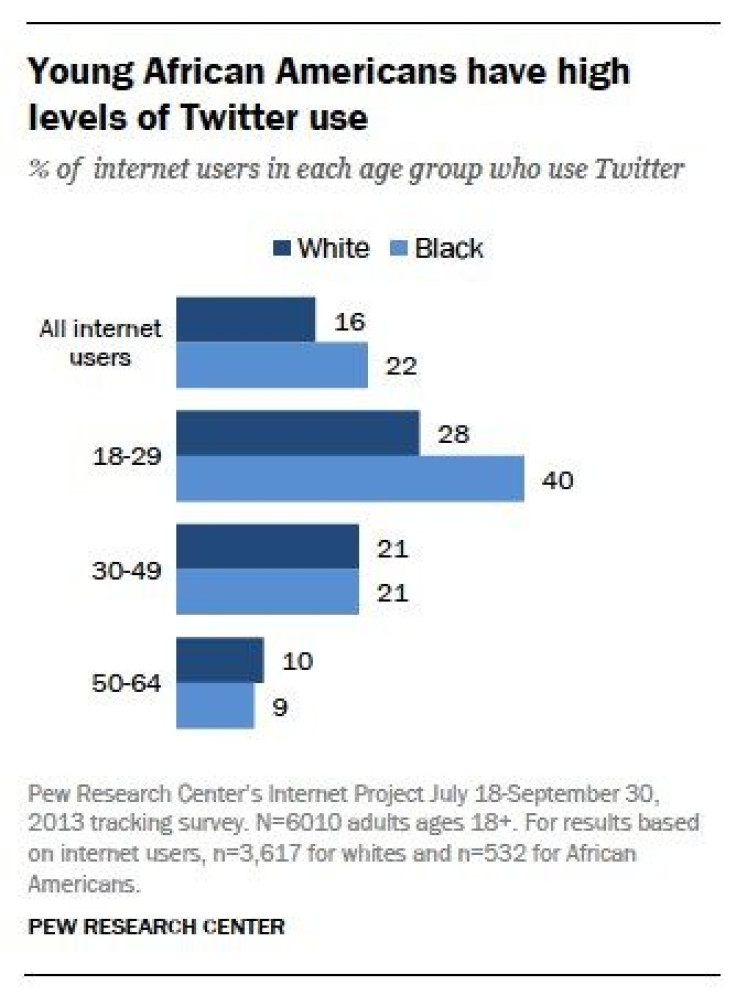 The study is the first in a series coming from Pew's Internet and American Life project about the adoption and use of technology among different groups of American adults. The entire report can be found here.
© Copyright IBTimes 2023. All rights reserved.