For Digital Nomads, Work Is No Longer A Place And Life Is One Big Adventure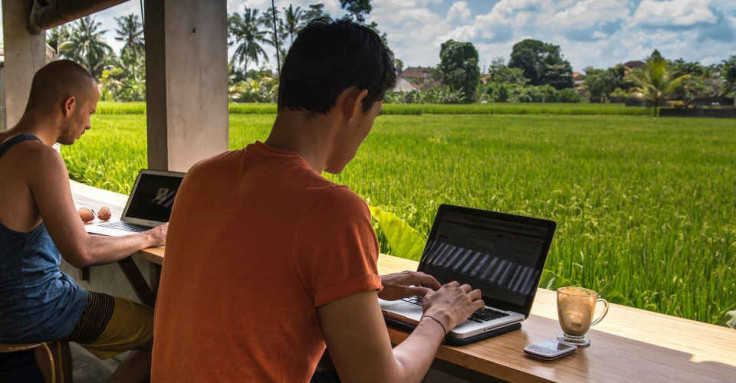 BALI, Indonesia -- It was exactly six months ago when Merav Knafo packed the contents of her life into a storage garage in Encinitas, Calif., and hopped a flight to Bali. She doesn't know when she'll see those possessions again or even where she'll be a few months from now. It's not that Knafo has "checked out of life," as she put it, but that she's found a different way to live it -- a way she says most of us are too afraid to try.
The Israeli-born American citizen is among a growing number of people who consider themselves "digital nomads," or professionals who are independent of specific locations, who use a Web-based toolkit of Skype, Google Docs and social media to work and collaborate from wherever, whenever -- be it on a beach in Thailand or, in Knafo's case, overlooking a rice paddy in Bali.
Knafo runs a software company called JomSocial -- which turns Joomla content management systems into full-fledged, social-networking sites -- and manages a team of two-dozen workers based in all corners of the globe from Argentina to Indonesia, Romania and Serbia. She works each day from 7:00 a.m. to 7:00 p.m. from a cooperative space in Bali's verdant green interior, and despite the long hours, says she has a more balanced life here than she'd ever have in an office. She makes time for yoga and leisurely lunches, and has money enough to live the good life for a fraction of what it would cost back in California.
"I could be in Bangkok. I could be in Paris. I could be anywhere right now," Knafo explained on a recent afternoon in the expat haven of Ubud. "I've already worked in Spain, Morocco, Israel… I've been doing this for 12 years now, and it's how I've structured my life."
Knafo said she meets a lot of people who'd love to work and travel like her, but they don't know how to break free from the 9-to-5. "They have all kinds of ideas about what's possible and what's not possible and find all kinds of excuses -- the kids, the parents, the family, the friends. But if you really want to do this, you can, so long as you have a plan."
Digital nomads come in many forms. There are those who have a regular home base but are part-time vagabonds; those who choose long-term locations from which to work and live; and those who travel constantly and cram everything they own into a backpack. Some are alone, some are couples and some even bring the kids along.
While technology may empower them to break free of the constraints of a physical workplace, many "solopreneurs," freelancers and working nomads find in return that they lack a solid community both personally and professionally. That's what drove Knafo away from Encinitas, and it's what lured her to Hubud in Ubud.
Hubud is part of a growing list of co-working spaces in the developing world that promote access to a lower cost of living and higher quality of life. Other digital nomad hubs in Asia with popular co-working spaces include Chiang Mai, Thailand; Ho Chi Minh City, Vietnam; and Cebu, Philippines. Buenos Aires and Sao Paulo, meanwhile, are popular stops in the South America circuit.
Hubud is a de facto office and community for as many as 250 people at any given time who've capitalized on a happy byproduct of our increasingly digital culture: location independence. Freelance writers, filmmakers, marketers, Web developers, graphic designers and even entire tech teams show up with laptops in hand and Hubud provides them with space, office supplies and the kind of high-speed Internet connection you're unlikely to find anywhere else in Indonesia.
Just as importantly, Hubud links them into a network of fellow professionals.
"You come here for the Internet, but you stay for the interesting people you meet," explained Hubud's co-founder Steve Munroe. He said workspaces such as Hubud, where professionals from 30 different countries toil together under a bamboo roof, foster "accelerated serendipity."
"I fantasized about working from home -- Skype calls in my underwear and the whole bit -- but I missed the watercooler. After two years of it, I was bored and lonely," Munroe explained.
"Remember the telecommuting term 15 years ago?" Hubud's other active co-founder, Peter Wall, chimed in. "It was the dream. Everyone was going to work from home and call in and work on their computers. But it hasn't happened. And why it hasn't happened is, one, it's really boring, and two, there is a real value in face-to-face interaction. But there is also value in being in a green space where you can stare out at the rice paddies and be at the beach in a half hour. And so I think what people are realizing is that there is a place I can do what I do, I can be in a community, and I can also be somewhere beautiful."
Munroe posited that digital nomads are kind of like the adult "third culture kids." "I've been out of Canada for almost 15 years, but when a gold medal hockey match for the Olympics is on, damn right I'm Canadian! The other 51 weeks of the year, I tend to relate more to people who are like me. People who have traveled, that have moved around and had different experiences, that are not so weighed down by the ideology they were born into."
"We're kind of like 'Cheers,'" Wall, a fellow Canadian, added. "You want to go where people know you, especially for people who live overseas and don't know anyone in Bali, this is a great place to start."
Those building co-working spaces (or "post-corporate, post-institutional environments," as Wall put it) aren't the only ones catering to the emerging market. In fact, entire companies have emerged in recent years to help location-independent entrepreneurs take the leap into the great unknown.
Matt Cooper is the vice president of business development at oDesk, an online work marketplace based in Redwood City, Calif., that enables businesses to hire, manage and pay freelancers for any work that can be done in front of a computer, worldwide. He said the level of connectivity we now have has not only completely disrupted the way we work but also lifted the constraints that traditionally tied us down.
oDesk was born out of the idea that work is no longer a place you go to, and Cooper said that digital nomads are the proof that "a life of adventure and professional success are not mutually exclusive. Digital nomads run thriving businesses, write popular blogs, build amazing websites and more -- and they do it on the go, from all corners of the globe."
It's not all piña coladas and bungalows on the beach. "Digital nomads do not have the benefit of what's called 'passive face time,' which is getting credit for showing up at the office," Cooper explained. "Their performance is judged on results, which means they must clearly demonstrate their value. Digital nomads also face the challenge of coordinating time zones when trying to work with others around the globe. It will absolutely get easier as more time passes and more people work this way, but for now there is definitely a learning curve."
The flipside is that digital nomads can be flexible about when they work. And those who run their own businesses can draw from a talent pool that's as big as the oceans.
oDesk found in a study released last month that of the three-quarters of its users who made a change to be less tied to a physical workplace, 67 percent became freelancers and 34 percent created their own virtual business team. Meanwhile, 59 percent of those who went nomad last year reported an increase in income. Since becoming less tied to their physical workplace, 92 percent said they were happier (versus just 2 percent who claimed to be less content). oDesk credited a generational shift whereby collecting possessions now has less cultural currency than collecting experiences.
"We'll soon see more infrastructure related to the digital nomad lifestyle, which opens people up to flexible living and also creates a need for flexible resources," Cooper noted. "Co-working spaces will skyrocket, and so will subletting websites like Airbnb."
The Boston Consulting Group urged the travel and tourism industry to brace for a major inflow of millennial dollars in a report released last March. The Group's Center for Consumer and Customer Insight suggested that conditions were ripe for a future labor market of untethered, independent workers.
"In as few as five years, millennials will enter their peak earning, spending and traveling years and surpass the baby boomers," Christine Barton, BCG partner and lead author of the study, noted in a summary of the report. Barton said the window of opportunity for businesses to understand the work and travel habits of millennials and gain their mind share was "closing rapidly."
In a separate report focusing on Gen X and Gen Y, Herndon, Va.-based business services company MBO Partners predicted freelancers would make up 50 percent of the private American workforce by 2020.
Knafo has an even starker prediction for the future. She thinks the workplace, as most of us now know it, will be completely obsolete in 10 to 20 years. "Everything is moving online and to location independence. Even the biggest corporations in the U.S. are letting people work from home," she said from her co-working space in Bali.
The exact number of digital nomads crisscrossing the globe is an intrinsically difficult figure to measure, but evidence of a shift away from the cubical farm is mounting. After all, most of us probably would like the opportunity to handpick our workmates, ditch the Formica tabletop, florescent lightbulbs and weak coffee, and march to the beat of an ever-changing Wi-Fi signal.
It may have been completely inconceivable 20 years ago, but technology is making it easier to cut the cord every day.
© Copyright IBTimes 2022. All rights reserved.
FOLLOW MORE IBT NEWS ON THE BELOW CHANNELS