Disney Channel's 'Life With Derek' Cast Then And Now: A 2019 Update
What do you get when you add together a father and his three kids (two sons and a daughter) and a mother and her two daughters? Disney Channel's "Life with Derek." The Canadian sitcom aired in the United States on Disney Channel from 2005 to 2009 and celebrates its series finale's 10th anniversary today.
With one of the catchiest theme songs around, a cast that had great chemistry and storylines that covered the spectrum of high school and blended-family life, the show's milestone anniversary is something fans will likely want to commemorate; Even if it's just as an excuse to rewatch the whole series, as well as its 2010 (Canada) / 2011 (U.S.) movie, "Vacation with Derek."
The 10th anniversary of "Life with Derek" is also the perfect opportunity to check in with the show's cast to see what the stars are up to now in 2019.
Michael Seater (Derek)
After livin' life as Derek, Seater starred in the 2010 sitcom, "18 to Life," had a 10-episode arc on "Bomb Girls" in 2013 and played James Gillies on the drama, "Murdoch Mysteries," for a few episodes from 2009 to 2017. He recently worked on the sci-fi film, "Majic," which does not yet have a release date.
Ashley Leggat (Casey)
Her only series regular gig after "Life with Derek" was the 2011 web series, "Totally Amp'd," but Leggat has also had guest-starring roles over the years on shows like, "Murdoch Mysteries," "Criminal Minds" and "Suits." She also played Tara in Hallmark's "The Good Witch" movie franchise and TV show. Her most recent role was in the independent drama film, "Samanthology."
Jordan Todosey (Lizzie)
Once she was done playing Lizzie MacDonald, Todosey cut her hair and played transgender teen Adam Torres on the long-running drama, "Degrassi: The Next Generation." The role ended in 2013, and the actress went on to other projects like the 2015 movie "He Never Died" and the Netflix series "Between."
Her last onscreen credit was for an episode of "The Detail" last year. Todosey, also a registered yoga teacher, recently started posting yoga videos on YouTube.
Daniel Magder (Edwin)
After wrapping up the Disney Channel series, Magder moved on to another show. He starred as Mikey / Booch in the Teletoon's "Mudpit," which was both a live-action and CGI-filled show. It ran from 2011 to 2013.
The 27-year-old also worked on the 2011 flick, "Born to Fight," and, most recently, the 2016 film, "Deadly Voltage." He currently owns and hosts the pub quiz event, BINGPOT! Trivia.
Ariel Waller (Marti)
The actress, who's now 20 years old, stopped acting after the "Life with Derek" movie, "Vacation with Derek."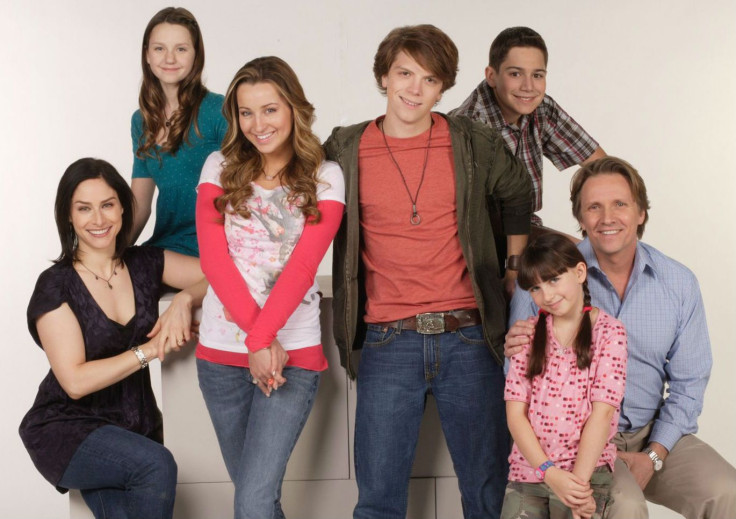 John Ralston (George)
Ralston's worked on quite a few projects since his Disney Channel days. On the TV show front, he's been on shows like, "Living in Your Car," "Good God," "Bomb Girls," "The Lizzie Borden Chronicles," "Degrassi: The Next Generation," "Bitten" and more. His 2019 TV roles include "Street Legal" and "Workin' Moms."
Joy Tanner (Nora)
Like many of her other cast members, Tanner also joined "Degrassi" after "Life with Derek" finished. She played Mrs. Laura Coyne from 2009 to 2013. In the past few years, she's been in a couple of Hallmark movies — "Christmas Encore" and "Christmas Next Door" —and the BET series, "In Contempt." Tanner also spends her time teaching acting classes.
Shadia Simmons (Emily)
She retired from acting after the Disney Channel series ended, but she didn't leave the industry behind for good. Simmons, who earned a Bachelor's Degree in American History and a Masters in Education, currently teaches at the high school level and also works as an acting coach at Star Acting Studios in Ontario, Canada.
Kit Weyman (Sam)
Since "Life with Derek" ended in 2009, Weyman's had guest-starring roles on shows like, "Flashpoint," "The Firm," "Warehouse 13" and "Rookie Blue." His most recent acting gig was a 2018 episode of the new Jerry O'Connell series, "Carter." Weyman has gotten into writing and directing over the last few years, and his latest short, "Three Days in July," has been selected by multiple festivals.
Robbie Amell (Max)
He left the series in 2008 and headed over to Nickelodeon to star as Jimmy Madigan in the Keke Palmer-led series, "True Jackson, VP." The show ended in 2011, but Amell's had no problem finding various projects to take on in the years since. He had arcs on "Alcatraz," "Revenge" and "The X-Files," longer roles on "1600 Penn," "Zach Stone is Gonna be Famous" and "The Flash," his own CW series with "The Tomorrow People" and the 2015 teen rom-com, "The Duff."
Most recently, he worked on Netflix's "A Series of Unfortunate Events" series and the platform's 2018 rom-com, "When We First Met." He's currently working on his film, "Sense 8," with cousin Stephen Amell and his Amazon sci-fi series, "Upload."
© Copyright IBTimes 2022. All rights reserved.
FOLLOW MORE IBT NEWS ON THE BELOW CHANNELS