'Doctor Who' 'Day Of The Doctor' Primer: Screening Locations, Previews And Schedule For The 50th Anniversary Special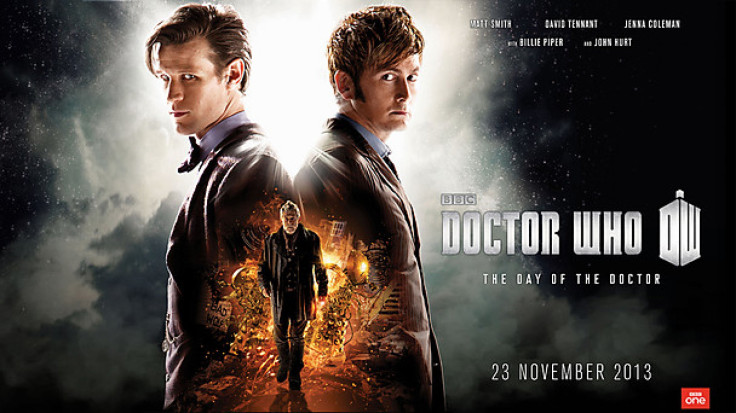 "Doctor Who" has turned 50 and BBC has held a year-long celebration that included special events in London as well as the announcement of Peter Capaldi as the 12th Doctor, replacing Matt Smith. These events will culminate on Nov.23 with the 50th Anniversary special -- "The Day of the Doctor" -- which will feature David Tennant returning as the 10th Doctor as well as Billie Piper. The special will be simulcast around the world and fans can even watch the special in theaters.
"The Day of the Doctor" can be viewed in 3D in theaters and at home. The special will be simulcast in 300 theaters in the United States on Nov. 25, 11 cities will have simulcast screenings on Nov. 23. There are also scheduled screenings throughout Europe, including the UK, Germany, Norway, Spain and Sweden, as well as Kazakhstan, Russia and Australia.
Fans in the U.S. can go here to find the nearest theater screening "The Day of the Doctor" on Nov. 25. A full list of simulcast theaters can be found here, and purchase tickets; fans outside of the U.S. can visit here to find their nearest theater.
In the week leading up to the "Day of the Doctor," BBC has been unveiling new videos on a daily basis, whetting fans' appetite for Saturday, as well as rolling out new features revealing the origins of some of the show's most-famous monsters. Additional previews and clips reveal just a small portion of the special, which brings Smith, Tennant and John Hurt -- playing the War Doctor -- together in the special.
Special mini-episodes provide a look at the beginning of the Time War as well as the return of a Doctor. Those mini-episodes, entitled "The Night of the Doctor" and "The Last Day," can be viewed at the end of this article.
A 50th Anniversary celebration wouldn't be complete without taking a look back at its storied past. "An Adventure in Time and Space," written by Mark Gatniss, premiered in the UK on Nov. 21, it will air on BBC America on Nov. 22, which details the very beginning of "Doctor Who." The film looks at origins of the show as well as the First Doctor, William Hartnell, providing a history of the series as well as celebrating it. BBC America will air the film at 9 p.m. EST.
The busy schedule leads to the airing of "The Day of the Doctor," but "Doctor Who" fans have one more event to look forward to, the Christmas special. In that episode, Smith will be replace by Capaldi, and fans will get their first look at the new Doctor.
© Copyright IBTimes 2022. All rights reserved.
FOLLOW MORE IBT NEWS ON THE BELOW CHANNELS