'Doctor Who' Season 8 World Premiere: 'Deep Breath' First Reviews, Interviews, Red Carpet And More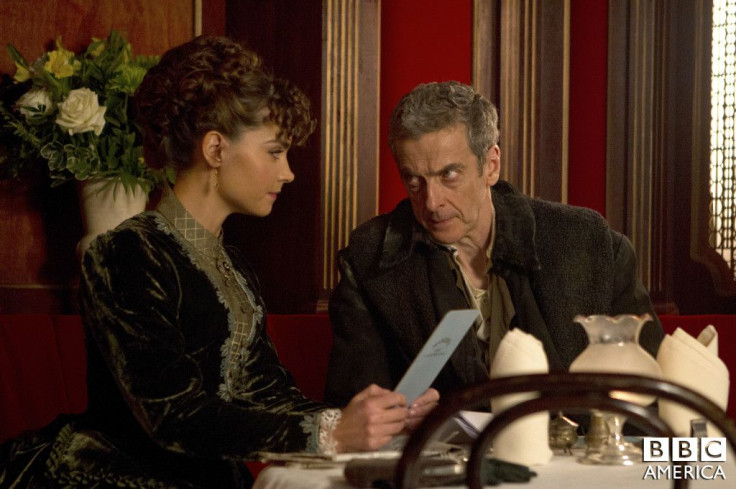 The "Doctor Who" Season 8 world premiere took place in Cardiff, Wales on Thursday and featured the new Doctor, Peter Capaldi, as well as his companion Clara Oswald and a few of the show's most famous villains, the Cybermen and Daleks. Fans in Wales were able to watch the "Doctor Who" Season 8 premiere, "Deep Breath," before it airs on BBC on Aug. 23.
In Wales, Capaldi, Jenna Coleman and "Doctor Who" showrunner Steven Moffat walked the red carpet and greeted thousands of fans. The world premiere was part of the "Doctor Who" world tour, which includes stops in Seoul, Rio de Janeiro and Sydney, and fans were able to watch "Deep Breath" weeks before it aired on television and get their much-anticipated first look at Capaldi as the new Doctor. The world tour landed in London on Friday and will arrive in New York on Aug. 14.
Based on some spoiler-free "Doctor Who" Season 8 premiere reviews, from Den of Geek and Doctor Who TV, fans should expect a character-driven episode and "Deep Breath" serves as a great regeneration episode that's different from previous introductions. Leading up to Season 8, Moffat and Capaldi, along with the teasers and trailers, hinted at a darker Doctor who's not quite sure of his identity or legacy. That's not to say "Deep Breath" is totally grim or without the wit or light-hearted moments that "Doctor Who" is known for, there are some good action sequences involving a dinosaur and the Paternoster Gang, Vastra, Strax and Jenny Flint, have some great scenes, based on the early reviews.
Any review of the "Doctor Who" Season 8 premiere would not be complete without mention of Capaldi or Coleman. The reviews love Capaldi's performance as the new Doctor and he's a distinctly different character than either David Tennant or Matt Smith. There's still plenty of charm but the Doctor is a new person and Clara Oswald serves as the link between the previous Doctor, the viewers and the new Doctor. Clara's role has expanded, trying to navigate this new Doctor and what her future holds with him and her journey aboard the TARDIS. RadioTimes' review of "Deep Breath" mentions the new opening sequence, expect more mechanical elements such as gears,
Capaldi, Moffat and Coleman also spent plenty of time answering questions from fans and media about "Doctor Who" Season 8. When asked to describe the new Doctor, Capaldi said he was "funny, joyful, passionate, emphatic, and fearless," while Coleman described him as, "enigmatic, mysterious, complex, worn, and unmannered," reports CNET.
During the world premiere, Capaldi said he discussed the Doctor with Smith and Tennant, reports BBC. Capaldi is much older than the previous Doctors but that should not be any cause for concern. "We don't consider the Wizard of Oz or Father Christmas to be too old. They're still magical characters, and the fact they've been around the block only adds to their magic," said Capaldi.
During the Q&A session, Moffatt revealed a bit more about new monsters and what to expect from the season. "Daleks. There's some scary stuff coming up. Robot knights, which I've always thought was the only thing missing from the Robin Hood stories. We've got a thing called a Teller, which is absolutely grotesque. Oh there are some belters coming up," said Moffat.
There was also a touching moment, notes RadioTimes, when a young fan asked Capaldi, "If you could travel back in time and tell yourself from years ago that one day you'd be the Doctor, what would you tell yourself?" to which Capaldi replied, " I'd say 'Don't listen to what anyone says. You're good. Put your anorak on. Keep drawing. And keep writing to the BBC'."
Following the "Doctor Who" Season 8 world premiere, BBC released a new "Deep Breath" episode synopsis. Per BBC, "When the Doctor arrives in Victorian London, he finds a dinosaur rampant in the Thames and a spate of deadly spontaneous combustions. Who is the new Doctor and will Clara's friendship survive as they embark on a terrifying mission into the heart of an alien conspiracy? The Doctor has changed. It's time you knew him."
The "Doctor Who" Season 8 premiere airs on BBC America at 8 p.m. EDT on Aug. 23 and will be screened in theaters across the world.
FOR FREE to continue reading
✔️ Unlock the full content of International Business Times UK for free
offer available for a limited time only
✔️ Easily manage your Newsletters subscriptions and save your favourite articles
✔️ No payment method required
Already have an account?
Log in
© Copyright IBTimes 2023. All rights reserved.