'Doctor Who' Season 9 Spoilers: Maisie Williams To Guest Star; 6 Other 'Game Of Thrones' Actors Who Have Visited The TARDIS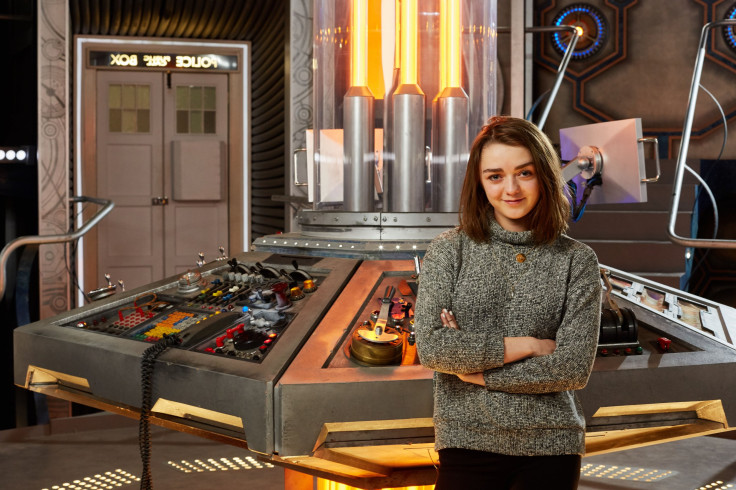 Maisie Williams has joined the cast of "Doctor Who." The actress, familiar to "Game of Thrones" fans as Arya Stark, will guest star on Season 9 of the long-running sci-fi series. It doesn't sound like the role will be too much of a departure for Williams. Her "Who" character sounds just as mischievous as Arya.
"We're thrilled to have Maisie Williams joining us on 'Doctor Who,'" executive producer Steven Moffat announced in a press release. "It's not possible to say too much about who or what she's playing, but she is going to challenge the Doctor (Peter Capaldi) in very unexpected ways. This time he might just be out of his depth, and we know Maisie is going to give him exactly the right sort of hell."
Williams seems just as thrilled to join the cult series. "I'm so excited to be working on 'Doctor Who,' as it's such a big and important part of British culture," the actress said. "I can't wait to meet the cast and crew and start filming, especially as we'll be shooting not too far from my hometown."
If the 17-year-old does get nervous, she can always ask for help from her co-stars. Tons of "Game of Thrones" actors have also guest starred on "Doctor Who."
Below are six of the actors to visit both Westeros and the Tardis.
1. Thomas Brodie-Sangster: The 24-year-old has been playing a teenager for quite some time. In "Game of Thrones" he played Bran's (Isaac Hempstead) friend Jojen -- that is, until he was killed at the end of Season 4. Back in 2007, the actor played a teenage boy in 1913 who helped the 10th Doctor (David Tennant) and Martha (Freema Agyeman) save the world from aliens in "Doctor Who" Season 3.
2. Joe Dempsie: The former "Skins" actor hasn't made an appearance playing Arya's friend Gendry on "Game of Thrones" since Season 3. It's been even longer since he was seen on the BBC America show. He guest starred in Season 4, episode 8 as Cline, a friend of the Doctor's daughter Jenny (Georgia Moffet).
3. Ian Hanmore: This actor may have a certain type that he plays. He portrayed the creepy Pyat Pree, a warlock from Qarth, in "Game of Thrones" Season 2. He also played the equally eerie Father Angelo, a monk leader, in "Doctor Who" Season 2, episode 2.
4. Diana Rigg: Lady Olenna Tyrell on "Game of Thrones" is a bit more regal than the chemist Rigg portrayed on "Doctor Who." Her "Who" character Mrs. Gillyflower tried to hide away the best humans she could find and lock them away before she poisoned the rest of the world in Season 7, episode 12.
5. Liam Cunningham: Although he is known to HBO viewers as Davos, a landed knight and former smuggler, Cunningham played someone a little more respected on "Who." He was Captain Zhukov on a Soviet Union submarine that the Doctor and Clara (Jenna-Louise Coleman) saved in Season 7, episode 9.
6. Tobias Menzies: The actor is now pulling double duty as both Frank and Capt. Randall on "Outlander," but Menzies is accustomed to balancing multiple roles. In 2013, he played Catelyn Stark's (Michelle Fairley) brother Edmure Tully on "Game of Thrones," and he was on "Doctor Who" as Lieutenant Stepashin on a submarine alongside Cunningham in the episode titled "Cold War."
If Williams doesn't feel like asking these actors for advice, we're sure she can get in touch with Clara Oswald herself. In real life, Jenna-Louise Coleman dates Richard Madden, who played Robb Stark on "Game of Thrones."
"Doctor Who" Season 9 premieres on BBC America in the fall. Do you have any other favorite actors who have appeared on both shows? Sound off in the comments section below!
© Copyright IBTimes 2023. All rights reserved.