Dodgers Trade Rumors: Jake Peavy, Cliff Lee, Michael Young And Others On The Table For L.A. With Trade Deadline Looming?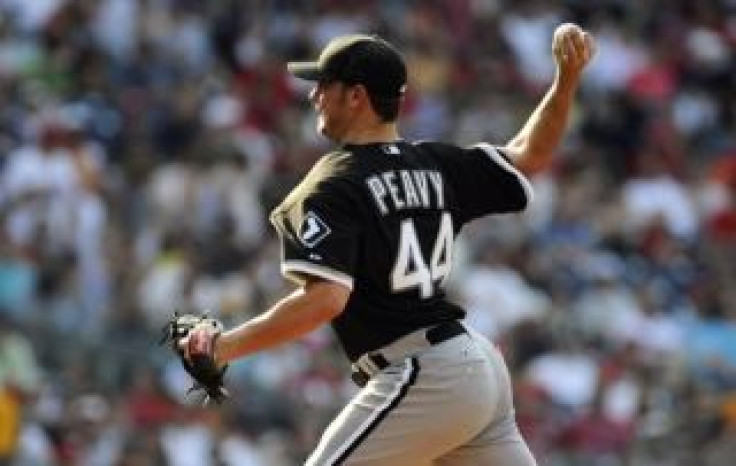 The Los Angeles Dodgers are streaking, with a record of 26-6 in their last 32 games. L.A. entered the 2013 season with an interest of ending their long World Series drought, and are likely aware that a National League West division title is not a given with the Arizona Diamondbacks and Colorado Rockies still in the hunt.
The Diamondbacks trail the Dodgers by 2.5 games, while the Rockies trail L.A. by six. In September, the Dodgers will face the Diamondbacks seven times, and the Rockies six times.
Reinforcements could be on the way without a trade or a signing. The Dodgers are still awaiting the return of centerfielder Matt Kemp, who would add further depth to the roster after suffering a left ankle injury on July 21. The former MVP runner-up could return to the lineup on Aug. 6, prompting manager Don Mattingly to shuffle his outfield to find room for Carl Crawford, Andre Ethier, and Cuban star Yasiel Puig.
The added bat could be a crucial boost for the Dodgers, who have scored just nine runs in their last four games after an offensive explosion of 41 runs in the previous four games. The Dodgers are No. 18 in runs in the Majors, after languishing near the bottom with the Miami Marlins for a good portion of the season. The full-time production of Puig and Hanley Ramirez, who posted impressive and rather similar statistics in just under 50 games, have been a key reason for L.A.'s comeback.
The Dodgers have areas that could be in need of an upgrade with Wednesday's trade deadline looming. General Manager Ned Colletti may have an interest in adding a third baseman, second baseman, or a catcher. A top trade target would have likely been Aramis Ramirez, but the injured Milwaukee Brewers third baseman reportedly won't be healthy by Wednesday.
"Ned has talked to our whole group about different areas where we could possibly improve, letting us know who is out there and getting our thoughts," Mattingly said, according to dodgers.com. "I hate talking about any one specific area, because you're basically saying another guy is not doing their job. I like our guys."
Few bats are available for Colletti to choose from, but the long-time Dodgers GM may consider finding a low-cost reserve catcher without giving up much. Tim Federowicz has batted just .204 in 98 at-bats behind starter A.J. Ellis, and Ramon Hernandez was let go on June 22 after 17 games.
Should L.A. actively pursue a third baseman, Philadelphia Phillies veteran Michael Young might be a top target. The 36-year-old is batting .277 with seven home runs in 361 at-bats.
That leaves Colletti with pitching options, and there are plenty available. According to multiple reports, starters Jake Peavy, Cliff Lee, Bud Norris, and Yovani Gallardo are available, as well as relievers Jonathan Papelbon, Luke Gregerson, and John Axford.
The big question for the Dodgers is who they will give up to get a solid contributor. Joc Pederson has batted just .242 in his last 10 games at Double-A Chattanooga, but has 15 home runs on the season, while batting .287 for the season. The 21-year-old outfielder is perhaps the best hitting prospect in the Dodgers system, but there are currently four outfielders signed to long-term deals in L.A. There may not be a player on the trade market that is worth the Dodgers giving up a player of Pederson's potential.
Corey Seager, the younger brother of Kyle Seager, is another hitter the Dodgers are very high on. A former first-round draft pick, Seager could be a future star on the left side of the infield. In his first minor-league season, Seager is batting .301 with nine homers in 259 at-bats.
Zach Lee, Ross Stripling, and Chris Reed are pitchers who might be in the majors as soon as next season. Lee has a 3.23 earned-run average in Chattanooga, and the 21-year-old has long been viewed as a possible No. 2 starter for the Dodgers. Stripling has exceeded many scouts' expectations, and has enjoyed a productive season in the minors. Reed, a former first-round pick, could be used as a back-of-the-order starter or a top reliever.
Right-hander Matt Magill struggled in four of his six starts with the Dodgers, when he was called up due to injuries to Chad Billingsley and Ted Lilly. But the 23-year-old has pitched well in June and July in Triple-A Albuquerque, with a 2.59 ERA in 48 and two-third innings. Magill might be a prime candidate to be dealt if Colletti decides that he can't part ways with his top three prospects.
© Copyright IBTimes 2023. All rights reserved.