Does Meghan Markle Or Kate Middleton Have A More Expensive Engagement Ring?
They both have access to the Crown Jewels when events call for them, but when it comes to everyday jewelry, Kate Middleton and Meghan Markle's ring fingers tend to draw the most attention, where each sports gorgeous engagement and wedding rings.
Each woman's engagement ring has sentimental value because of their relation to Princess Diana, but when it comes to the actual monetary value, the Duchess of Cambridge and Duchess of Sussex have rings with hefty price tags attached.
Middleton's ring is Princess Diana's own engagement band from her own betrothal to Prince Charles and features a large center sapphire stone surrounded by 14 round diamonds. According to Cheat Sheet, Prince Charles reportedly paid $37,000 for it, which, when adjusted for inflation with today's pricing, could be about $105,000.
However, Kathryn Money, VP of strategy and merchandising at Brilliant Earth told Who What Wear that the ring I actually more or less impossible to give a monetary value to because of the significance behind it.
"The historical and cultural significance of Kate's ring makes its values very difficult to estimate, and we would contend that the ring is priceless," she said.
Meanwhile, when Prince Harry proposed to Markle in 2017, he did so with a ring that featured both a five-carat cushion cut diamond center stone from Botswana and two 0.75 carat round diamonds from Princess Diana's personal jewelry collection. After their first anniversary, Markle updated her previously simple gold band to one that featured micro-pave diamonds, which gives the ring a new estimated value of $120,000.
However, Money once again cautions that while replicating the ring would cost that amount, Markle's ring is still considered priceless because of the side diamonds that belonged to Princess Diana. Interestingly enough, she was initially slated to get the ring her sister-in-law has because it initially belonged to Prince Harry after their mother's death, but when he learned Prince William wanted to propose, he gave the ring up so Middleton could have it.
Of the female members of the royal family, the two Duchesses are believed to have the most expensive rings. Camilla Parker Bowles' ring, an art deco-inspired design that once belonged to the Queen Mother would likely be valued between $70,000 and $100,000. Princess Eugenie, who wed Jack Brooksbank in 2018, has a ring that is believed to be worth between $30,000-$50,000 and features a pink Padparadscha sapphire and pear and round diamonds on a Welsh gold band.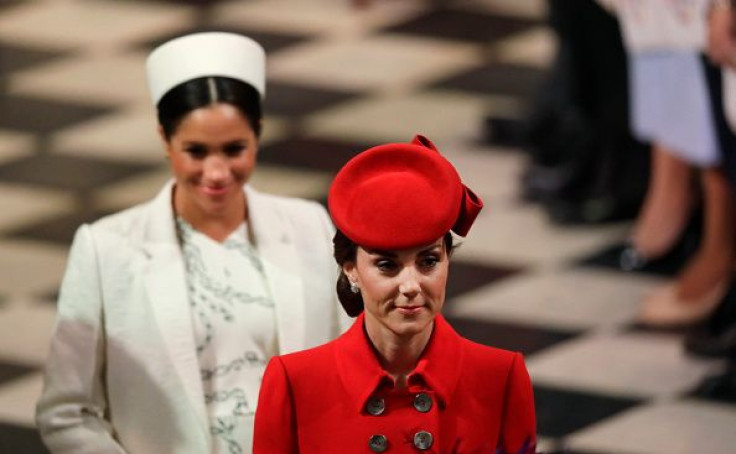 © Copyright IBTimes 2023. All rights reserved.