Does Queen Elizabeth Love Meghan Markle More Than Kate Middleton?
Queen Elizabeth II seems to prefer Meghan Markle over Kate Middleton, according to experts.
This week, the Duchess of Sussex received four patronages from the Queen. During their latest "Royally Obsessed" podcast, royal commentators Lisa Ryan and Kaitlin Menza said that this shows that the monarch really loves Markle.
"Queen Elizabeth loves this girl," Ryan said. "[It is] not just the fact that she would give her one of her own patronages."
According to Anna Kretschmer, a journalist for Express, Markle received a slew of patronages compared to Middleton's first royal position. The Duchess of Cambridge was only given one patronage while Markle received three more. In addition, the one given to Middleton was not a solo honor. She shares it alongside Prince William and Prince Harry for The Royal Foundation
Ryan and Menza also noticed how Her Majesty honored Markle's former profession as an actress and her study in theater.
"[The Queen] is embracing [Meghan's] theatre past and reminding us once again that she is an actress, [the Palace] is not playing it down," Menza said before adding that it was "perfect" for Markle.
Tim Teeman, a journalist for the Daily Beast, also felt that the Queen was giving Markle a favor with her patronages. He believes that the monarch was giving Markle a royal reset after reports claimed that she was miserable with her royal life.
Teeman claims that the announcement was done in hopes of ending the predominant pre-New Year storylines about the fab four's rift. There have been reports claiming that Markle and Prince Harry are feuding with Middleton and Prince William.
The four royals were seen walking together for the royals' traditional Christmas morning service. Middleton and Markle were photographed smiling and chatting but the said sighting only did little to quell the rumors of their ghastly row.
Last year, there were also rumors that Queen Elizabeth II invited Markle's mom, Doria Ragland, to spend the holidays with them. According to an insider, Her Majesty respects Markle and acknowledges the fact that the pregnant royal has no other family member in the country.
Many felt that the said invitation would break royal precedent as the Queen never invited Middleton's parents Michael and Carole for the said gathering. Perhaps to avoid further issues, Ragland declined the invitation.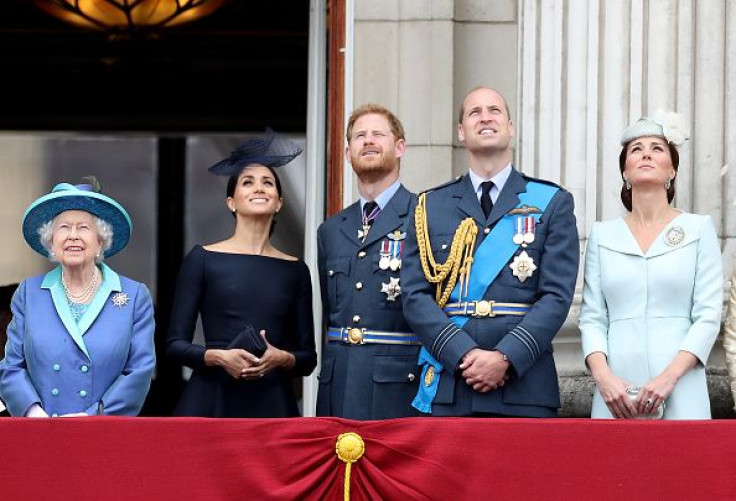 © Copyright IBTimes 2023. All rights reserved.