Don Rickles Quotes: Best Lines To Remember Late Comedian By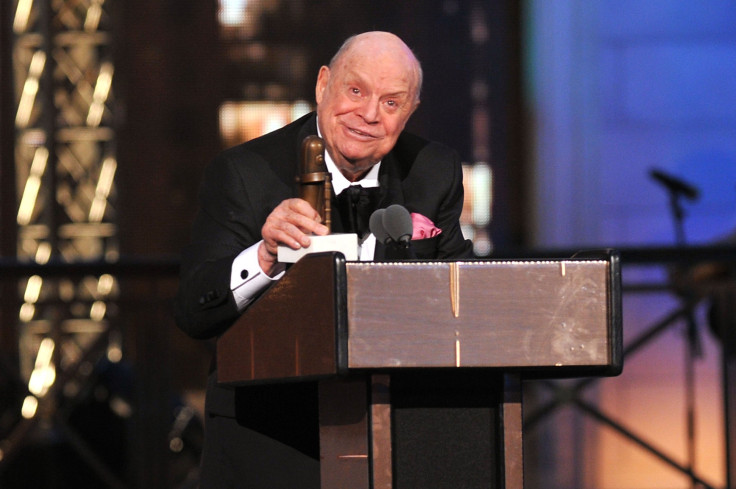 Don Rickles, a comedian who became famous for making fun of anyone and everyone, died Thursday of kidney failure, according to the Hollywood Reporter. He was 90.
Although Rickles, who also worked as an actor and once won a Primetime Emmy, may have passed, his legacy persists. Tributes were already rolling in Thursday afternoon, with stars like Jimmy Kimmel and Billy Crystal posting messages in his memory on Twitter.
Remember "Mr. Warmth" with some of his best — and irreverent — quotes, collected from SComedy, BrainyQuote, Spike and IMDb:
"Show business is my life. When I was a kid I sold insurance, but nobody laughed."
"You can't study comedy; it's within you. It's a personality. My humor is an attitude."
"I think if I took therapy, the doctor would quit. He'd just pick up the couch and walk out of the room."
"I have no idea what I'm going to say when I stand up to give a toast. But I do know that anything I say I find funny."
"You know, every night when I go out on stage, there's always one nagging fear in the back of my mind. I'm always afraid that somewhere out there, there is one person in the audience that I'm not going to offend!"
"If I were to insult people and mean it, that wouldn't be funny, there is a difference between an actual insult and just having fun."
"I ride a recumbent bike for half an hour every day."
"To me, the stand up part in my life is great. I know I can do that. When I get an acting chance, I'm really thrilled."
"When you stand alone and sell yourself, you can't please everyone. But when you're different, you can last."
"Whatever you do to gain success, you have to hang in there and hope good things happen. Always think positive."
© Copyright IBTimes 2023. All rights reserved.