Don Trump Jr. University Of Florida Visit Forces Student Body President Impeachment
University of Florida student body president Michael Murphy is facing impeachment by the university's Student Senate for spending $50,000 in student fees to invite Donald Trump Jr. to speak at the Gainesville campus October 10.
During his brief visit, Don Jr. spoke on a range of political issues, including his father's accomplishments. The president's son was accompanied by his girlfriend and Trump campaign adviser, Kimberly Guilfoyle.
His visit lasted for an hour. Murphy coordinated Don Jr.'s trip with Trump Victory, a fundraising arm for Trump's re-election campaign. UF students pay around $2,000 in fees over four years.
What has incensed the Student Senate is that Murphy, who has been accused of supporting white nationalism, used student fees to "advance his own expressed political beliefs" and endangering "students marginalized by the speakers' white nationalist supporters."
The Student Senate passed a resolution Tuesday to oust Murphy for malfeasance and abuse of power over his alleged misuse of public funds. More than 100 students and alumni signed the formal resolution for Murphy's impeachment.
Students and faculty previously raised questions about the legality of Don Jr.'s Oct. 10 visit. Despite knowing it was illegal to do so, Murphy still used $50,000 in student fees to pay for Don Jr.'s appearance. Political payments like these are prohibited by state and federal law regarding campaign appearances on campus.
"Student Activity and Service Fee money cannot be used to pay for campaign activity," said UF spokesman Steve Orlando to Fox News. "Donald Trump Jr. and Kimberly Guilfoyle were advised about UF's policy prior to their appearance and did not engage in campaign activities during the event."
In his defense, Murphy said he didn't violate any state and federal laws. He also claimed Don Jr.'s visit wasn't campaign-related despite parts of Don Jr.'s speech focusing on his father's accomplishments as president, according to The Tampa Bay Times.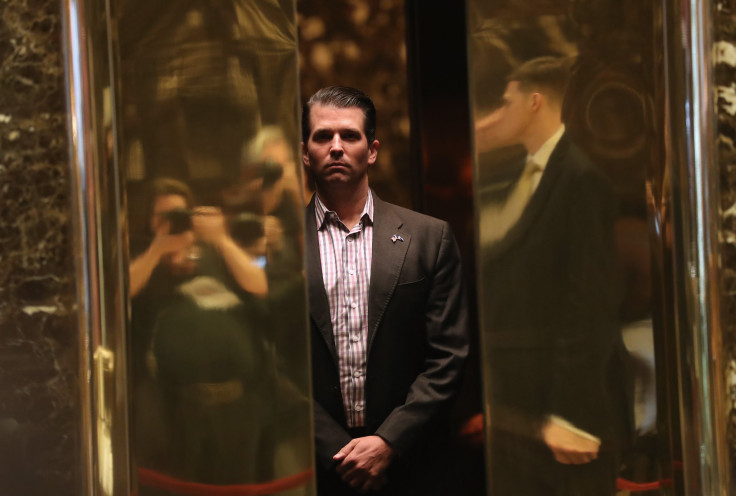 Some students came to Murphy's defense. Jarrod Rodriguez, treasurer of UF's College Republicans group, called the impeachment effort inappropriate.
"I don't really think there is evidence of an impeachable offense," said Rodriguez. "I'm not saying that it doesn't raise any eyebrows, but it also isn't the nail in the coffin."
On the other hand, Ben Lima, a student senator, said Murphy's campus party banned discussions of Don Jr.'s visit beforehand. Murphy also shut down student government members with dissenting views.
"They're basically silencing the voices," said Lima. "They're choosing to benefit the Trump family but not the students. It's really an insult and a disgrace to the student body to be silent about something students are so passionate about."
© Copyright IBTimes 2023. All rights reserved.